From Near-Death Overdose to Building a $1m+ Addiction Recovery Company
"I would be dead if she had waited 15 minutes," Matt Serel told us. Now, his company reaches thousands of recovering addicts, and is growing 300% YoY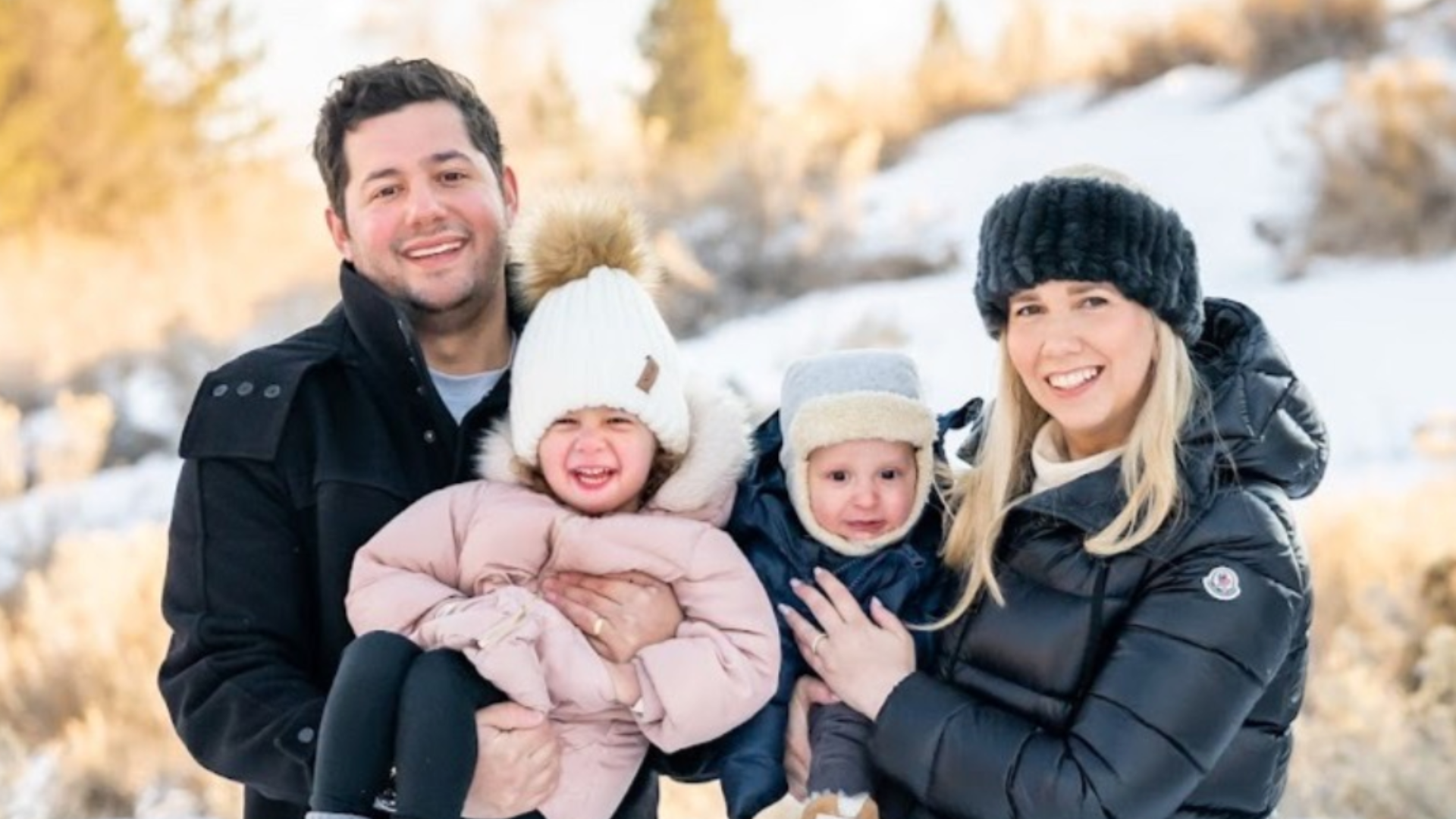 I've been writing about founders for years, and I can tell you from experience that it's unusual to find one as quotable as Hampton member Matt Serel.
It typically comes from some rare combination of passion for their industry, expertise in their field, awareness of their shortcomings, and the boldness to talk about all three.
Matt is one of these.
He's the founder of You Are Accountable (his third company), which offers online coaching and accountability to recovering addicts. It was born out of the personal experience he and his co-founder had with addiction, and has quickly grown to reach thousands.
In this piece, he breaks down…
His backstory and the near-death overdose that changed his life
How he did product research for a brand new industry he'd never sold into
The org-structure, growth tactics, and billing cycle his company uses to stay lean
Favorite tools, resources, and leadership concepts
Where he sees untapped opportunity
And more…
A lot of people talk about the problems we face in US healthcare, addiction treatment, etc. But Matt's story shows that entrepreneurs can actually play a critical role in fixing it.
There's a lot to learn from that. So without further ado, enter Matt…
Hello! Who are you and what business did you start?
Hi! My name is Matt Serel, and I'm the CEO and Co-Founder of You Are Accountable. We are an online service designed to help individuals sustain recovery from addiction, rebuild trust with their family, and coordinate care with their clinical providers.
We primarily meet this challenge by using a combination of peer recovery coaching, toxicology monitoring, and amazing technology (I'm biased, I built it) that makes us an efficient, organized, lean mean recovery sustaining machine.
I built the company with my partner AJ (who is a therapist) based on both of our experiences finding sustainable recovery from addiction. Basically, we just built what we wish we had access to when we got sober!
90% of our clients are referred to us from clinical providers (treatment centers, individual therapists, psychiatrists, etc). Our service is a subscription model that I like to say costs less per month than I was spending per day on drugs. This means people can engage in our service long term, which gives them the time to find sustainable recovery!
We also have a B2B service line where treatment centers, sober living, and other providers use our software to monitor their own clients.
Accountable is bootstrapped, grew over 300% in the last year, and has a 7 figure run rate with an ARPU of $420 (I swear). More importantly, we've had a part in impacting thousands of lives at this point and it is just the most beautiful thing to witness.
What's your backstory and how did you come up with the idea?
I don't remember who said it, but someone said the perfect job marries what you love, what you're good at, and what you'll get paid for. I truly believe everything in my life has led me to co-founding Accountable.
TLDR; I LOVE all things technology, but I also LOVED drugs.
I started programming in C when I was 11, founded a small business technical support company when I was 14 called Purecode Consulting, and founded my last company AccuPoint, a behavioral health electronic health record company my senior year in college.
I always loved to party, I was never the designated driver, but was always able to hold things together by pure brute force until I was prescribed opioids after an ankle surgery when I was 23.
On October 14th 2013, I overdosed on Oxycodone, alone, on a work trip. I woke up in the hospital with no idea where I was, how I got there, and unable to breathe. What I found out later was that my girlfriend (now wife) was nervous that I didn't answer my phone in the morning, broke into my email to find out where I was staying, and had the hotel call 911.
I would be dead if she had waited 15 minutes.
Recovery from addiction is hard. It is the hardest thing I've ever done. No one goes to rehab on a winning streak. Leaving treatment I was pretty sure AccuPoint, which was funded by debt, was going to go out of business, my girlfriend was terrified and didn't trust me, and I could no longer use the only tool I had for coping.
The first year of recovery was miserable, lonely, and terrifying. Finding affordable support that also helped my family feel safe, besides having them drug test me, was a herculean effort to put together. That experience stuck with me.
Fast forward, AccuPoint did much better once I was sober, I sold the company to Therapy Brands (owned by KKR) in 2017, and left in 2020 to eventually create Accountable with AJ, who I met in group therapy years prior (both as patients), to create a product/service that would help individuals and families on their journey to sustainable recovery.
Side note, I'm convinced there is no better business partner than someone you spent 3 years in therapy with before starting a business.
Take us through the process of building and launching the first version of your product.
One thing I've learned in building multiple businesses is that my original idea is never spot on, but generally ends up rhyming with the idea that has product market fit.
Knowing this, I always start with things that don't scale (manual processes), and once a model is proven out, then build the system around it. This method also promotes capital efficiency which I think is important for any business, but especially if you plan on bootstrapping.
Accountable is interesting in that, although I had plenty of experience as a consumer of these types of services, I had pretty much no connections or insight to the business side of addiction treatment.
So my first order of business was not to build, but was to talk to anyone who was in the treatment business that would talk to me, share my why and my product, pray that they would give me a chance, but most importantly listen to the feedback they were giving me and learn more about the field I wanted to be a part of.
I basically harassed the treatment center I went to, spent months cold outreaching people on LinkedIn, and showed up at any local events I could find.
First, I let everyone know my past, what I was doing, and why: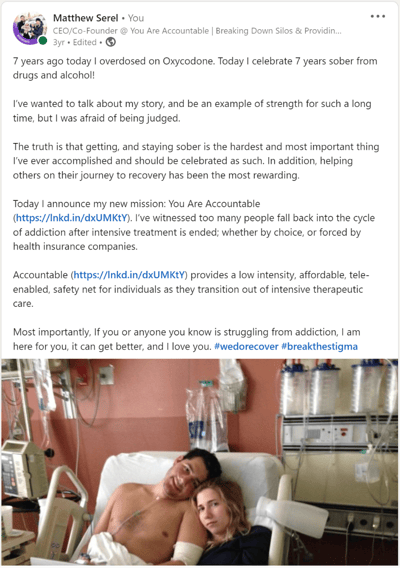 And followed it up with LinkedIn after LinkedIn, like this: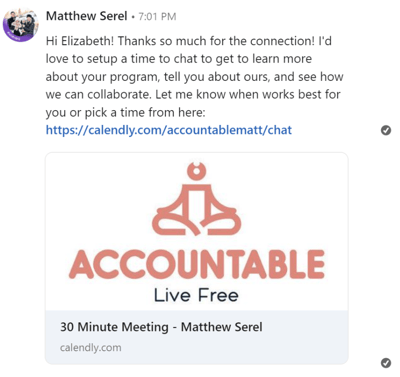 It took about a month to get our first paying customer (wahoo take that $99 to the bank!), and really 3-4 months of relentless outreach to start to get any sort of traction. It took this long for a few different reasons:
I didn't know how to sell into this market.
The treatment industry is built on relationships and trust.
Our initial product idea was close, but not exactly what the market needed.
The original idea for Accountable had a lower price point, didn't emphasize peer support or coordination of care, and posited that people would be tested generally randomly once per month, but at most 1x per week.
As we started working with people, and talking to our referrants, we realized people not only wanted, but were willing to pay more for additional support. Lastly, because of our model we were able to offer services that normally cost thousands per month, at hundreds of dollars per month instead.
In January of 2021, we felt we had enough information to start building our platform to make our services efficient and scalable. Think of the Accountable Platform as a reverse electronic health record. In an electronic health record, the "provider" is the center of the system, and the client has a "portal" into it. In our platform, the member, what we call our clients, is the center of the system, and all their providers and family members have a "portal" into it.
Portal V1: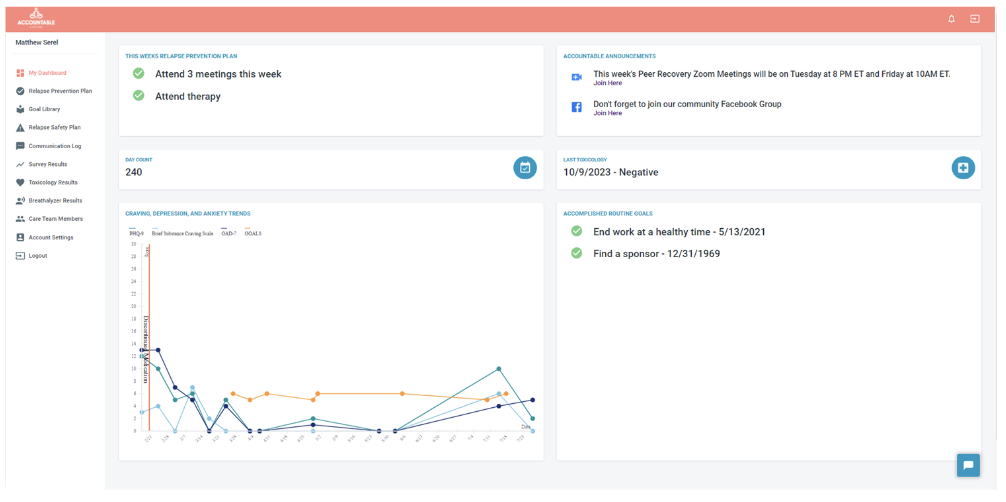 Since launch, what growth channels have been most effective for you?
Our general go to market strategy is product led. We're building a reputation and a brand backed by the work we do. However, we regularly outreach to treatment providers, post on LinkedIn and Facebook, but spend a very minimal amount on marketing.
We do not get booths at conferences, but we will attend. We do not spend money on ads. We perform most of our outreach meetings on zoom. We live and breathe capital efficiency.
One thing I did differently this time than I did in my last company is I hired a sales leader with peer coaching experience to lead our outreach efforts once I felt comfortable with our go to market.
In my last company, I led sales and engineering through the acquisition. That was way too long. I found that out when they hired a sales leader post acquisition and the monthly contracts tripled. In fairness to my prior self, sales leaders are expensive, and I didn't have the benefit of a prior exit to take that risk.
This time, I have two young kids, and knew I didn't have it in me to be "on the road" long term, and clearly I'm not the best person for that job. This has turned out to be one of the luckiest and best decisions we've made. Jason has not only done an amazing job building brand recognition, but he also brings a wealth of knowledge to the organization.
Most importantly, in addiction treatment we live in abundance. There is no competition. So many people need help. We've shown we do great work, and because of that people trust us with their client's, and family members.
We will never breach that trust, because we've all been there, and that is why Accountable will continue to grow and help others.
Did you ever have an "oh shit" moment where you thought it wouldn't work?
Honestly, not yet. I'm sure it will happen, and that it would have happened already if I hadn't started a company before. At least so far, founding a company for the 3rd time is so much easier than the first or second time because there are less unknown unknowns.
It hits the fan on a regular basis and it isn't pleasant, but I have the hindsight to know that whatever the situation, it will pass, and there is a way through it.
If you have a product that people love, and a sales process that works, 99% of all other issues are surmountable.
If you don't have those things yet, stay capital efficient, iterate, and figure your 0 cash date. Companies don't run out of money, founders do.
Can you break down the keys to this business model for us? What makes it work? And What do outsiders typically not understand about your industry?
One of my theories in starting Accountable is that a lot of addiction services are priced to desperation, and that it didn't need to be that way. Price should be a function of delivering happiness, and taking a small piece of that happiness as compensation.
I'll start the discussion here with what everyone knows already, but many people in and outside of the space don't understand:
America's healthcare system, from a design and cost of care perspective, is horrendous. If you asked me to dream up the worst possible system I could think of it would be better than what we have.
It is very difficult to build a sustainable digital behavioral health model for a startup within our health insurance system. That is why we've seen quite a few digital behavioral health companies either go bankrupt, or struggle in turmoil.
The headwinds include low reimbursement rates that exacerbate the labor supply and demand imbalance. The costs to get contracted, and the overhead involved in ongoing medical billing to get reimbursed for services delivered.
Many startups raise millions of dollars to prepare to land insurance contracts, only to find out that these contracts have negative unit economics and they still need to find and retain patients. This in turn creates perverse incentives that cause provider burnout (efficiency needs to be found somewhere), and ultimately drives down the quality of care.
Given this insight, we made the decision early on that we were going to increase access not by taking insurance, but keeping costs down to as close to the cost of a typical co-pay as possible while maintaining our margins, and taking care of our team. No one on our team has more than 20 hours of face to face contact with their caseload.
The plan is to still take insurance, but to do so in a natural progression that is healthy for the company, and most importantly those that we serve.
On the economics side of the business, we modeled the company to float between 60%-70% gross margins. The major parts of our COGs are labor costs for our coaching team (who are rockstars), and costs of toxicology tests.
On the customer acquisition cost side, it is very low since we are product led and referral driven. Our entire marketing budget outside of a salary is around 25k for the year.
As far as our team structure is concerned, we operate as flat and as lean as possible. We screen for people that are mission driven, and team players.
Everything we do is focused on sustainably providing the best possible service, at the lowest possible cost, so we can help as many people find the same sustainable recovery from addiction we all enjoy.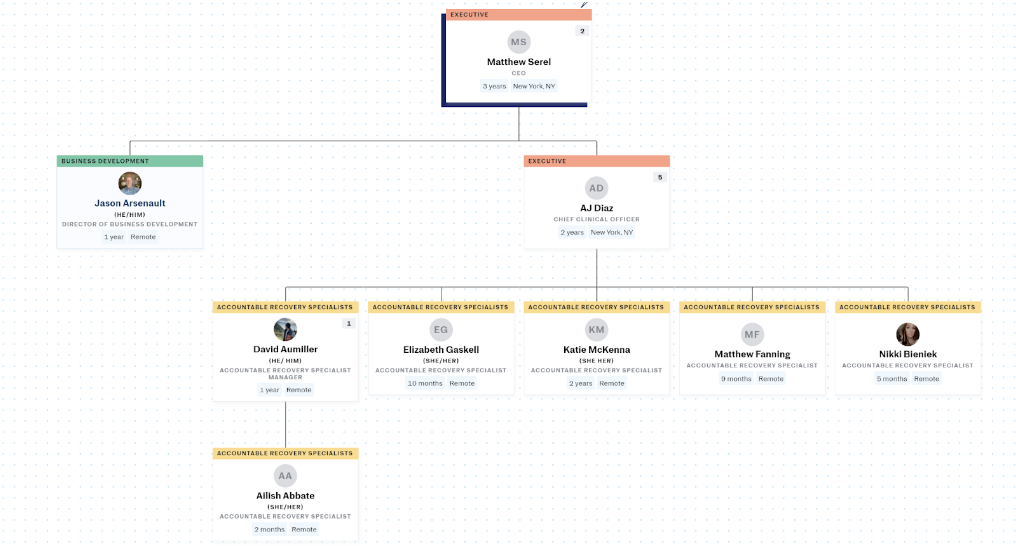 By doing this, and staying focused on our mission, we've been able to grow over 300% year over year, and the company is self-sustaining.
What platform/tools are absolutely crucial for your business?
This is easy!
We are a remote only company so these tools are literally our lifeblood:
Zoom: We use zoom for our online coaching and toxicology monitoring, and for team meetings of course!
GSuite: Email, and GChat. GChat is our hangout space.
JustWorks: Managing remote employees would literally be impossible without a PEO. The health insurance is great too!
Stripe: No need for a billing department here!
TaxJar: Ugh; South Dakota v. Wayfair
The Accountable Portal: Obviously I needed to plug my baby, but seriously, it is our secret sauce that allows us to be efficient and impactful.
What have been the most influential books, podcasts, or other resources?
To be honest, I read a ton, but I read for enjoyment (can be read as, "I read garbage"). Tom Clancy books and the like are my goto.
On the podcast side, I LOVE LOVE LOVE the "Startup Therapy Podcast" hosted by Will Schroter and Ryan Rutan. They really dig into the emotional side of being a founder, which I think is so important. Anyone who comes to me saying they want to start a company, I suggest they listen to the podcast from episode 1 through today.
I also love to listen to medical podcasts pertaining to addiction. Right now my favorite is "Addiction in Emergency Medicine" podcast.
I think to be a good founder, you have to be obsessed with the problem you solve. I love this stuff. So listening to "work" related podcasts is enjoyable to me. That makes me the right person to found this company.
As far as other resources, THERAPY. Lots, and lots of therapy. Two reasons:
I really don't think you can be an empathic and therefore effective leader if you don't understand yourself. If you aren't an effective leader, running a startup is going to feel a lot like continuously running into a brick wall.
Running a startup is hard. If I don't have a safe place to vent, and check myself, it will come out, and it will come out sideways.
Where do you see untapped opportunity in the market? What business do you wish someone else would build that would make your job easier?
I love the business model of Alma and Headway. If I were doing anything else, I would be expanding that model into the Applied Behavior Analysis space where smaller companies are being squeezed out by larger players and low reimbursement rates.
I think there is a lot of opportunity with that model to increase the quality and access to care by pooling smaller providers under national contracts, and reducing administrative burden economically.
As noted above, I would love for someone to fix the administrative burden required to operate in our healthcare system. Next to literally saving the planet and world peace, I think any solution to ameliorate the cost of doing business as a healthcare provider would be the most impactful endeavor one could accomplish.
What are some strong opinions you have about leadership, and how do you actually put those into practice in your company?
1. Employees are not resources, do not run your team by spreadsheet.
As you grow your business, you will get further and further away from the "work" actually being done. It will be natural to start to see your team as numbers on a spreadsheet, or inputs driving an output. The reality is, the individuals working for your company are what make your company special. They are your culture. Without them, your company is nothing, and you have built nothing. Remember to treat them that way, the way you would like to be treated, and it will be paid back in spades. All employees in our company receive equity, or equity based compensation. They share in our upside, because they created it.
2. Clear is Kind; Unclear is Unkind.
Confrontation is hard, and feels scary. The reality is that lack of clarity driven by the fear of confrontation can be catastrophic at best and toxic to your culture at worst. I do my best to approach all situations that require confrontation as empathetically as possible, and because I do that my team knows I mean well, and by doing that we create space to process together.
3. Mission. Mission. Mission.
Every big decision I make I align back to our mission. The reason I do this is because if every decision is driven by our mission, that means our team will be aligned on the decision. If my team is aligned, I don't need to convince them or bring them along. They are excited to execute.
4. Servant Leadership
My job as a leader is to enable my team to do their job. If I could run my company myself, I would. I can't, so my most important role is to set the vision, and enable execution.
Put these four together, and you have an unstoppable, aligned, in sync team, with major ups: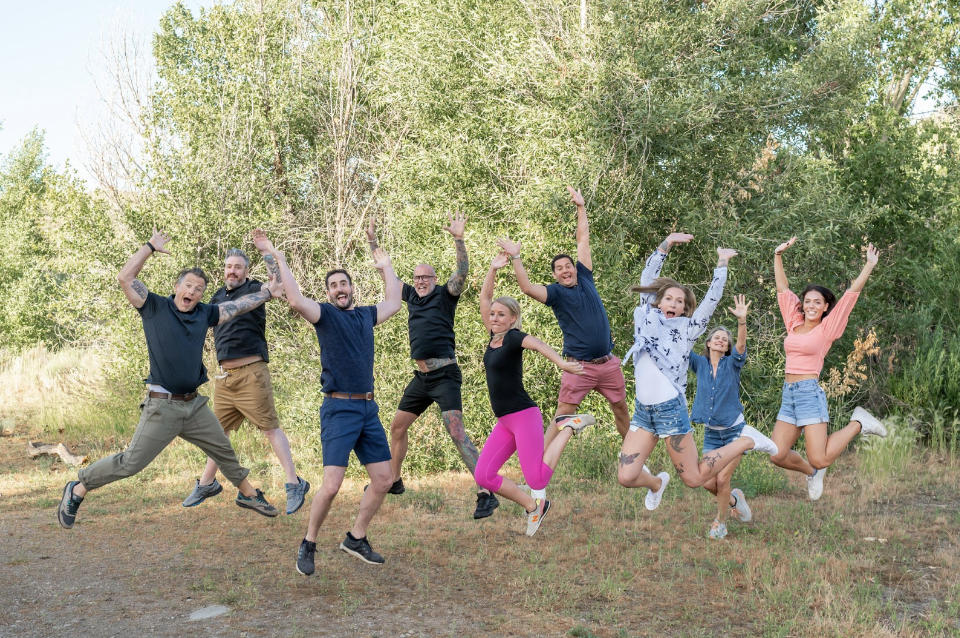 Where can we go to learn more?
You can learn more on our website at: https://youareaccountable.com. We also have a pretty comprehensive blog on the site that dives into all things recovery.
My LinkedIn is: https://linkedin.com/in/mserel
My email is: matt@youareaccountable.com
If you, or anyone you know needs help with addiction, please don't hesitate to reach out to me. And, I'm not saying to sign up for our service, I'm just here to chat and be helpful in any way I can. I've been there, it sucks, it can get better, and the work is worth it.
With Love,
-Matt Serel
Personally, I find being the CEO of a startup to be downright exhilarating. But, as I'm sure you well know, it can also be a bit lonely and stressful at times, too.
Because, let's be honest, if you're the kind of person with the guts to actually launch and run a startup, then you can bet everyone will always be asking you a thousand questions, expecting you to have all the right answers -- all the time.
And that's okay! Navigating this kind of pressure is the job.
But what about all the difficult questions that you have as you reach each new level of growth and success? For tax questions, you have an accountant. For legal, your attorney. And for tech. your dev team.
This is where Hampton comes in.
Hampton's a private and highly vetted network for high-growth founders and CEOs.