How I Bought and 3X'd an Accounting Firm In 18 Months (and I'm not even a trained accountant)
"We're on pace for $3.5M revenue this year. The plan is to hit $5M revenue, then start acquiring other types of small businesses."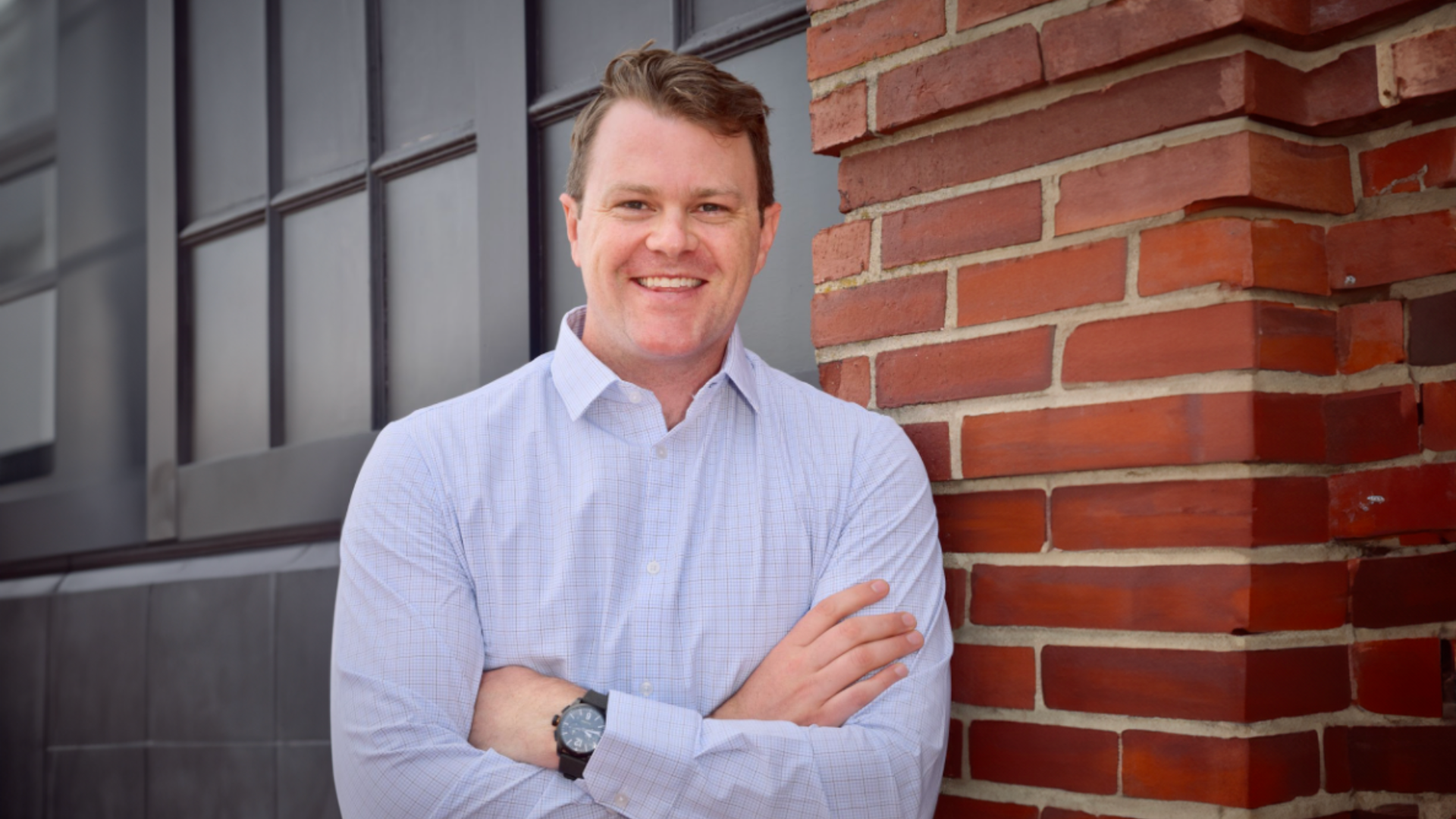 Not only did Hampton member Patrick Dichter acquire a business he had no formal training in (accounting), but he did it his own way, going around the typical brokers in the space, and cold-emailing his own list of prospects until he found the one.
Over the last year and a half, he's 3X'd its revenue, and in this article, he breaks down all the cool stuff, like...
Typical gross and net margins
A look at his recruiting playbook and EOS scorecard
Key growth channels and how he uses them
How he structures compensation to overcome common industry challenges
Where he sees untapped opportunity in the space
And more...
Whether you're currently building a HoldCo, or eyeing your first acquisition, you'll get a ton from this. Without further ado, enter, Patrick...
Hello! Who are you and what business did you start?
My name is Patrick Dichter. Eighteen months ago I bought an accounting firm, and I'm not a trained accountant. Since then I've 3xd the revenue and acquired two more.
Appletree provides quality bookkeeping and tax for small to mid sized companies. Most clients are service based or digital businesses between $250k to $20M in revenue. Fellow Hampton member and rockstar operator Jasmine Star is a client.
For 10 years prior, I worked closely with small businesses at a digital marketing startup and a business advisory firm. Two things struck me…. 1) when I referred clients to a solid bookkeeper, it was transformational, and 2) most accountants are bad service providers.
Growing businesses need the most accounting and tax help, but they try to DIY or aren't taken care of.
We're on pace for $3.5M revenue this year. The plan is to hit $5M revenue, then start acquiring other types of small businesses. Appletree will serve as a HoldCo platform to create deal flow, give us data on what's worth buying, and help serve other companies we acquire.
What's your backstory and how did you come up with the idea?
Why was I determined to buy a company in the most boring industry when I'm not a trained accountant?
I've been into numbers and entrepreneurship since I was a kid. I started a landscaping company, worked in restaurants, paid for college doing door-to-door sales. I've always been obsessed with what goes into a small business and how they can get better.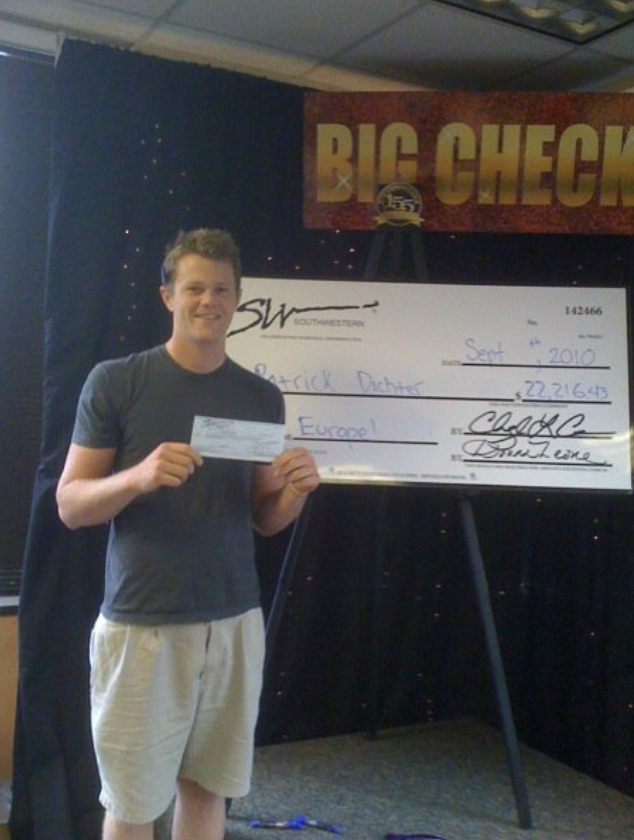 After undergrad and my MBA, I joined a digital marketing startup RevLocal as their first sales rep. We scaled to $35M ARR and I lead sales teams nationwide.
We sold local SEO, PPC, social and other digital marketing to small businesses. After 7 years I moved on to small business advisory at Cultivate Advisors. It felt like every day would be like an episode of The Profit with Marcus Lemonis - overhauling SMBs and helping them improve. And I thought it'd be a great stepping stone to private equity.
I loved the work, then started to hear about search funds and acquisition entrepreneurship. I kept seeing all the accounting work I referred out and the positive impact on clients - then thought I should buy an accounting firm.
I searched for 11 months on nights and weekends to find a good firm to buy. Unfortunately the business brokers in the accounting space were completely close minded to a non CPA buyer. So I ended up creating my own deal flow by building a list of 500 potential targets and doing my own cold email marketing. That lead me to Appletree and we closed the deal December 31, 2022.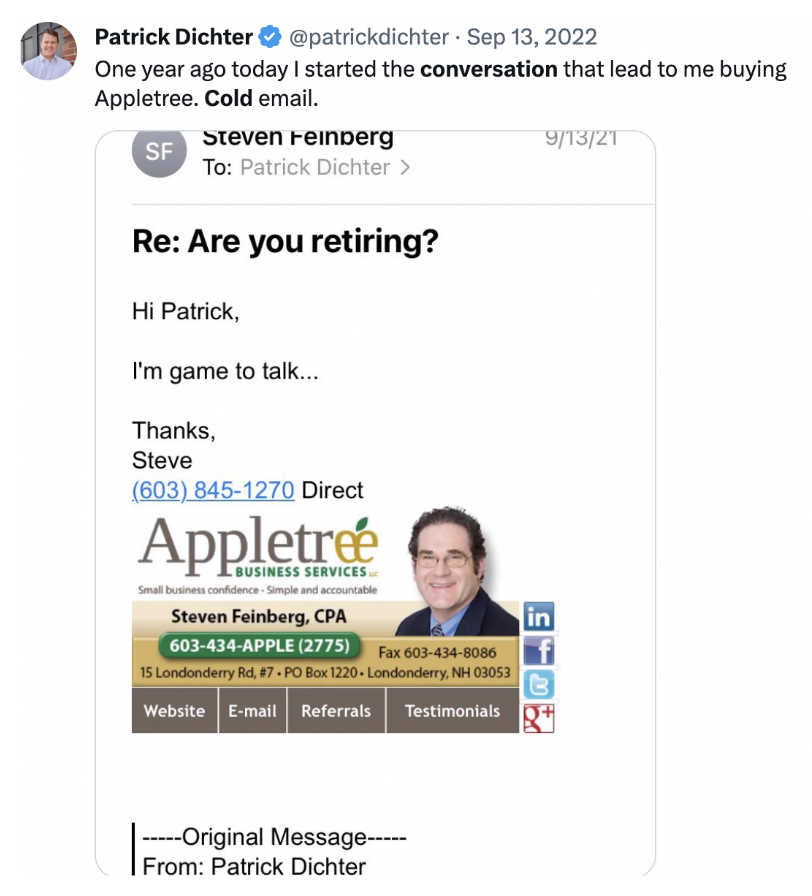 Take us through the process of building and launching the first version of your product.
My business plan was simple - not easy, but simple. I'd lean on my strong suits with B2B selling and consulting to grow the firm, and hire all the accounting specialists to do great work.
Things I was right about: my strong suits in sales and recruiting have paid off, there's a lot of low hanging fruit with marketing in accounting, additional acquisition opportunities would come.
I've been wrong about a lot. Rolling up a bunch of firms is not ideal - additional acquisitions aren't worth it unless it's a perfect fit. Tax is not black and white (it's often grey and one common piece of tax code can be interpreted 5 different ways). Streamlining operations and upgrading technology is a much slower process than expected.
I'm very grateful that Appletree was the first firm I bought. The previous owner has been extremely helpful, there's an amazing team in place, and some very strong SOPs.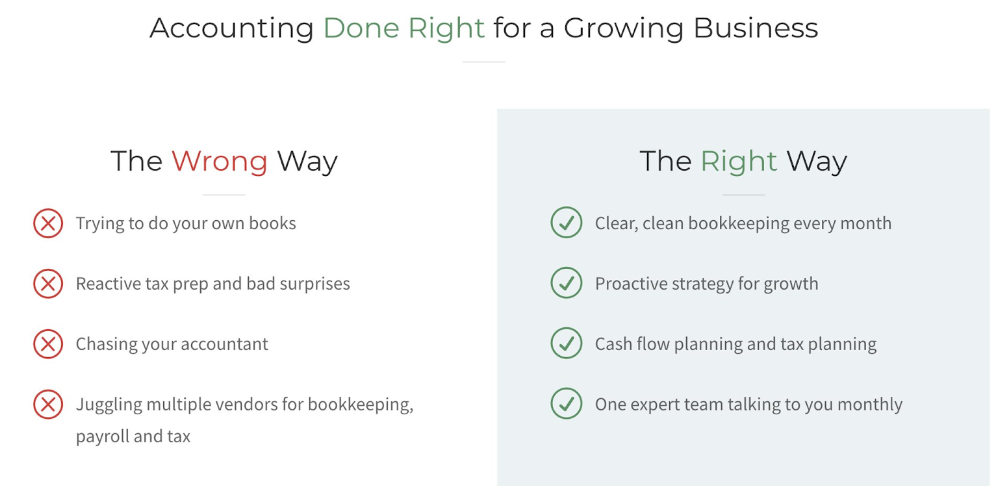 Since launch, what growth channels have been most effective for you?
We've grown 300% through additional acquisitions and organic growth. The 2nd acquisition approached me and was a very easy tuck in being a similar firm. The 3rd acquisition was a niche, modern firm focused on course creators and online coaches. This year about $900k of revenue will be from acquisitions.
Our organic growth has been a compounding effect of improving our marketing, my personal network, and being involved in the small business M&A community.
We bring on 3-5 new small business clients per month. About half of our new clients are searchers and acquisition entrepreneurs who are buying a small business. They're often buying a tree service company, marketing agency, roofing company, etc for $1-5M and we handle all their bookkeeping and tax post close.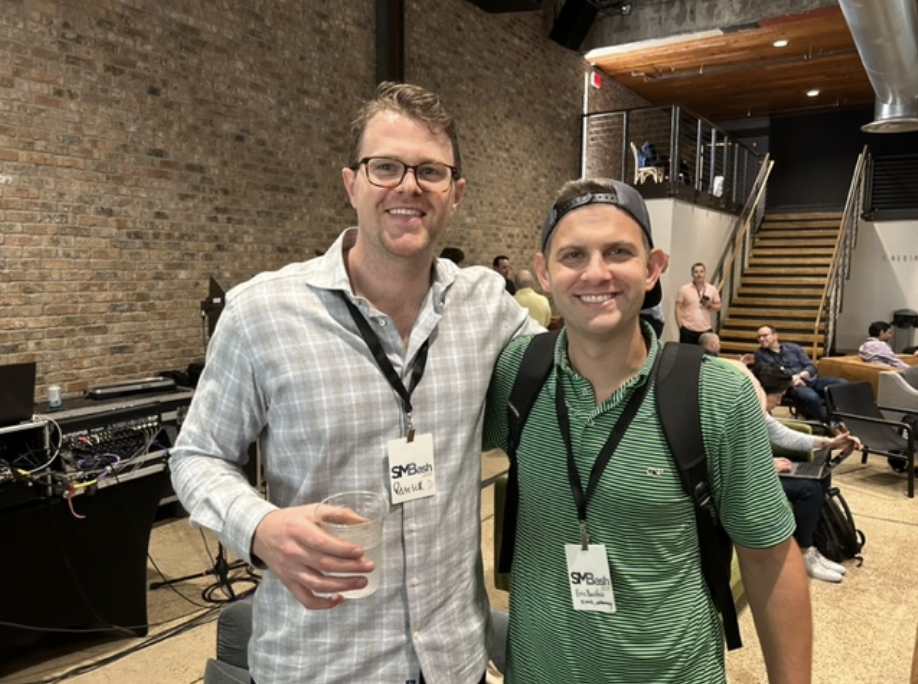 We've also overhauled our recruiting process to go from understaffed to constantly hiring ahead. I've gone on offense to create a recruiting playbook, scorecard, and building out internal training.
Recruiting is still my biggest challenge since we've missed on a few hires or had people quit during tax season.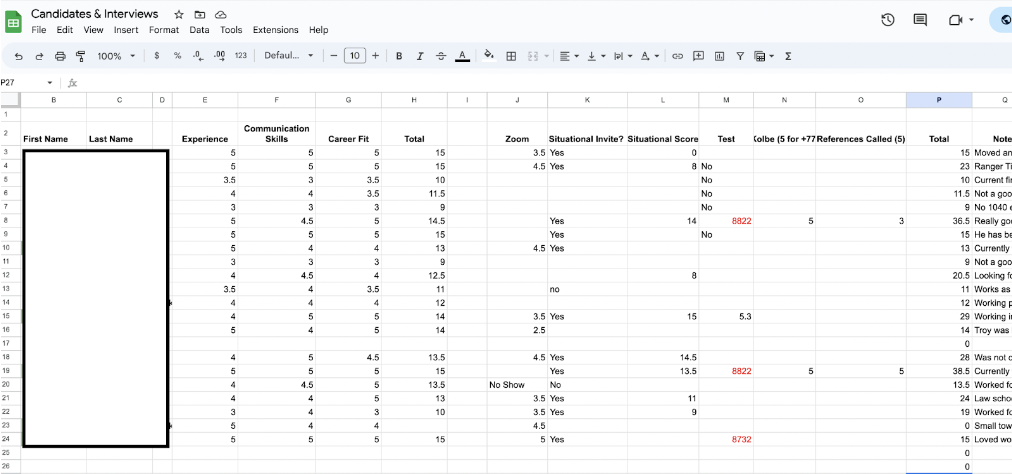 Did you ever have an "oh shit" moment where you thought it wouldn't work?
I've had multiple oh shit moments. The first was 40 days after closing, in the height of tax season, we lost a key employee who was one of our tax managers. Our 3rd child was just born, my wife was on unpaid maternity leave, and I'd put 80% of our savings into this business while signing a personal guarantee with the SBA for the business loan.
I thought the business would crater or a bunch of clients would leave.
Luckily the team rallied and the previous owner handled most of that tax work. I'll never head into tax season understaffed again.
The other big oh shit moment was with our 3rd acquisition. We didn't communicate the transition plan clearly and we played damage control from the start trying to rebuild trust.
On a weekly basis it's hard not to carry all the stress home. I work out, lean on a mastermind, and think I've got some grit but it's very emotionally draining. I know there's days where I'm short with my kids or not as present with my wife because my brain is still in work mode.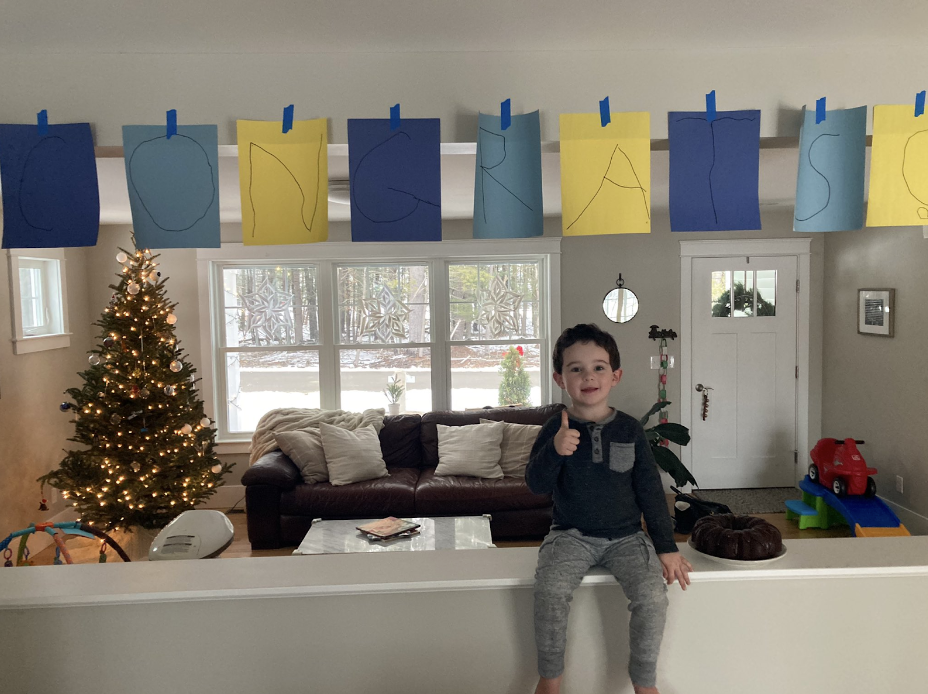 Can you break down the keys to this business model for us? What makes it work? And What do outsiders typically not understand about your industry?
Most accounting firms are understaffed, under-resourced, taking any client they can, and surviving one tax season at a time.
The key to success for us is staying very focused on our ideal client and our core offering - a monthly subscription for bookkeeping, business taxes, and personal taxes. Most clients invest $700-3000/mo. We bundle bookkeeping and tax together to create a better client experience, and it allows us to pay staff well year around, and have a less chaotic tax season.
Our employee compensation model is also different from a lot of accounting firms - every staff member is on production pay getting a % of the work they produce.
The hiring pitch is 'hey most accounting firms pay you hourly or give you a fixed salary and drown you in work. We'll pay you a % of the work you complete so you're incentivized to be efficient and keep the client, and you can decide if you want to take more clients and make more.'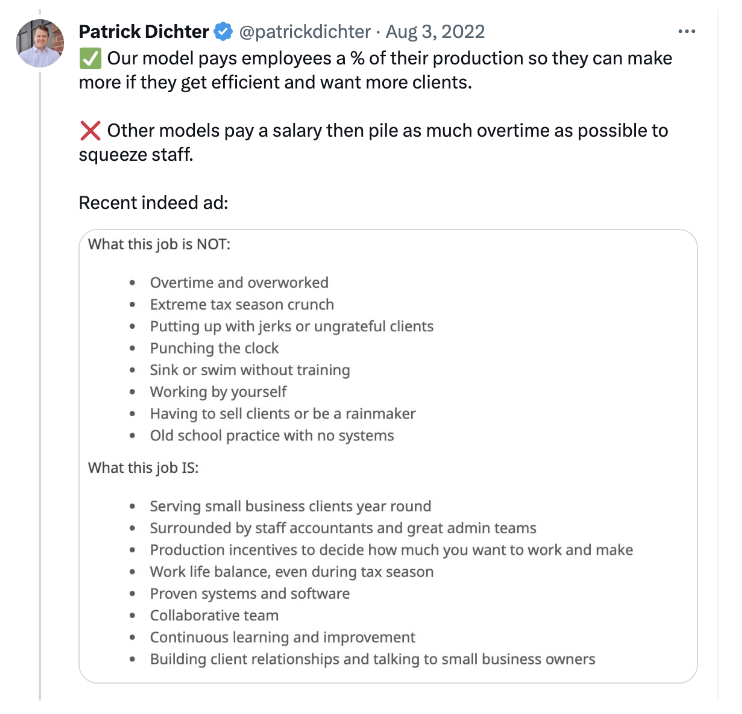 A stabilized firm in our industry typically has gross profit margin around 50% (**before the accounting purists come after me, I'm saying gross profit is after all direct labor and software to keep it simple) net profit margin should be 20-30%.
I've been reinvesting most of the profit in growth, training, and hiring. I'm strategically pushing to get to $4-5M sales quickly, then tighten up our margins. I've seen accounting firms stay small and under $1M in revenue drive 40-50% net profit, but that's a fragile firm very dependent on the owner. Or you can be +$4M with a leadership team, solid margins and adequate support staff.
I don't want to get stuck in between those two.
The average lifetime value of a customer is 8-10 years. But a new client is a massive lift. And new staff aren't fully self sufficient for 1-2 years. This year I've passed on a couple acquisition opportunities and have been focusing on our systems before next tax season.

What platform/tools are absolutely crucial for your business?
Our tech stack feels endless when I look at our software expenses. The big ones are Quickbooks Online for bookkeeping and UltraTax for tax work.
My favorite tool is Canopy. It's a new practice management software that gives us client database, workflow management, billing, client reminder automations, secure client portal, communication tracking, and more. It's been a slog to get through implementation but it's much needed.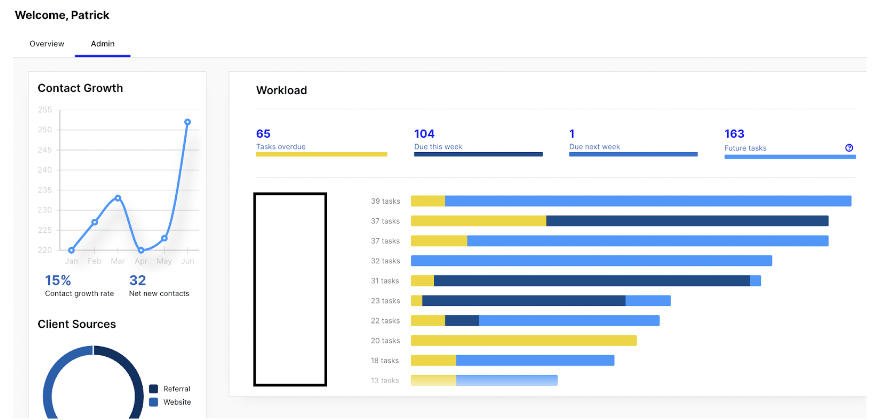 Our full tech stack:
Quickbooks Online, bookkeeping
Xero, bookkeeping
UltraTax, tax prep
Track1099, 1099 processing
AccountantSynch, QBO and UltraTax data migration
Gusto and ADP Run, payroll management
Canopy, practice management
Microsoft 365, email and calendar
FileCenter, client data storage
Infinitely Virtual, cloud storage and IT services
Google Suite, storage
Fathom, KPI reporting
Bill.com, AP and bill pay management
Approval Max, AP and bill pay management
Rewind, bookkeeping cleanup software
Adobe
Slack
Zoom
Loom, screen recording videos
Calendly
Bria, VOIP phones
FaxPipe, faxes
Pipedrive, CRM
Practice Ignition, proposals and engagement letters
Mailchimp, email newsletter
Zapier
MyTaskLMS, new staff training
Notion, internal Wiki
Docusign, employee agreements
BaseCamp, new client onboarding
VideoAsk, video hiring tool
What have been the most influential books, podcasts, or other resources?
Before buying Appletree, my most influential book was the Harvard Guide to Buying a Small Business.
I ended up breaking some of their recommendations (buying small, focused on one industry, doing proprietary outreach), but it's a great framework to understand how these deals work.
I love podcasts, so I was constantly listening to Think Like An Owner, Acquiring Minds, and Acquisitions Anonymous - they're all amazing podcasts focused on the small business M&A space.
The SMBtwitter community has also been incredible to help me connect with similar people to get feedback on acquisitions, find friends in the trenches, and not feel so alone.
Running the business, the most influential resource has been our industry association PASBA. There's +300 accounting firm owners in the group that share best practices, hiring tactics, software feedback, financial performance, and more. And I'm in a small mastermind within PASBA of 10 other firms where we do a monthly zoom and annual meeting.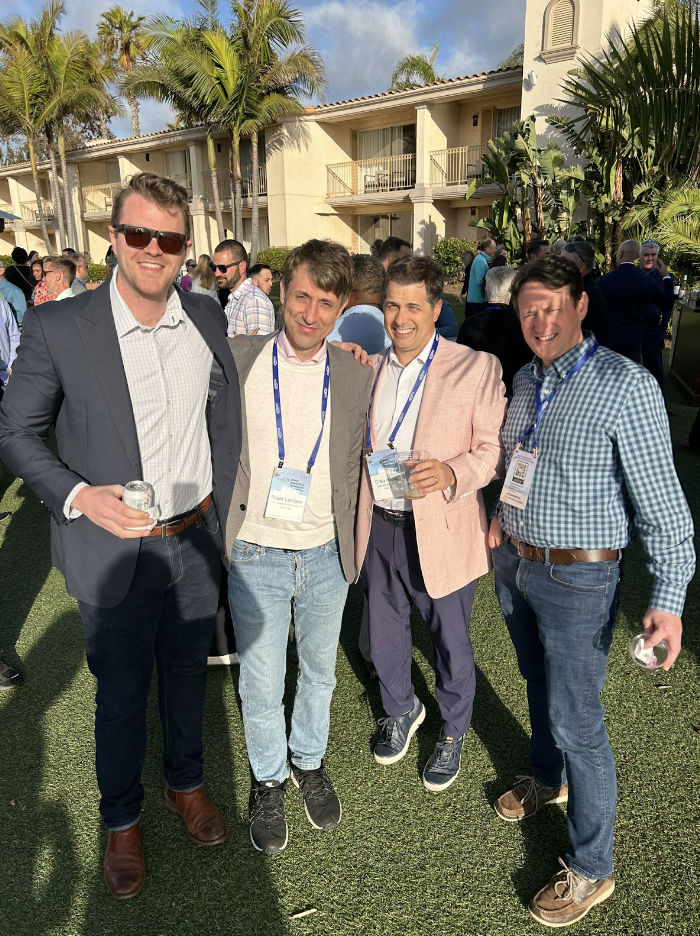 I'm a big fan of EOS/Traction. We self implemented EOS and use the framework to run the firm. It's been instrumental to get us all aligned on the vision, help with buy in for change management, and increase accountability.

Where do you see untapped opportunity in the market? What business do you wish someone else would build that would make your job easier?
There's endless opportunity in the accounting space or related industries. A few ideas:
'Alert My Accountant tool' where we could opt in to get an alert any time a client opens a new credit card, bank account, loan, buys a property, etc tied to their EIN. So many times they forget to tell us then we're scrambling during tax season to get all the info and access


I wish there was a 'fact checker' content site for all the BS tax strategies that go viral on TikTok and Twitter


'Tax Time Estimator tool' where it'd scrape a prior return or UltraTax input to estimate how many hours that return will take to complete to help us with scoping new clients and training staff


'M&A Cash Flow Tool.' When you're buying a home, there's tools to estimate monthly payments and maintenance costs. I'm picturing a similar tool where you upload the historical financials, then it'll create an estimated 24 month cash flow forecast for a business acquisition where you can toggle purchase price, loan rates, revenue increase/decrease. It won't replace full due diligence, but would allow searchers to know if a deal pencils quickly so they can move to decide whether or not to send a Letter of Intent before going into heavy legal and accounting costs.

What are some strong opinions you have about leadership, and how do you actually put those into practice in your company?
Change management after buying a company is so hard. I've been in a lot of leadership roles before but taking over a company and trying to drive change is like a very high stakes double black diamond ski run.
There's a common saying to 'do no harm' in mergers in acquisitions. Meaning be slow to change, don't break what's working, etc. But after a certain point in every transition you eventually have to flip a switch and say 'here is where we're going and why' and stop being overly cautious about upsetting the apple cart. I've realized that some folks may complain about anything I change, even if it makes their work life easier and they make more money.
A couple things have been key to build trust and buy in. I have a weekly 1-1 with direct reports that's consistent and structured. It's the highest 'return on time' activity at our current org size.
Using EOS to track our issues list and decide on our quarterly rocks has also been key to get buy in as we make decisions on big projects. Here's a blog I wrote about how to self implement EOS, and a picture below of a recent quarterly manager meeting.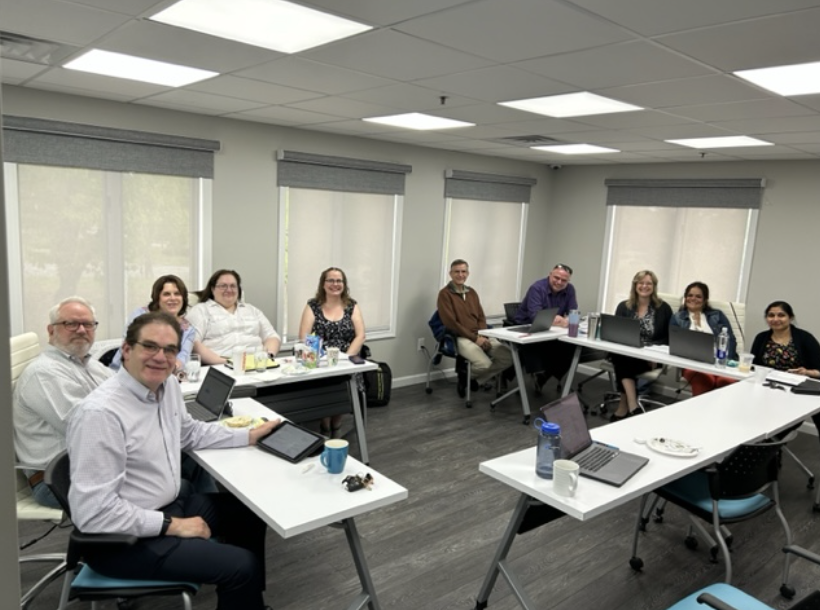 Where can we go to learn more?
I'm excited to connect with Hampton members and other entrepreneurs or people wanting to buy a small business. Don't hesitate to reach out.
My wife and 3 little interns keep me motivated. Thanks for reading!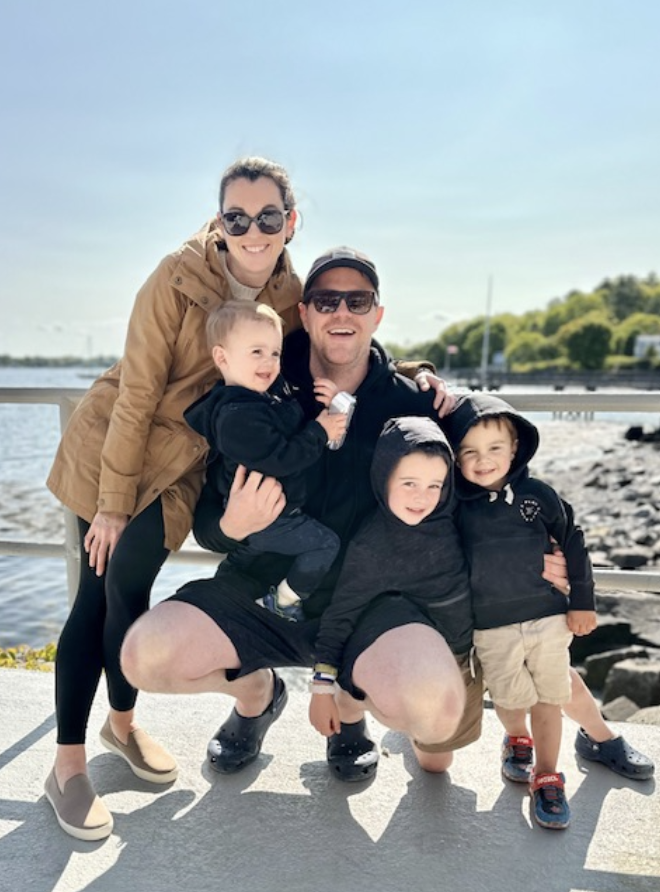 Personally, I find being the CEO of a startup to be downright exhilarating. But, as I'm sure you well know, it can also be a bit lonely and stressful at times, too.
Because, let's be honest, if you're the kind of person with the guts to actually launch and run a startup, then you can bet everyone will always be asking you a thousand questions, expecting you to have all the right answers -- all the time.
And that's okay! Navigating this kind of pressure is the job.
But what about all the difficult questions that you have as you reach each new level of growth and success? For tax questions, you have an accountant. For legal, your attorney. And for tech. your dev team.
This is where Hampton comes in.
Hampton's a private and highly vetted network for high-growth founders and CEOs.