How A Graphic Designer In Kentucky Bootstrapped His Side-Hustle To 100m+ Users
They're profitable and growing fast – with 3 different monetization streams, 80% margins, and 141% revenue growth over the last few years.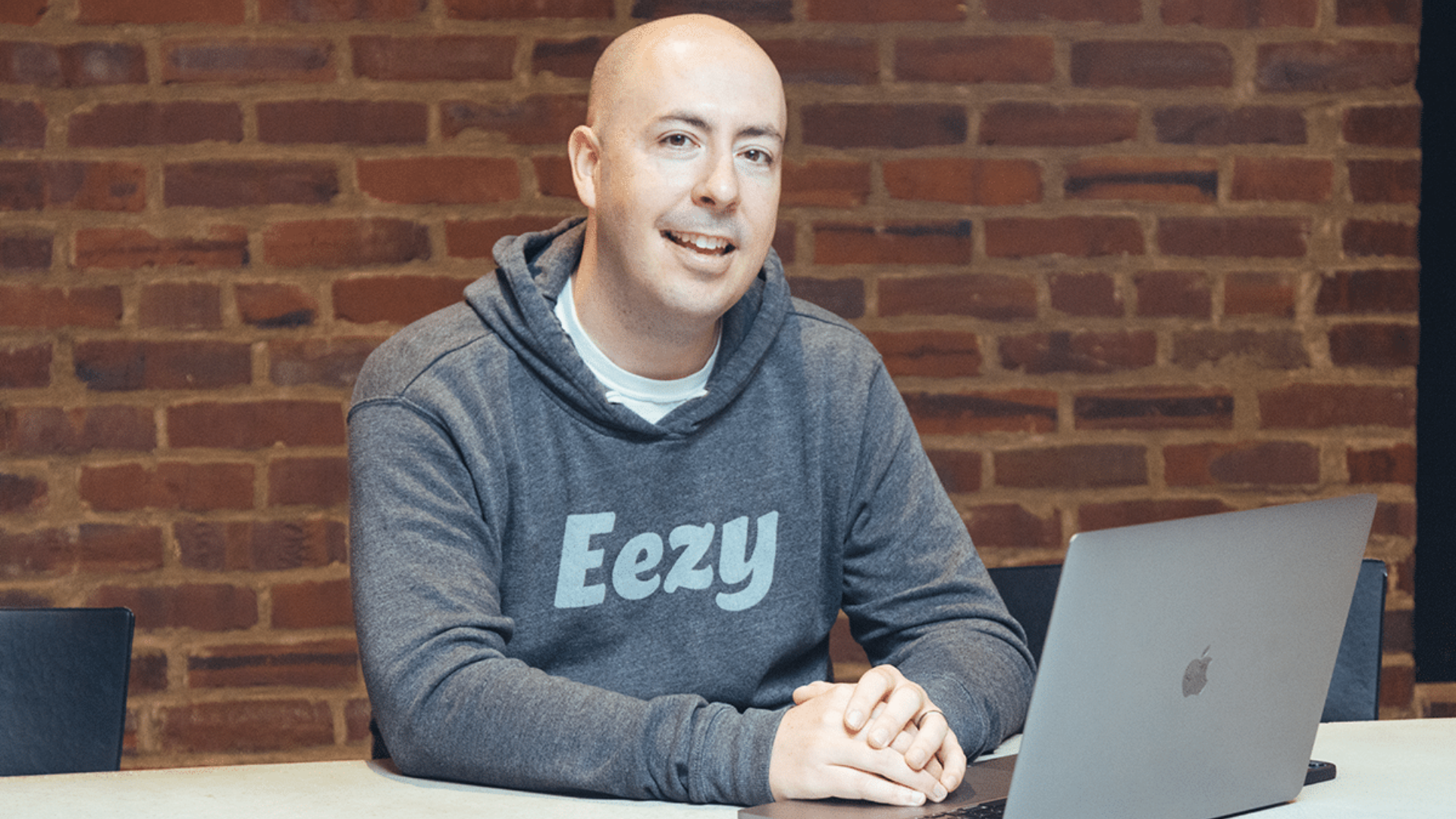 On the surface, Hampton member Shawn Rubel may not sound like your typical tech founder.
He's a family man. Not obsessed with micro-dosing. And he's based in Kentucky of all places, far from the hustle and bustle of New York City and Silicon Valley.
And yet his company, Eezy, runs one of the fastest-growing stock photo sites in the world, standing shoulder-to-shoulder with behemoths like Shutterstock, and iStock, and curating tens of millions of assets used by designers all over the globe.
He's one of my favorite kinds of entrepreneurs because he broke all the rules, and still succeeded.
Here's how...
Hello! Who are you and what business did you start?
My name is Shawn Rubel, and I'm the Founder and CEO of Eezy. Our main product is Vecteezy.com, an online marketplace that allows users to download fully licensed stock photos, vector graphics, and stock footage directly from artists. Basic features are free but include ads and download limitations. Pro subscribers get advanced licensing and a wider selection of features and content.
We're one of the fastest-growing stock photography marketplaces right now. Our primary customer base includes a broad range of consumers but is primarily made up of designers, marketers, and publishers.
We're a fully remote team of 91 (as of February 2023), and we plan to add another nine to the team in the next few months. In a few more months we will cross the $15 million ARR mark.
What's your backstory and how did you come up with the idea?
I've always considered myself a creative person. That's why I majored in Graphic Design & Visual Arts in college. After I graduated from Brock University in Ontario, Canada, I started my career as a graphic designer and web developer working for a small agency in Bowling Green, KY.
From there, I became fascinated with e-commerce and the idea of entrepreneurship.
I began to tinker and create my own websites that would rank in Google for various terms that I knew I could sell advertising against.
From my own experiences as a designer, I noticed that there was a major opportunity to offer affordable (and free) creative design resources. Vector graphics and stock images were very pricey. As is the case for most designers, I had a tight budget. Additionally, I connected with designers who work with the biggest companies in the stock images space, and they were frustrated about receiving poor compensation for their work while the agencies took the majority share of their earnings.
These were problems I knew I could solve. I realized that great creative content shouldn't live behind a wall, and the creative community that crafts that content should get fair payment.
I left my job and launched a website that provided free brushes for photoshop. The site became popular, and I became ambitious to grow my business by offering more valuable content like graphics and photos.
In 2007, I launched Vecteezy — a site focused on offering free vector graphics. Roughly 15 years later, it is among the largest creative marketplaces with millions of stock photos, vectors, and videos that are free and safe to use for personal or commercial use. We have well over 100 million users and roughly 20 million pieces of content — two numbers that grow every day.
Take us through the process of building the first version of your product.
In the early days, I strung a freelance team together to code the MVP of Vecteezy. It was equal parts art and chaos. Visitors loved the site and word of mouth grew quickly – there was a huge need for free and affordable graphics. But the site was initially built haphazardly, without stable security measures. It was even hacked once.
We are fully bootstrapped. When it came time to go all in on the business, we took some personal loans from friends and family and invested our own sweat equity. To this day, we have chosen not to take on any outside VC funding.
We picked up steam when I started building a team. I hired two friends who are now our CTO and COO. We hired our first employees and that's when the business really started growing.
The branding was rough when we started. As we matured the business, we sharpened it into a brand that could lead the design space and garner trust from the best creatives on the planet.


Describe the process of launching the business.
I launched Vecteezy as a side hustle with my own money.
At the time, I only offered free content on the site. I made a little money off ads, but I hated the idea of relying exclusively on that model. As the site grew and visitor loyalty increased, I created a plan to build in premium content for a small subscription fee.
To do this, I worked with designers to build exclusive content:vector illustrations behind a paywall that could only be found on my site. Since I could see what my visitors were downloading, I knew what content was in high demand and gave direction to designers to build content around that direction.
Growth was not immediately explosive, but I had earned the trust of visitors by providing so much value with free content that I immediately built a base of subscribers for our Pro product.
Additionally, we developed an online vector editing app that allowed people to create scalable graphics without purchasing expensive and complicated software.
As we built our Pro community base, we added more content like stock photos and stock video footage. We knew our visitors needed more of this content and wanted to be the go-to site for all the visual assets a creator could need.
Since launch, what has worked to attract and retain customers?
We've been able to attract and retain customers consistently for a few different reasons.
First, we focus on acquiring a lot of excellent free and affordable content. Our review team manually evaluates every image to ensure we are only putting quality content on the site. This results in an awesome experience for our customers.
Second, we make the creative process simple for our customers. Our pricing provides ample value compared to competitors – so much so that our churn is very low, and we frequently win customers from our competitors. We are a great option for users who need affordable imagery with flexible licensing.
Our licensing is also more straightforward and agreeable for our customers and users. We provide our community with the confidence that they can use images for commercial purposes without risks. For example, every photo of a person or recognizable landmark on our website must include a model release. This is something that many free photo sites do not require, and it creates a massive potential for legal consequences down the road for the end users.
We've built an exceptional search engine to make finding the right content easy. This is critical because people do not like losing time on irrelevant search results. Users can filter by a number of attributes to find exactly the right piece of content fast.
Finally, we take pride in our customer support. If you do some research, you will find that many of our competitors have terrible reviews due to poor customer service. We believe that putting our customers first has been a huge reason why people stay with us for the long run.
How are you doing today and what does the future look like?
We are profitable and growing fast – with a three-year growth rate in total revenues of 141%. We have a strong margin rate of about 80% and a diverse portfolio of revenue generation, including ads, affiliate partnerships, and Pro revenue. Organic growth has been massive for us.
In the last two years, we've focused on driving profitable growth with performance marketing. We send roughly 40 million emails a year, focusing on our highest engaged users and ensuring our emails are always relevant. We've grown our share in paid ads, with the majority of spend on Google and Microsoft. This will be a central focus for us moving forward. Last year, we spent around $50,000 on paid ads, and this year we are on track to spend over $1 million.
Moving forward, we have some big goals. First, this year we are releasing a new graphic design template editor that allows non-designers to quickly create stunning designs for social media, marketing, and websites. This tool will help people streamline the creative process without needing pricey software or design skills.
Second, we are growing our new custom designs studio. Targeting enterprise clients, we offer unlimited graphic design services at a flat affordable rate. The service includes a dedicated account manager who acts as a single point of contact to ensure the best possible experience. As we grow and diversify our offering, our business gets stronger.
Did you ever have an "oh shit" moment where you thought it wouldn't work?
We've been fortunate to grow at a pace that makes sense, so most of my worst moments of doubt occurred very early in the business. We never over-hired or had to do mass layoffs. We never ran out of cash, though early on we came close.
When I first got started, I hired a few freelance developers to build my site. They didn't do a great job, and eventually, we got hacked. Users that went to my site were redirected to an x-rated website. That was pretty bad, and I thought we were doomed. We quickly got it fixed, patched the hole, and kept going.
I never really lost hope or didn't think it would work though. These were just some speed bumps. I play the long game and don't have any issues with staying motivated to keep going.
Through starting the business, have you learned anything particularly helpful or advantageous?
Focus on answering this question: "Why?"
In the early stages, it's easy to fixate on what, how, when, etc. You get so obsessed with growing and pushing forward that you confuse movement with direction or being busy with generating results.
If you come back and frequently challenge yourself to answer "why" you will avoid making a lot of mistakes and stay pointed in the direction you really want to move in.
I think that learning has stuck with me and helped me spend more time crafting a solid vision that our company can rally around.
What platform/tools do you use for your business?
We use Slack for communication. We're a Google Meets company for meetings. We like Metabase for data analysis and tracking attribution and various metrics. Our system uses BrainTree for payments.
Our marketing team uses Klaviyo for email marketing and Asana for project management. They use Later for social media scheduling. For paid ads, we use a tool called Opteo to support optimization. And we use Impact for affiliate marketing.
For engineers, we use Slite and Jira to keep things organized.
Beyond that, most of what we use was built by our own team internally. We created our own application for contributors to upload large amounts of content in bulk. Our engineering team does all the website building, though occasionally we partner with a third-party agency for special projects.
As far as my favorite tools, I love Notion for keeping my ideas straight. Nothing helps me feel more at peace than a system for organizing my ideas.
What have been the most influential books, podcasts, or other resources?
I love the "All-In" podcast, as well as "My First Million" and "How I Built This." And I'm a huge fan of the book "Scaling Up" – we follow that methodology closely at our company.
Advice for other entrepreneurs who want to get started or are just starting out?
My biggest lesson and advice is to leverage passions and core strengths to strike the balance between work you enjoy and a rewarding personal life.
Vecteezy launched as a side project, and I committed to it fully when I realized its potential. I'm passionate about design, which sent me in the direction of a vocation I actually enjoyed working hard on. If you don't like what you're building, it won't reach its full potential – and neither will you.
It's easy to get distracted as an entrepreneur because we run off of ideas. My advice is to pick one idea you're passionate about and focus on it relentlessly. You win when you focus.
Are you looking to hire for certain positions right now?
We're always looking for humble, hungry, and smart people that exemplify our G.A.R.D.E.N. core values (Genuine, Ambitious, Reliable, Detailed, Enthusiastic, Nimble). We currently have (or will have soon) open positions in engineering, HR, design, and sales. You can find our most recent job postings here: www.eezy.com/careers
Where can we go to learn more?
More information about Vecteezy:
Ways to connect with me:
Personally, I find being the CEO of a startup to be downright exhilarating. But, as I'm sure you well know, it can also be a bit lonely and stressful at times, too.
Because, let's be honest, if you're the kind of person with the guts to actually launch and run a startup, then you can bet everyone will always be asking you a thousand questions, expecting you to have all the right answers -- all the time.
And that's okay! Navigating this kind of pressure is the job.
But what about all the difficult questions that you have as you reach each new level of growth and success? For tax questions, you have an accountant. For legal, your attorney. And for tech. your dev team.
This is where Hampton comes in.
Hampton's a private and highly vetted network for high-growth founders and CEOs.