He Cold Emailed Mark Cuban... And It Worked!
Steven Farag grew Campus Ink from a small college print shop to a $13 million powerhouse, showing how great entrepreneurs can find opportunities anywhere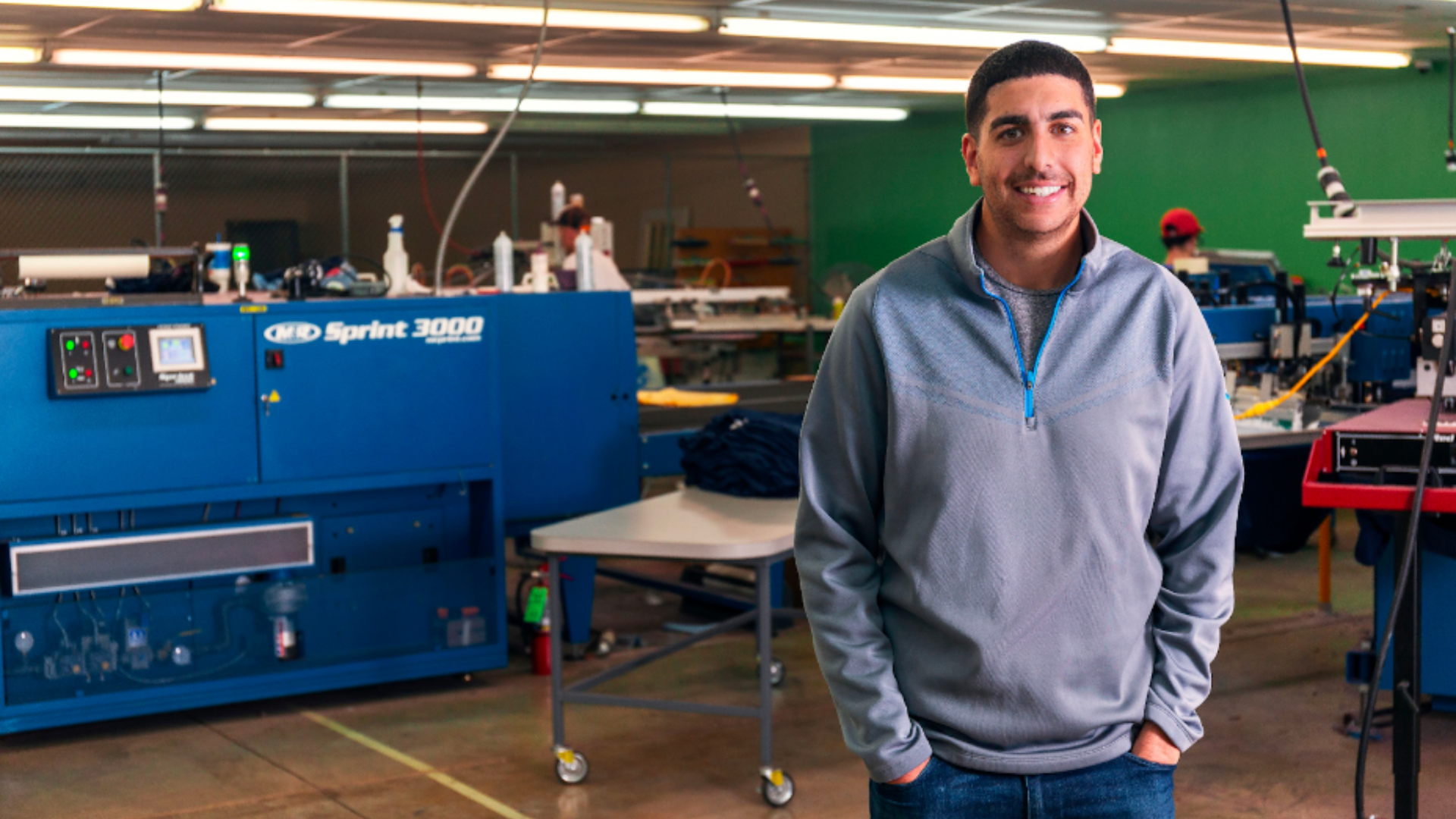 When covid hit, and universities closed, revenue for Hampton member Steven Farag's small college merch shop evaporated over night. Only his team's bias for action (and several successful pivots) helped pull them through.
Later, when new rules made it possible for college athletes to earn money from their name, image, and likeness (NIL), that same bias for action made his company one of the first into the space. It also led him to cold-email Mark Cuban for investment (spoiler, it worked).
Today, his business has not only survived the pandemic, but has grown 10x over the last year or so, and is on track to do $13 million, beating out Nike for contracts, while helping thousands of students and athletes at more than 100 universities learn valuable skills and make money.
He's a great example of how driven entrepreneurs will find big opportunities in even the sleepiest of industries. Here's his story...
Hello! Who are you and what business did you start?
My name is Steven Farag, and I'm the co-founder of Campus Ink. We're a DTC & B2B custom merch platform powered by college students and athletes. Our company creates licensed merchandise platforms for universities, enabling any college athlete to sell and earn money from their name, image, and likeness.
At the same time, we provide training for students on these campuses in design, sales, and marketing. This training helps support the athletes and also enables them to sell to other organizations, such as the Greek system.
After a cold email to Mark Cuban in 2022 turned into an investment, the trajectory of our business took a significant turn. To date Campus Ink has signed 35+ power five schools to our new platform, helping 2500+ athletes make money. Our design and sales program has trained more than a thousand students spanning 100 campuses, and almost a third of our full-time employees began their journey with Campus Ink during undergrad. We are rooted in education and exist to help unlock the creative potential in every student. Campus Ink is on pace to do $13m in sales this year.
What's your backstory and how did you come up with the idea?
I went to school to be an engineer and quickly learned I was more passionate about sales and marketing. After working a summer job of cold calling and managing a painting business, I discovered my passion for creating and selling apparel. By senior year, I was selling 6 figures in merchandise for campus-wide events. I spent my off hours working with a little print shop that was producing all my orders called Campus Sportswear. One thing led to another and the two owners took me in to business as part owner after graduation.
Today, one of those partners, Jedd Swisher, is still in business with me and is twice my age. I owe my world to him. He taught me everything about the craft and how to be an artist. I took those lessons and created a sales and design program for students. Recreating my college experience was the original fuel for our growth. When you take young people, empower them to sell, and teach them how to create, the results are incredible. There are quite a few college ambassador apparel companies out there, but few take the time to teach art. We've had students do 100k+ in sales in college.
When Covid hit, and students were sent home mid-semester, we were forced to pivot. We plunged into the DTC world and became the official merch provider for several national fraternities. The business transformed again to take on an agency approach that was merch-enabled.
Then one day I was reading the news and learned that college athletes would now have the opportunity to profit from their Name, Image & Likeness. A few of our students started texting the basketball team at Illinois to sell their apparel. One player led to two, which led to four, which led to All-American Kofi Cockburn and the whole team. We teamed up with the University of Illinois, spun up a website, and made their basketball team over $100,000 in one season. It was something that had never been done before. We knew we were onto something.
I called on my best friend Adam Cook, who was a professor at Northwestern in sports to help me navigate this blue ocean. We spent countless hours figuring out what was viable in this space and when Mark Cuban made the investment, Adam quit his job to grow the new venture.
We quickly learned that the licensing space was prime for disruption. The creator and influencer paradigm is not foreign, but attaching licensing to it had not been done. It was imperative to us that we paid athletes exceptionally well. Solutions out there began popping up that paid top athletes $4 on a $115 jersey, and that didn't fly with us. If we were going to do this, our north star would be taking care of athletes, and that means paying them 20-30% on every sale.
Today, our platform is inclusive of all sports and all athletes. We've had to overcome countless obstacles and legacy relationships to allow schools to let us do it our way. However, in 12 short months, the dominoes are dropping and schools are actively seeking out Campus Ink as a solution. It validates what we're doing and the product we're building to empower collegiate student-athletes.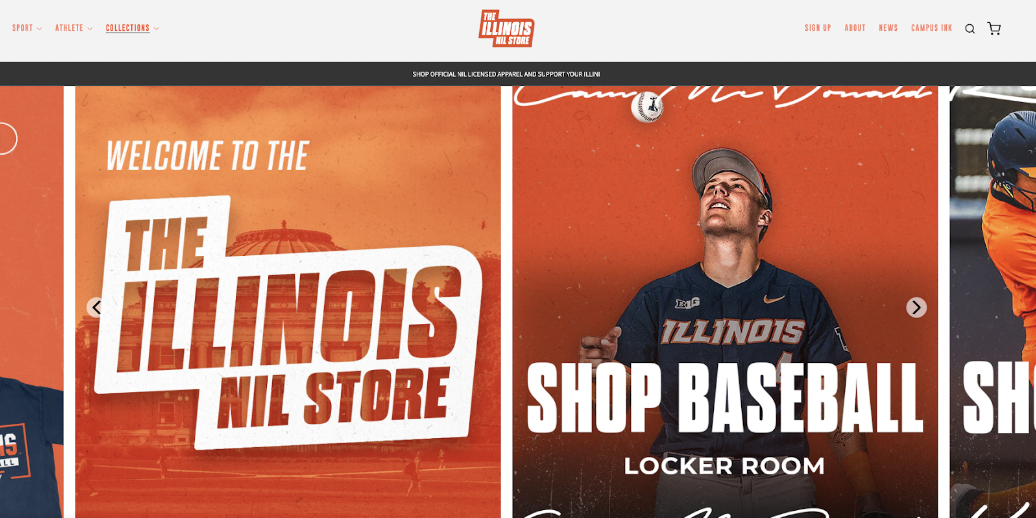 Take us through the process of building and launching the first version of your product.
Early on, I ran point on all different parts of the business. From manufacturing, product, sales, finance, and marketing. I relied on a few full-time employees, a team of students, and VAs to put something together. Our first product was a Shopify store cobbled together while learning to operationalize a merch-enabled marketing agency. Meanwhile, on the production side, we had to transition from B2B to on-demand manufacturing.
When NIL legislation passed and the investment from Mark Cuban materialized, we went from a bootstrapped family-run business to a venture-backed brand. While it put our business on an exciting new path, it also meant the trajectory, speed, and scale we were going to operate was significantly accelerated. To get legs underneath our new solution, I gambled and guaranteed our first few top athletes over $15,000 in earnings. We took a bet on ourselves that proved to be successful.
It didn't stop at t-shirts. With experience in dye sublimation and custom cut and sew, the University of Illinois granted us a license to produce a NIL jersey for athletes. When Nike couldn't produce them, we became the next possible solution. We found an incremental revenue stream wholesaling to bookstores and moved a few thousand jerseys in our first season.
During the first year of NIL we were constantly testing verticals and market segments to see what would stick. We hosted meet & greets and athlete autograph signings and kept pushing our limits to see what was viable. We built a pop-up store in downtown Chicago to prove that brick-and-mortar could work. It opened during selection Sunday and was only open until Illinois lost… which happened a week later much to my personal sadness as an alum. But we learned from the experience. Armed with the knowledge of how to scale this to other schools, our small team trudged on hiring, recruiting, and building a team.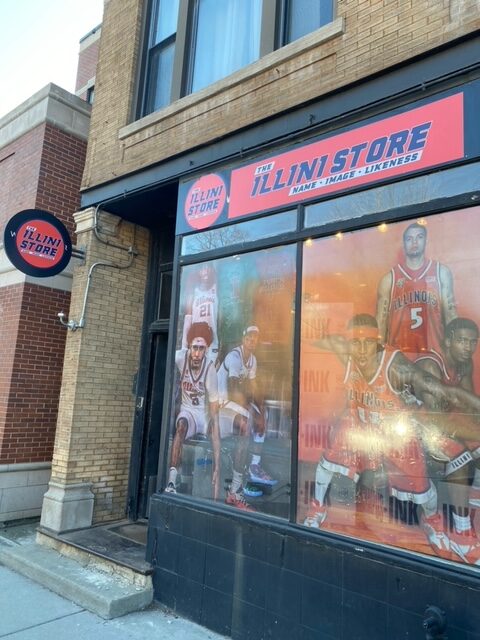 After the tournament ended, we had an idea of what was possible but knew it would be an uphill battle trying to get other schools to let us build for them. Mark Cuban helped open the door at Indiana, while our "athlete first" model led to meetings with athletic directors, licensing directors, and sport agency giants. We traveled to schools, pitched our product, and signed on athletes. That summer we decided to raise some capital to keep growing, and I was fortunate enough to pitch on the MFM demo day.
As we began launching schools, we saw an overwhelming amount of support from fans, athletes, and universities. Fans loved having a way to directly support their favorite athlete, athletes enjoyed being able to sell merch and earn great money and universities proudly provided an NIL merchandise solution for every one of its athletes. With each new launch, we would tweak and refine our process ensuring that the athlete was always the focus.
Since launch, what growth channels have been most effective for you?
To date, we have paid students and athletes over $500,000 and have launched 17 school-wide NIL platforms with many more under construction. We have not used any paid advertising.
Instead what we focus on is building organic communities around the athletes. Each school platform has its own instance of Shopify, Klaviyo, Instagram & Facebook. People think this is a little crazy, but we hire students on each campus to help run our accounts. We build laser-focused customer lists of rabid fans and help market on behalf of the athlete. If an athlete hits a buzzer-beater, there is a shirt available the next day.
Each school runs like a stand-alone brand with DTC & B2B support. While we're selling online, we're also selling in bookstores. Our platform handles paying athletes, so our retailers can focus on selling apparel. Because we are vertically integrated and handle our own decoration, we are able to hedge inventory risk with quicker turnaround times. I've wrestled with outsourcing options, but owning our craft and having a high emphasis on quality and speed has been a winning factor in our success.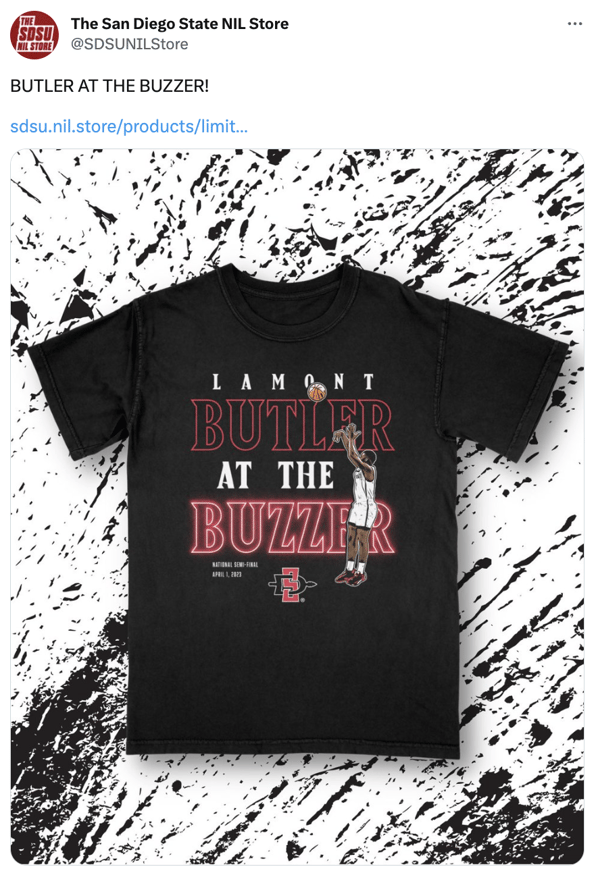 We understand our student-athletes are the best vehicle to market their apparel, and we put an overwhelming emphasis on their experience to make selling as frictionless and rewarding as possible. College athletes are extremely dedicated, talented, and competitive. Our team works to help them realize their true earning potential by creating products that resonate with their fans, marketing assets to promote them, and teaching them social media best practices. We spend time educating them on real-life skills they'll use to build their brand for life. Our platform pays them out within days, and they feel the impact and reward for their work.
This is influencer marketing at its core, just with a few twists. Empowering athletes to have a real share in the earnings and providing them with the tools to succeed, has shown real results. Meanwhile, we sit back and watch other competitors pay athletes below industry standards and leverage their image without them in the conversation. While we know our approach is time-consuming and hard at scale, our technology is making it easier every single day.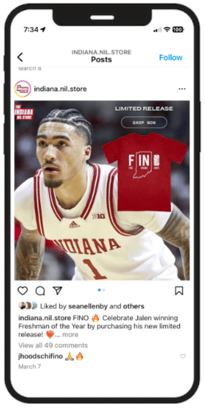 Did you ever have an "oh shit" moment where you thought it wouldn't work?
Early on in our story we were always very conservative with our approach, not spending beyond our means and taking calculated risks. I owe that to my business partner Jedd. Covid was our first real test. When groups and gatherings went away we turned to selling masks online and developed a mask with a strap on it to wear around your neck. I go back to this moment and remember it vividly because all of a sudden, the guaranteed shirt orders we got every year suddenly disappeared, and when I asked my business partner if we could order 50,000 masks, without hesitation he said, "if we're going to go broke, at least we tried something." We ended up having record sales and learned to be uncomfortable.
That story sticks with me because it was a distinct moment in time when I learned about action vs inaction and being comfortable with the possibility of failure.
Failure of action is okay, failure of inaction is regret. That means sending that cold email, asking why not, being uncomfortable, and pushing limits. When taking action becomes uncomfortable, that is when we're unlocking what's unknown to us. Embracing this mindset makes navigating the new NIL space that much more fulfilling.
Can you break down the keys to this business model for us? What makes it work? And What do outsiders typically not understand about your industry?
Our business model has a few-pronged approach, and it's important to us that we always keep students at the center of the conversation. When we sign a school onto our platform, we immediately begin seeding the school by onboarding the athletes and hiring students to help us filter through the campus. Our students go through our design & sales program, meanwhile, our athlete success managers begin preparing the athletes to launch their apparel. For this to work, both must happen simultaneously, and the culmination of it turns into campus-wide experience.
Typically in the licensing space, brands must build products and then use traditional marketing to acquire customers. When a school launches, there is an established organic network of early fans, athletes eager to market, and students trained to sell. It creates the perfect storm and schools embrace the educational approach we take. We purposefully do not sell discounted items, and maintain a premium to everything we do. As athletes perform on the court, their sales begin to skyrocket and conversions happen organically. Once those customers are in our funnel, they are part of our NIL community.
A significant amount of our sales comes from email and social, and we've been impressed to see how well Twitter converts. We've seen 10x growth in less than a year and we've really only been through one full season.
Outsiders typically think NIL is about surfacing the historical under-the-table recruiting antics and while we hear about that in the news, NIL is far from that. NIL stretches far beyond football and basketball, and the positive effects help surface underrepresented athletes. It's no surprise that many of our top earners are women, and we want to continue highlighting and educating others on the positive impact NIL can make for both student-athletes and businesses.
What platform/tools are absolutely crucial for your business?
We're all about Notion & Shopify at Campus Ink as we try to keep things as simple as possible. Our shop management software is Printavo, run by fellow Hampton member and long-time friend Bruce Ackerman. We've developed our own tools to make on-demand printing seamless.
We've built our own platform for athletes and students to track payments and commissions. They can see their earnings in real-time. This summer we are releasing a new version of it that will continue providing value for athletes & fans.
We utilize Hubspot for our CRM, Klaviyo for emails, and are crazy about Zapier.
What have been the most influential books, podcasts, or other resources?
I listen to MFM and subscribe to HBR regularly. My favorite books are:
Shoe Dog
Cable Cowboys
High Output Management
Delivering Happiness
We utilize Traction and run EOS which has been incredible!
Where do you see untapped opportunity in the market? What business do you wish someone else would build that would make your job easier?
There are 200,000 D1 College athletes who have never historically been able to make money. That figure alone should continue to spark innovation. NIL is here to stay, and while we hear about legislation changes, technology can be transforming. I remind people often that most college athletes will not go pro and we see ourselves as a vehicle to help college athletes get a head start on their careers.
The sports industry is historically trailing in disruption. It is archaic, fragmented, run by legacy businesses and can be highly political. Change is often unwelcome to maintain relationships. In a several-billion-dollar industry, it can certainly be transformed. Breaking into sports tech & licensing at the collegiate or professional level has been guarded, and the barrier to entry has historically been extremely high to protect existing players. But change is happening quicker than ever in the collegiate space. From NIL legislation to the transfer portal, athletes have been given more power and we're seeing a transformative mindset shift from industry leaders and schools that is long overdue as a result.
What are some strong opinions you have about leadership, and how do you actually put those into practice in your company?
Campus Ink has undergone tremendous growth once I learned to hire great people and let go. To try and be a superhero just meant I would burn out faster, and hit my ceiling quicker. I have learned that business is a series of experiments. As the mad scientist, my control and obsession was on making sure those experiments were successful, instead of obsessing over the iterative process of deploying, testing, and rebuilding. Allowing others to share and embrace that process instead of controlling it instantly multiplied our results.
Where can we go to learn more?
Personally, I find being the CEO of a startup to be downright exhilarating. But, as I'm sure you well know, it can also be a bit lonely and stressful at times, too.
Because, let's be honest, if you're the kind of person with the guts to actually launch and run a startup, then you can bet everyone will always be asking you a thousand questions, expecting you to have all the right answers -- all the time.
And that's okay! Navigating this kind of pressure is the job.
But what about all the difficult questions that you have as you reach each new level of growth and success? For tax questions, you have an accountant. For legal, your attorney. And for tech. your dev team.
This is where Hampton comes in.
Hampton's a private and highly vetted network for high-growth founders and CEOs.