This 7-Figure Agency Runs on a Four Day Workweek
They quadrupled their team size in 12 months, and are growing revenue at 150% to 450% per year, while using active rest to maximize performance.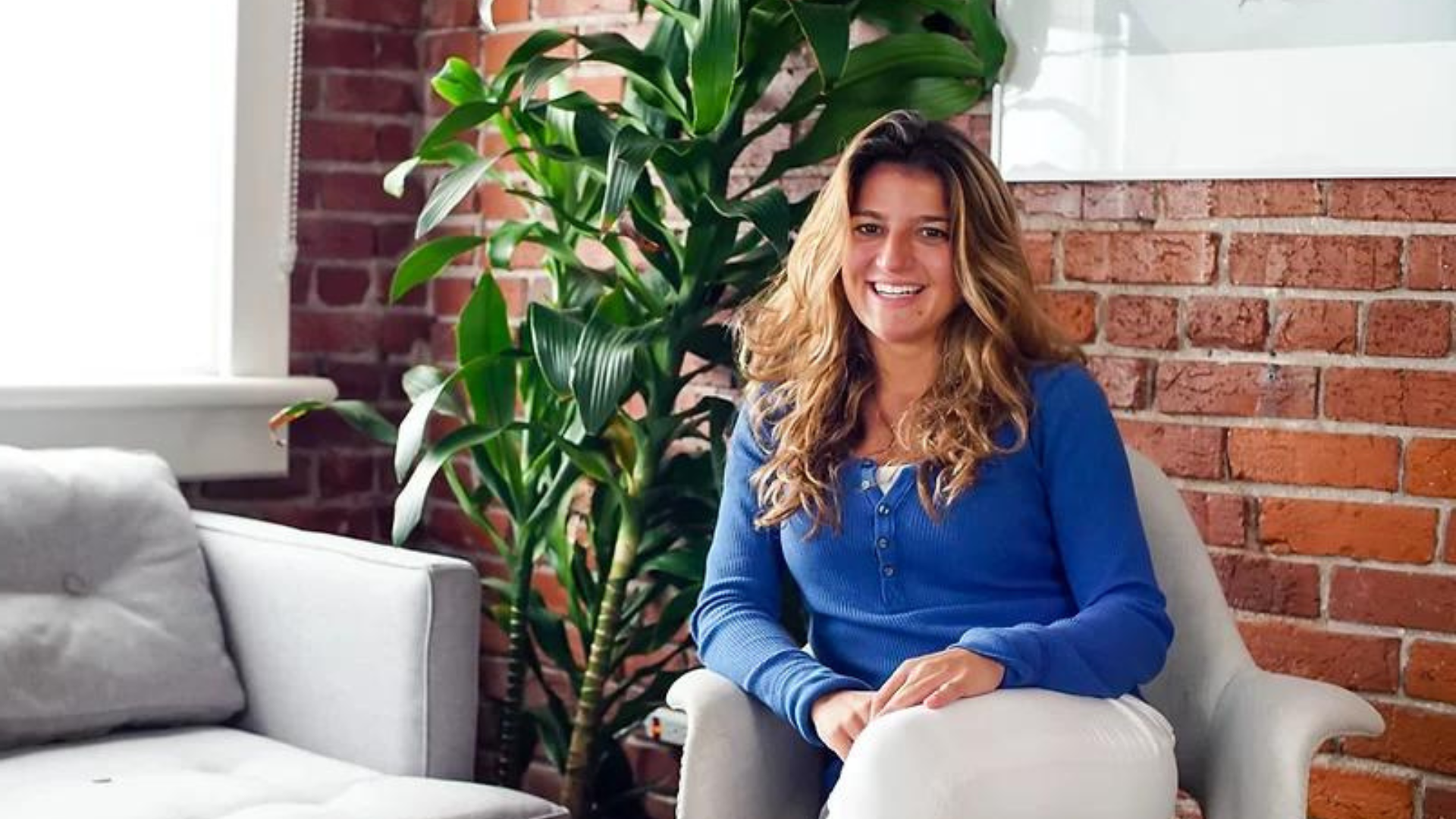 Hampton member Melanie Balke has a story some of you may recognize and relate to: Top-notch operator leaves a corporate job to offer niche consulting services. Demand explodes, help is hired, and suddenly, without expecting it, the one-person shop has become a full-fledged agency.
What you may not know is that this meteoric growth doesn't have to burn you or your team out.
Melanie's company, The Email Marketers, grew from accidental idea to twenty four employees and seven figures in revenue in roughly two years.
She did all of that while operating the team on a four day workweek, and keeping a mandatory 20-day vacation policy – proof that purposeful R&R fuels performance.
In this piece, she takes us behind the scenes to break down the keys to the business, including their top lead sources, margins, and cost centers, along with leadership lessons, the books/resources that have been most impactful to her, where she sees untapped opportunities, and more...
Hello! Who are you and what business did you start?
I'm Melanie Balke, the founder and CEO of The Email Marketers, a 7-figure agency. We are the outsourced email marketing team for e-commerce brands generating between $2 million and $40 million in revenue.
Our services allow in-house teams to focus on other priorities while we create intelligent retention strategies along with high converting copy and designs to boost their revenue and build an raving audience of fans.
What's your backstory and how did you come up with the idea?
The Email Marketers was conceived unexpectedly in 2020, officially rebranded in 2021, and achieved seven-figure revenue in 2022.
Truth be told, I initially never envisioned starting an agency. I've worked both in-house for e-commerce brands and inside agencies and large consulting firms. While I thrived in the high-intensity, fast-paced environment, my experience with the last agency I worked for made me question the agency life.
It didn't align with my values, particularly the notion of over-promising and under-delivering.
After leaving that agency, I began freelancing and traveling the world to recover from burn-out. To my surprise, more and more clients wanted to work with me and eventually I decided, instead of building a personal brand as originally intended (fun video from those times here), I would build a premier marketing agency that becomes the best at one thing and one thing only: Retention.
Take us through the process of building and launching the first version of your product.
Thankfully, I didn't have to validate the idea because demand proved that I had something that worked.
When we first started my goal was to build a personal brand and offer high-end consulting (think Neil Patel). As the business grew and I couldn't manage all the clients alone, I hired an assistant.
Soon after, we needed more team members again. That's when I realized that whether I want to or not, I am building an agency. So, I decided to rebrand and focus on delivering one service and one service only at the highest possible quality. Our growth was exponential, going from six to twenty-four team members in a year.
For evidence, two Zoom Christmas parties, exactly 1 year apart.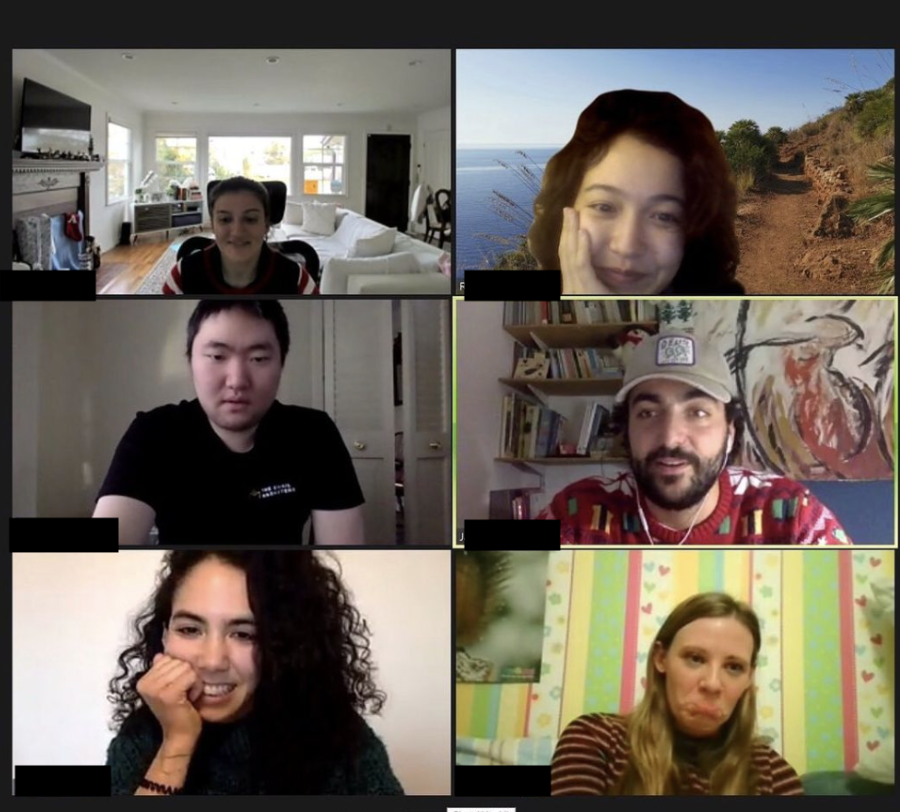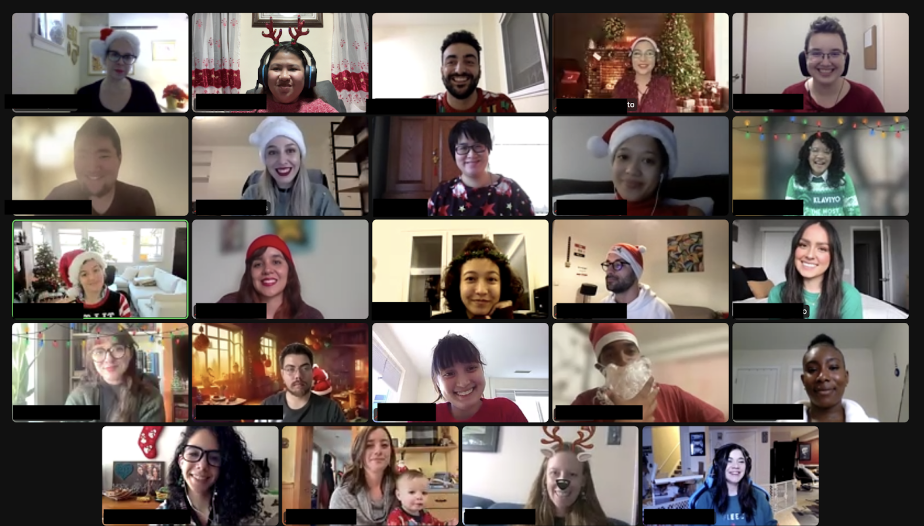 But I think the real Aha-moment for me came a bit later after several customer interviews when I realized for how much cheaper we can deliver way better strategies than most in-house teams.
For a solid email marketing department you need a Strategist, Designer, Copywriter and Technical Implementation Specialist.
If you're lucky, you'll find one hire who can do the strategy, copywriting and implementation in one. Once in a blue moon, they might also be able to design. But as we know, a jack of all trades is often a master of none and that one hire is still more expensive than working with us.
Our clients receive a full team comprising a strategist, project manager, copywriter, designer, and technical implementation specialist, who do nothing but develop high-end email marketing strategies for various e-commerce brands all day.
The knowledge that comes with seeing over 100 email accounts per year can't be replicated with an in-house team.
Since launch, what growth channels have been most effective for you?
Our growth predominantly comes from word-of-mouth recommendations still. There's more agencies than sand on the beach and a lot of them struggle to deliver on their promise (because it's actually not easy). Personal recommendations are incredibly valuable due to the inherent trust they foster.
We haven't focused heavily on paid ads, but we intend to explore that this year.
We have, however, been investing in SEO for the past 1.5 years despite everyone and their moms telling me there's no chance I will ever rank. Well, take that you doubters, because we get quite a few leads from SEO now.
The other marketing channel we heavily rely on is content. Whether it be me posting on Twitter and LinkedIn or appearing on podcasts and conferences. Conference appearances proving most effective. They allow attendees to gain confidence in our expertise as they hear me speak, something I consider my zone of genius.
Here's a fun video from Traffic & Conversion last year:



Cold outreach via email is another method we employ. Although its success can be hit-or-miss, even a single successful email can yield $40,000 to $50,000 in annual revenue for pretty much no cost, so it's always worth a shot.

Did you ever have an "oh shit" moment where you thought it wouldn't work?
Well, quite frankly, 2023 has been kicking our a** a little bit.
After achieving 4.3X growth in 2022, we aimed for 3.5X in 2023. Although ambitious, we believed it feasible given our previous success.
The economic slowdown proved to be our first major speed bump in the road of "YES, we can do anything!"
However, knowing other companies in our industry were affected too provided some comfort. At least it wasn't something that we were messing up majorly. We're currently likely to hit a 1.5x growth rate, which is depressing as hell to write.
That being said, we used this period of slower growth to truly prepare for the next big push and improve various aspects of our company, from personnel and processes to our margins and knowledge base.
We also developed a comprehensive onboarding process and a new company structure to add a second layer of quality assurance. Overall, it probably was a blessing that we slowed down, so we could prepare to scale while delivering the same quality we always have.

Can you break down the keys to this business model for us? What makes it work? And What do outsiders typically not understand about your industry?
The agency industry has a low barrier to entry. Any time something has a low barrier to entry it's hard to scale. I think most people underestimate how much work and diligence it requires to set up an agency to scale and still deliver at the quality a boutique agency would.
In terms of what makes our business model work I think I mentioned a few key things earlier:
We can provide email marketing services way cheaper than an in-house team

With way more expertise and senior talent

And flexibility
What I think sets The Email Marketers specifically apart is that we genuinely care about our clients. It kills me when clients are unhappy and I still can't get over two specific instances that happened many months ago. It just drives me nuts.
What's nice is that it seems we're on the right track. We're often told how much it feels like we're invested in them as a brand rather than simply a source of income. This is precisely the experience we strive to provide to stay competitive in the crowded agency market. So many people have been burned by agencies and we have to prove that we are different.
In terms of financial metrics, we aim for a 50% gross margin (revenue minus cost of service delivery), with about 10% allocated to sales/marketing, facilities, and administration each. With advancements in AI and ongoing process improvements, we're pushing for even greater margins and I'm happy to keep you all updated on that! :)
In terms of operations, my number-one-please-listen-to-me-now-if-you-do-nothing-else advice is to hire your operations person as quickly as possible and make sure they are an A++ player. I regret not doing so sooner as it could have significantly boosted our progress.

What platform/tools are absolutely crucial for your business?
I wish I had a cooler answer here, but I guess:
Slack

Loom

Superhuman

Speechtexter.com voice to text (which I used for this interview)

Midjourney

ChatGPT

Fathom AI (Call recordings)

What have been the most influential books, podcasts, or other resources?
The best recent book I read was "Buy Back Your Time" by Dan Martell. This book truly made me realize that I need to hire to reclaim my time and focus solely on the tasks that both energize me and drive value in the business.
It also highlighted the importance of spending time outside my business on activities that bring me joy and energy, which ultimately enhances my performance in business-related tasks.
My favorite quote from the book is: "100 million dollar companies were not built on $10 tasks."
In a similar vein, "Peak Performance" by Brad Stulberg and Steve Magness taught me the significance of consciously and actively resting, which is something I struggled with. I always felt like I needed to be productive no matter what I do. This book made me realize that active resting is being productive and a vital factor distinguishing the top 5% from the rest.
One of the books that greatly inspired me on my entrepreneurial journey is "The Millionaire Fastlane" by MJ DeMarco. It drove home the idea that true wealth creation comes through running a successful business. I highly recommend this read to anyone, and it will be one of the first books I share with my children.
Last but not least - you can laugh at me - I must admit I'm a bit "woo woo," and mindset means everything to me. "You Are a Badass" by Jen Sincero had a profound effect on my perspective. Her humor and lighthearted approach made it easier for me to grasp the importance of a positive mindset. This book uplifted me and helped me focus my mindset on achieving the outcomes I desire. If you're seeking a positive shift in your life, I highly recommend this one too.
All the books I've recommended are easy reads and perfect for your vacation.
In terms of podcasts, I really enjoy listening to the "Build a Better Agency Podcast," "My First Million Podcast," (obviously) and "The D2C Podcast."

Where do you see untapped opportunity in the market? What business do you wish someone else would build that would make your job easier?
Artificial intelligence is currently a tremendous source of inspiration for me.
We're working on a tool that helps our customers send more targeted up and cross-sale emails to their audience using predictive analytics. The possibilities with AI excite me, and I believe we'll witness significant advancements in this field.
I'm also curious about the potential of AI platforms that could render agencies like ours obsolete, so that is something where I see A LOT of potential and A LOT of work already being done.
For me personally, I wish there was a competitor to Slack that's less disruptive and allows for better flow state. Currently, we've implemented guidelines to optimize Slack usage, but a more tailored tool would be fantastic. Getting pulled out of the concentration of a financial worksheet to check on something small is my nightmare.
What are some strong opinions you have about leadership, and how do you actually put those into practice in your company?
I firmly believe that caring about your team members is everything.
I mean, like, actually caring. Because I think most people don't. It's easy to get caught up in seeing people as numbers and just a tool in the generation of wealth, but we have to consistently bring ourselves back to the complexity of each individual.
True leadership means listening to their personal lives, addressing performance issues with understanding, and recognizing that employees need time to recharge and recover.
We honor this by following a 4-day work-week, which I believe makes our employees happier, more efficient, and also better at their job. A relaxed team member is a creative team member willing to dig deep for their clients.
We also offer a generous PTO policy of 20 mandatory vacation days per year to encourage rest and recovery.
Additionally, we praise feedback as a gift and encourage team members to share it freely with everyone regardless of rank. A feedback-heavy culture is crucial for personal and professional growth, which is why every bi-weekly meeting with a team member ends with a "here's what you're doing well" and "here's where you can improve," even if meeting leaders have to dig real deep to find something.
Where can we go to learn more?
To learn more about our company, visit our website here. You can also follow me on LinkedIn, where I post frequently, or on Twitter, where I share my unsolicited thoughts and dad jokes as well.
Personally, I find being the CEO of a startup to be downright exhilarating. But, as I'm sure you well know, it can also be a bit lonely and stressful at times, too.
Because, let's be honest, if you're the kind of person with the guts to actually launch and run a startup, then you can bet everyone will always be asking you a thousand questions, expecting you to have all the right answers -- all the time.
And that's okay! Navigating this kind of pressure is the job.
But what about all the difficult questions that you have as you reach each new level of growth and success? For tax questions, you have an accountant. For legal, your attorney. And for tech. your dev team.
This is where Hampton comes in.
Hampton's a private and highly vetted network for high-growth founders and CEOs.