Solving The Multi-Billion Dollar Problem of Clothing Returns
This startup is on track to do $1.5 million in ARR with a concept that will save major apparel retailers billions.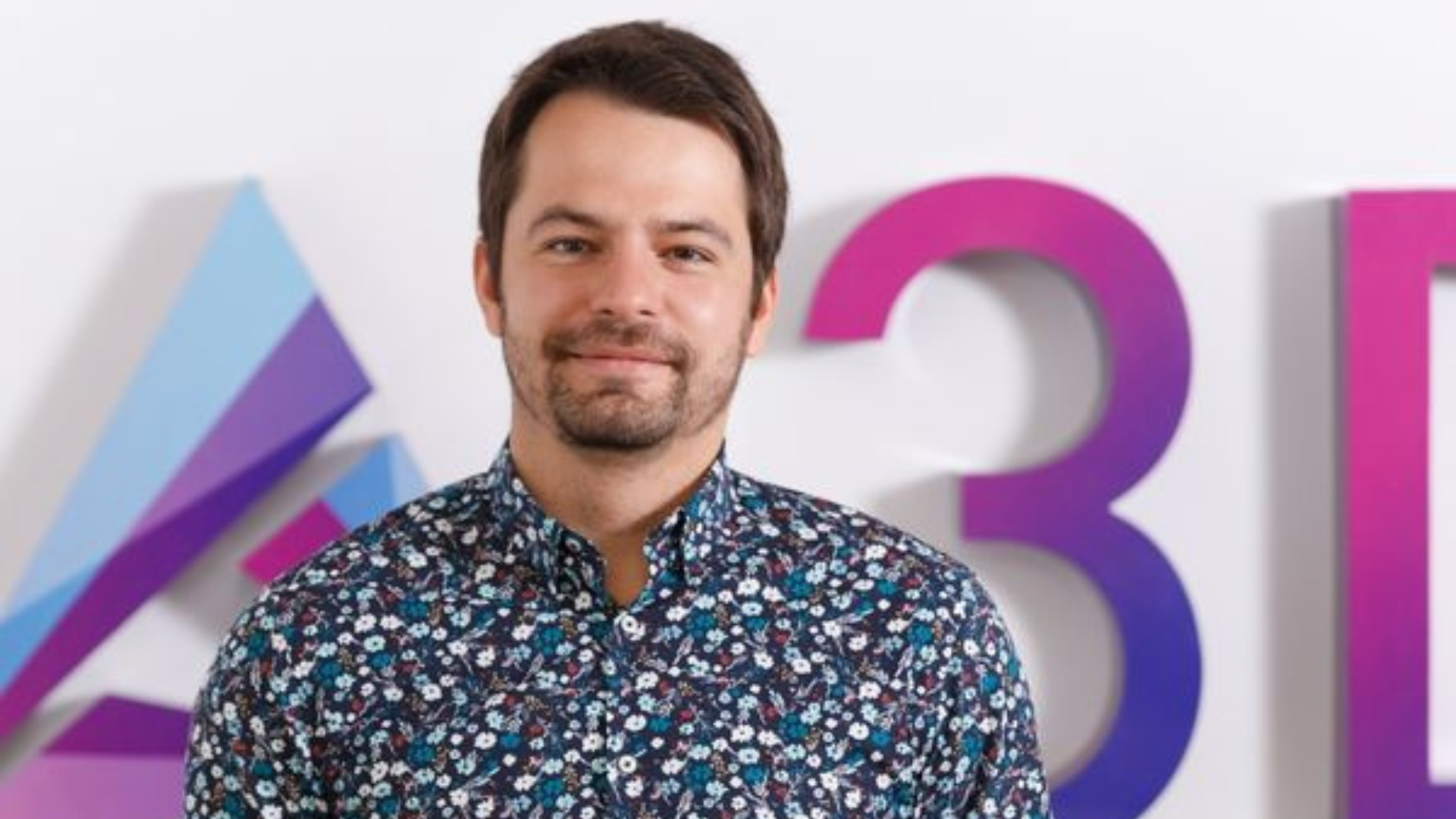 A couple of years ago, Sam asked billionaire and former Walmart CEO Marc Lore an interesting question on the My First Million podcast:
If I wanted to build a company that Amazon or Walmart would buy for $100 million or more inside three years, what problems in the world of ecommerce should I be trying to solve?
Lore's answer: Fit analytics.
"Return rates on apparel are 40%," he said. "It's very expensive for retailers."
If someone could use AI to help online shoppers figure out exactly what size shirt to buy, they would save retailers billions while improving the shopping experience.
Hampton member Vadim Rogovsky is doing exactly that.
His company, 3DLOOK has built some of the most accurate and simple-to-use body sizing software on the planet. Just two photos with a smart phone get you measurements worthy of Savile Row, and their YourFit software makes it possible for Shopify retailers to add virtual try-on services right to their store.
They've raised $16 million, are on-track for $1.5 million ARR this year, and already turning down acquisition offers (though no word yet on whether Bezos has come knocking).
In this piece, he takes us inside the company to show us how they got their start, their most successful growth channels and campaigns, where he sees untapped opportunity for other founders, and more.
He also goes into the challenges he's faced as a leader (like managing through the war in Ukraine, or closing a Series A on pay-day with $0 in the bank), how he copes with stress, the books he turns to for inspiration, and much else.
Hello! Who are you and what business did you start?
Hey all - my name is Vadim, and I've been running different startups since I was 18, and at the same time investing and mentoring other founders.
My first 2 startups were in the ad tech space (sold one of them back in 2014), and then 7 years ago I decided to completely change the industry because I got sick and tired of mobile marketing (although we were making decent profits at that time and the business was growing well), and went on to build 3DLOOK, with a bold mission - to finally solve the problem of accurate measuring of a human body using just a smartphone camera.
We were doing real AI since 2016 when not a lot of people knew this term, and it was not nearly as sexy as it is now :)
So what 3DLOOK does is we sell B2B solutions to fashion e-commerce and manufacturing industries, to help them to reduce returns and increase conversions, as a result of their consumers just taking 2 photos from their smartphones and receiving a size recommendation, and also see how a particular piece of clothing would look on their body.
What is important to mention is that since the beginning I wasn't going to focus on apparel only, and we still see a lot of use cases and are approached by companies from different industries - digital health & fitness services, insurance companies, even car manufacturers, that are looking for an understanding of body data of their customers to incorporate this into new seats for their upcoming cars.
Recently we started to put more effort into exploring use cases in other verticals, so I'm happy to talk to entrepreneurs building products that might need 3D avatars or body measurements of consumers.
I invested my own money at the beginning, and then since that we raised around $16M in total to date. We've been pre-revenue for a while when we were in R&D mode and started to commercialize our solutions not a long time ago, and are already on the trajectory to making $1.5M in ARR this year. Turned down several acquisition offers from very well-known companies, because I see a big opportunity here thus my appetite is also big.
In parallel with running my own companies, I invested in startups as an angel and mentored some founders, as I always cared about the Eastern European startup ecosystem and wanted it to grow. At the end of 2021, I joined my friend Ihar and we launched the $23M venture fund Geek Ventures, focused on pre-seed and seed startups led by immigrant founders on the US market.
Our mission is to help immigrant founders to bridge the gap in experience and personal network to have more chances to build future category-defining tech companies.
What's your backstory and how did you come up with the idea?
I was obsessed with startups since I was 18, and when I started I treated this as a hobby/game (still mostly treat it this way).
I worked only for a few companies when I was a student, and was usually fired after the first 3-6 months because I usually didn't see things the way my bosses saw them, and I was pretty openly sharing my views and disagreements with them.
Unlike my career, my startup journey was going well and pretty fast, I was learning a lot, and I left my last employer when my first ad tech startup made $10K of net profit in the 3rd month of its existence. I ended up running 2 ad tech startups at almost the same time, one of them (AdCenter) didn't do well, so I decided to sell it early back in 2014, and focused on another company (Clickky) that was growing really fast (it reached $13M ARR in 2017).
We were making decent profits at the time, and having a lot of fun in the process - for example, we hosted the biggest mobile marketing conference in Eastern Europe for 1000+ attendees from all over the world and speakers from the biggest corporations, and in the first 2 years of this conference, we also had a beauty contest "Mobile Princess" as a part of the agenda.
Then after I got married we replaced it with a startup competition and the conference became even more well-known.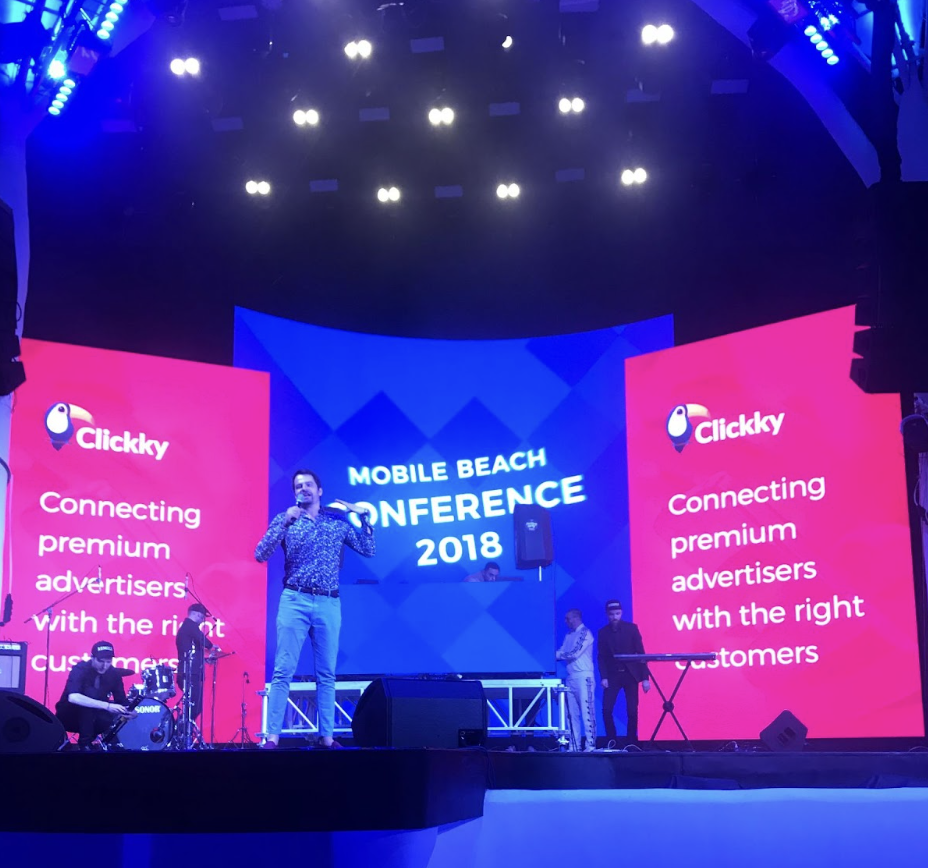 I got super excited about the idea that was behind 3DLOOK because I was attentively monitoring how AR and computer vision applications were developing and progressing in 2015 and 2016 and didn't see any practical use cases at that time, only stuff like putting a virtual mask on someone's face, so I decided to go after a bold mission - to finally solve the problem of accurate measuring of a human body using a smartphone.
And long story short - after a lot of experiments, data collection, and training together with constant hustle in order to find this data (I mean photos and measurements of real people wearing different outfits) we got to the point when we started to measure human body much more accurately than professional tailors, and that was kind of our aha moment.
Around that time we also won one of the most prestigious awards in the fashion technology industry - the LVMH Innovation Award, and Bernard Arnault (TOP-3 richest person in the world) personally gave it to me. So we clearly understood that we are on the right track.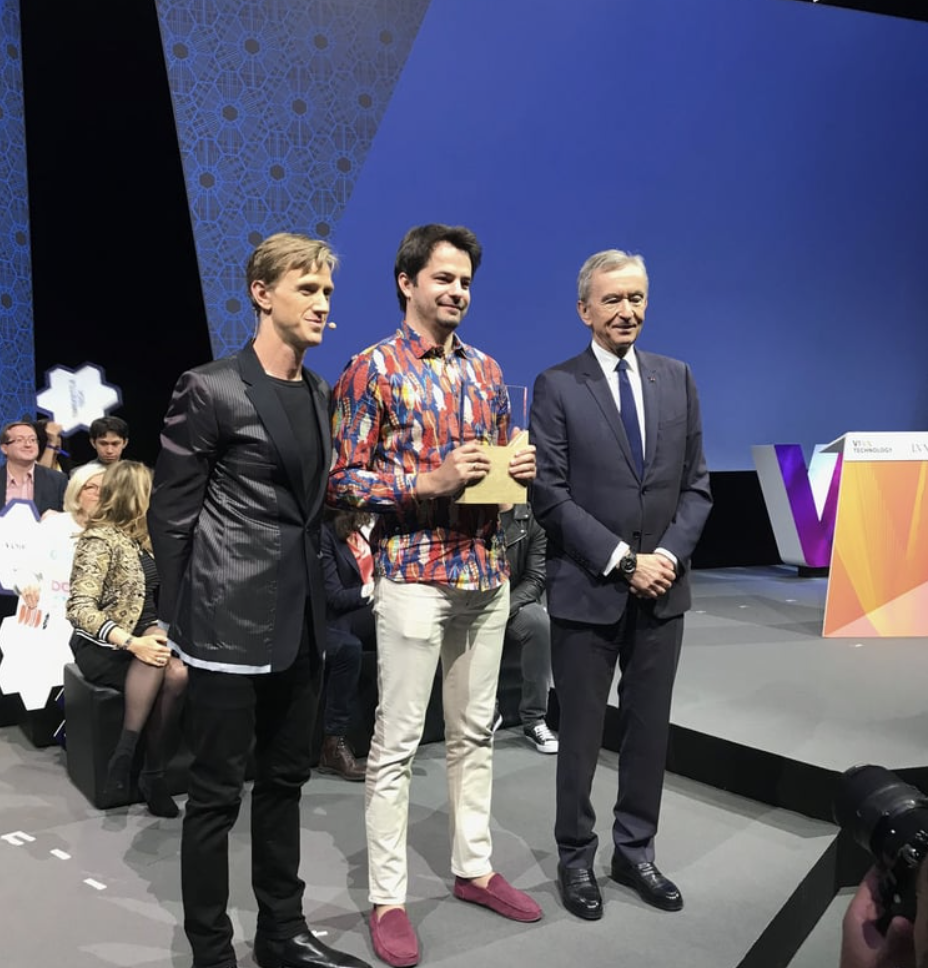 It's also important to mention that I started 3DLOOK with 2 co-founders, and invested almost all my available capital at that time into this company after I sold some of my stock in my previous company while still being the CEO there.
And then after around a year of being involved at 3DLOOK, I realized that I'm happy when I'm involved there, and mostly unhappy when I had to do something for my previous company, so I stepped down from the CEO position and went on to become the CEO of 3DLOOK and I still stay in this role.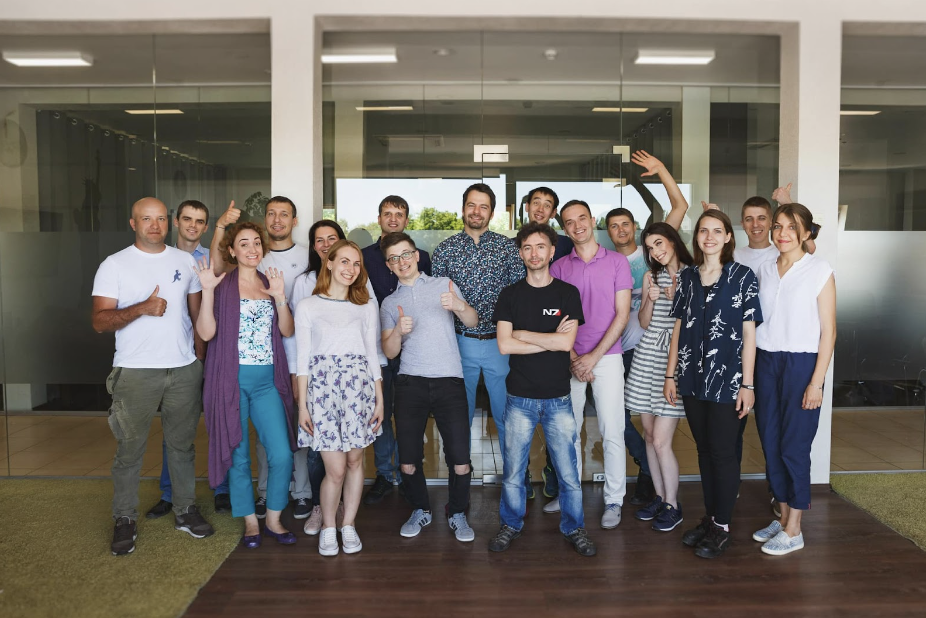 Take us through the process of building and launching the first version of your product.
It's important to understand that in order to create a technology that can use just 2 photos of a human body to measure it super accurately - you need to collect tens of thousands of 3D scans of people (made in a big laser or optical scanner), tens of thousands of manually measured people, and finally - hundreds of thousands of photos of real people wearing different clothing.
The very challenging process of data collection is the main reason why Amazon still hasn't been able to properly launch mobile body scanning in its app after paying $70M for a company with a similar technology in 2017.
We had to constantly grind and hustle to be able to collect this amount of data, imagine giving people free ice cream for allowing us to measure them manually with tape on a beach when it's super hot, and what you can't imagine is what many people are willing to do for free ice cream:) it's just one of the examples of what we had to go through.
Besides that, you also need to make sure that the UI (user interface) is very intuitive and convenient so users can go through the flow without dropping off, and it was also a big challenge that required a lot of experiments, focus groups, and tests before we go to where we are now.
I was lucky many times, and I had really big luck with 3DLOOK a few times:
When I met Ivan, our Chief Scientist and co-founder, on the freelance forum a few months after we started to work on the technology


When I insisted that we published

our first press mention

really very early (it was just a year later since we started the development and technology was not nearly ready) and that's how Whitney noticed us and then joined as CCO and later became a member of the founding team.


When we managed to close our Series A with multiple VCs right on the week when we had to pay salaries for the previous months, having 0 cash in the bank by that time.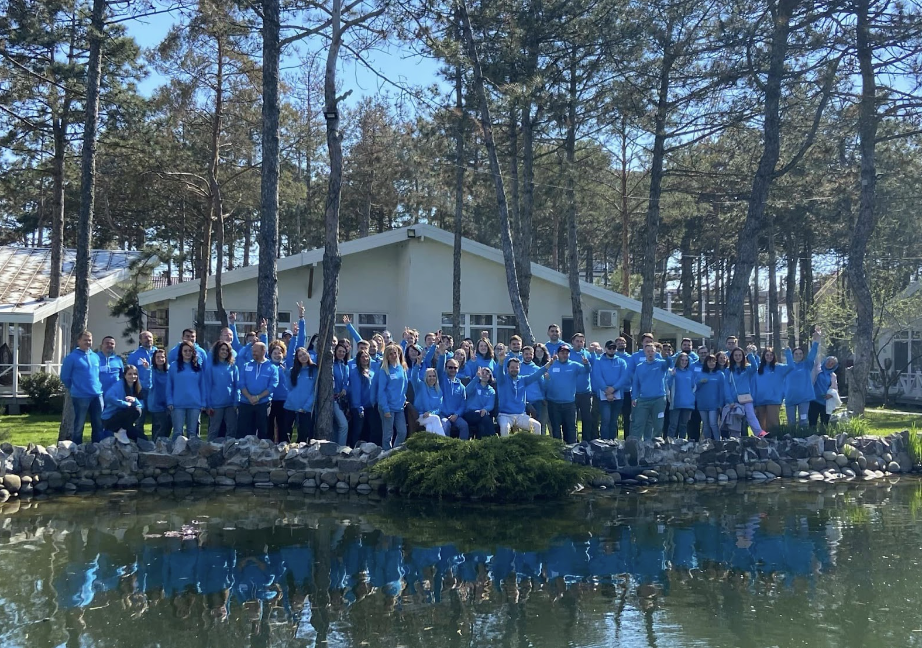 Since launch, what growth channels have been most effective for you?
What worked and still works is brand awareness, which helps to constantly drive a stable flow of inbound leads, including some of the largest enterprises. Among the main tools that help us to build this is content marketing, thought leadership via personal brands of founders, different awards and ratings, and systematic consistent collaboration with journalists.
I often see that many founders overlook or underestimate these channels, and I'm always open to sharing my feedback and providing advice to help with this aspect.
In addition, we invest in PR as it checks all the boxes: boosts brand awareness and trust, and generates links from the most reputable outlets – which in turn fuels our SEO and organic growth without costing an arm and a leg. And it can go viral!
For instance, our latest newsjacking campaign timed to the premiere of 'Succession' Season 4 brought amazing results.
When the season premiered, it immediately landed in the top trends of TikTok, with viewers raving about how their leading character, Tom Wambsgans, roasted the Burberry tote, worth nearly $3,000, calling it a 'ludicrously capacious bag' that suits peasants.
We analyzed Google Trends data and discovered that it triggered the exact opposite effect and Google searches for 'Burberry Tote Bag' have risen by +310%. We pitched this finding to the press along with our insider analysis of how showbiz impacts consumer behaviors – and we were everywhere.
CNBC, Insider, Harper's Bazaar, Fashionista, New York Post - You name it.
We've had hundreds of media mentions and backlinks within just one day of work, as well as over 11 million views, and haven't spent a dime – extremely important now as startups' budgets shrink.
Did you ever have an "oh shit" moment where you thought it wouldn't work?
We had a few very challenging moments during our history:
We were raising our seed round and right when we were waiting for the first commitments from investors COVID hit and they were on the fence, and in 2 months we ran out of cash and I had to delay half of the salary for everyone for almost 2 months, at the same time furloughing around 10 people - the good news that we still managed to raise first money in 2 months and got all those people back before they found another job. What really helped to keep my team calm and motivated is the videos that I've been recording and sharing with them every Friday, telling everyone about the main weekly updates, including our investment round.


We got money in our Series A round right on the week when we had to pay salaries to our team for the previous month while having 0 in the bank after I had to collect signatures from more than 20 investors who out money via SAFE within just 1 week which was insane, there was a huge risk that if at least 1 investor doesn't sign the paperwork - the entire Series A would go bust


Because of the war in Ukraine and several other less major reasons, we had a big delay in launching our second SAAS product YourFit last year, which affected our financing plans and lots of other things, so we had to do two waves of layoffs, bringing down our team from 85 to 30. We are doing much better now with a smaller team than we did with a much bigger one, which is a remarkable and surprising discovery for me.
When people ask me how I got through all of these challenges while never losing faith and always being upbeat - what really helps is focusing only on things that you can control, while not concentrating on things that you don't (like COVID or the war in Ukraine) - it helps a lot to keep emotional balance and energy that is vital for founders.
Also what helps a lot - I love to try different new activities - extreme sports, new hobbies, etc - for example, at the beginning of 2022 I successfully climbed Kilimanjaro.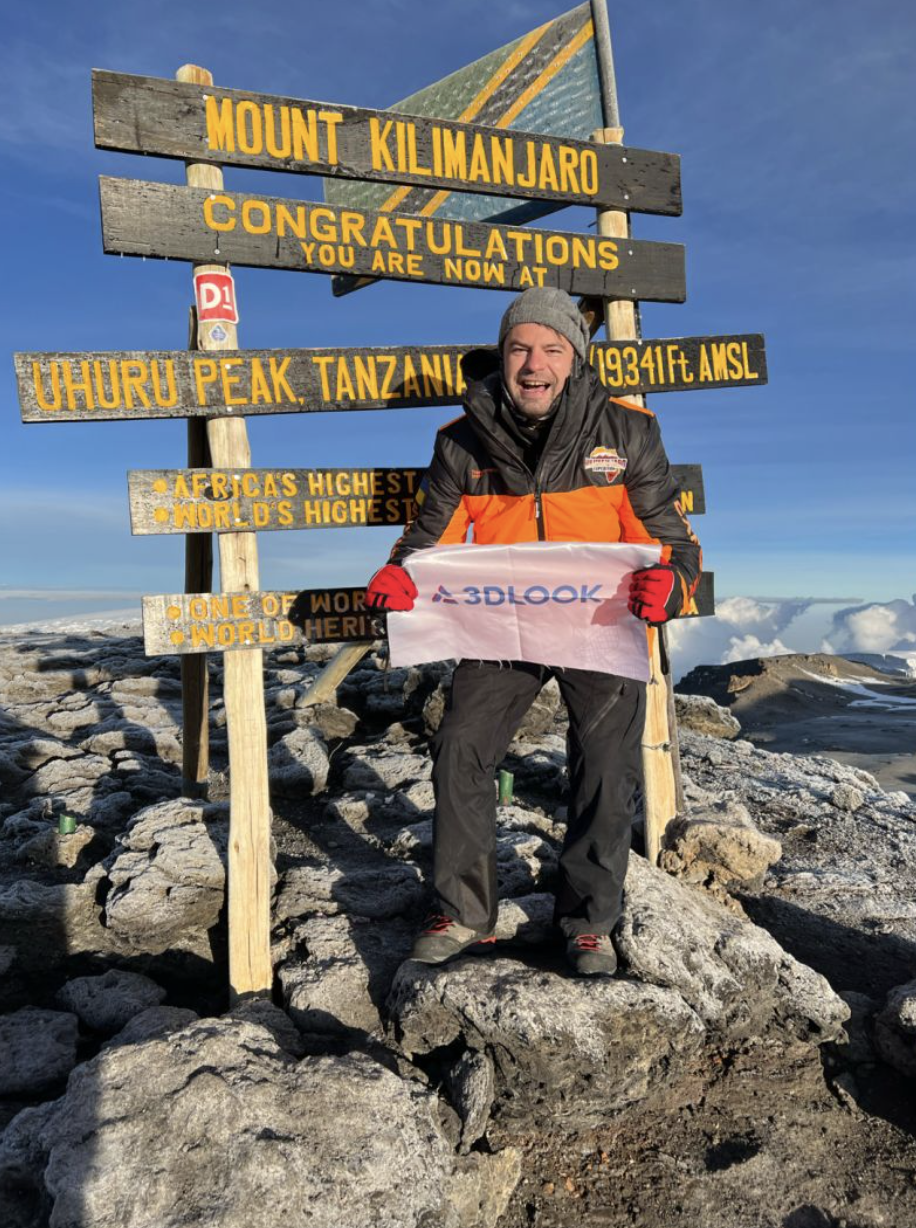 Can you break down the keys to this business model for us? What makes it work? And What do outsiders typically not understand about your industry?
We have 2 SAAS products:
Mobile Tailor

- a

3D body measuring solution which generates 86 points of measurement of the body from just 2 quick photos taken on a smartphone. Mobile Tailor delivers more accurate (+95% as reported by 3DLOOK customers) and consistent measurements than expert tailors and at-home self-measuring and is easy and fast to use. The solution requires no integration and makes the measuring process fast, easy, and fun! The monthly subscription starts at $99 and can go up to $15K and more for enterprise clients.





YourFit

- a unique solution for fashion e-commerce that combines size recommendations and photorealistic virtual try-on in one user interface. Because YourFit is integrated with Shopify - the integration with Shopify-based e-commerce stores is super easy and fast without any coding needed. Also, YourFit can work with any other commerce platform including custom ones. The pricing starts at $5K per month and can go up to $50K and more depending on the traffic and number of SKUs. YourFit usually delivers ROI of 1000% and more to its clients.
Our goal for 2023 is to solidify our product market fit for Mobile Tailor in several most attractive market segments while launching YourFit with a few largest fashion brands to build compelling case studies, that would help us to onboard more marquee accounts. The longer-term goal is to become de-facto an industry-standard virtual fit solution for e-commerce in the US at first, and then globally.
It's a challenge – but one we're willing to take. In addition to the tech challenges that I've mentioned above, there's a huge learning curve and a shopping pattern that we need to battle. One of the main problems that our products solve is high return rates, which are terrible for brands – but more importantly, they cause unnecessary emissions from logistics and contribute to textile waste, which damages our planet. And simply rolling out a technology that makes shopping easier won't do the trick because consumers are just used to returning the clothes that they don't wish to keep – COVID made this shopping pattern a norm when brands had to introduce new return policies to stay afloat. Now every other fashion influencer encourages consumers to do their shopping hauls from home and return the bulk of their order – there's even a hashtag #keeporreturn with nearly 300 million views on TikTok. But that doesn't happen out of bad intentions – an average consumer is simply not aware of the consequences of their shopping returns, and that's where we need to step in and educate them.
What platform/tools are absolutely crucial for your business?
Some of the tools and services that we can't live without:
Cloud providers - AWS, Azure
Communication - Slack, Zoom
Legal docs - Clerky
Cap table & 409A valuations - Carta
CRM - Hubspot
Task tracker - Jira
Chat/support - Drift
E-mail/documents - Google Drive
Design - Figma
ChatGPT Pro
What have been the most influential books, podcasts, or other resources?
My favorite podcasts for inspiration and expanding my knowledge base:
Top 10 must-read books for founders:
Where do you see untapped opportunity in the market? What business do you wish someone else would build that would make your job easier?
While we at 3DLOOK are solving a very big problem that is measured in hundreds of billions of dollars - there is another piece of the customer experience that is also very important - helping a consumer to understand what she wants - style, color and look & feel of clothing - this is another critical piece of the puzzle that I encourage founders to work on - especially now there is a huge opportunity to create an MVP and reduce time to market significantly by leveraging LLMs and Generative AI.
What are some strong opinions you have about leadership, and how do you actually put those into practice in your company?
Based on my experience of running startups for more than 14 years, doing a lot of mistakes and learning from them - I can share a few very important leadership lessons that define me as a leader now:
Startup growth directly correlates with founders' personal development and growth, and is impossible if founders don't invest enough time and resources into growing personally as leaders, and human beings in general.


In a startup, attitude is always more important than a CV, especially in the early stage


Bearing trade-offs and personal sacrifices are very important for a strong and balanced founding team. If one of the founders is not ready to sacrifice something in his life because of a startup - it's better to part ways sooner than later.


It's very important to hire slowly and go through as many stages as necessary to find the right people, especially for the leadership team


It's also critical to let go of someone as fast as possible if you already made a decision - I never regretted that I fired someone too fast, on the contrary - many times I wish I fired someone much faster than I did in fact


Diverse experiences, backgrounds, and mindsets are critical for a leadership team of an early-stage startup
Where can we go to learn more?
Press mentions:
Personally, I find being the CEO of a startup to be downright exhilarating. But, as I'm sure you well know, it can also be a bit lonely and stressful at times, too.
Because, let's be honest, if you're the kind of person with the guts to actually launch and run a startup, then you can bet everyone will always be asking you a thousand questions, expecting you to have all the right answers -- all the time.
And that's okay! Navigating this kind of pressure is the job.
But what about all the difficult questions that you have as you reach each new level of growth and success? For tax questions, you have an accountant. For legal, your attorney. And for tech. your dev team.
This is where Hampton comes in.
Hampton's a private and highly vetted network for high-growth founders and CEOs.