Creator Led Brands: How Little Chonk Built A $1M+ Pet Product On A TikTok Audience
Their launch sold out in four minutes, and they did seven-figures in year one without spending any money on ads.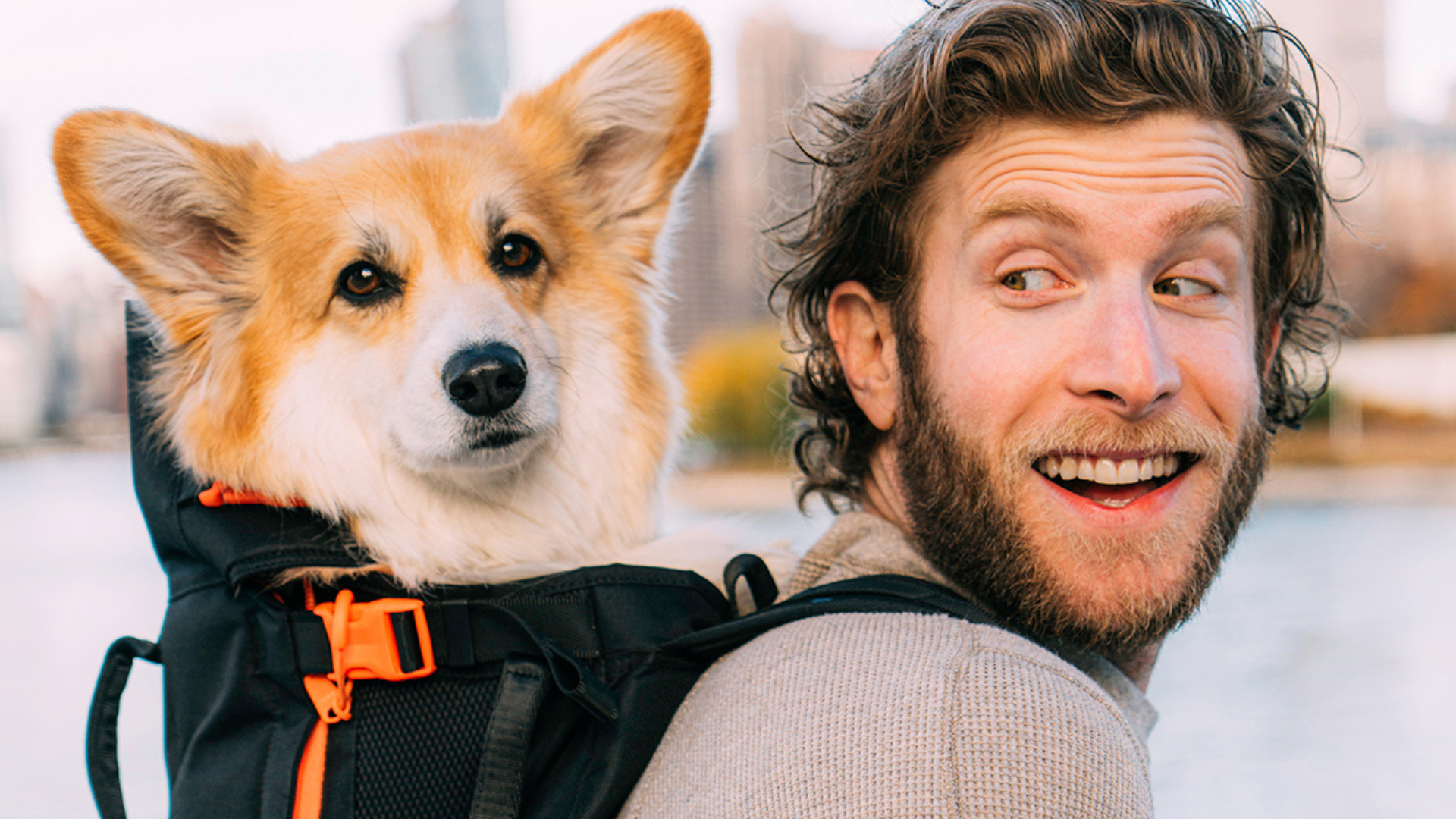 Of all the articles we've written on this blog so far, this was the easiest (and most fun) to track down photos for. And that's because Hampton member Bryan Reisberg is a full-time (and hilarious) content creator. He's the founder of a pet brand called Little Chonk, and his dog, Maxine, is famous.
Like... really famous. We have some heavy hitters here in Hampton, but when it comes to raw social following, none of us can hold a candle to Max.
She has 4.1m followers on TikTok alone, and Bryan has skillfully fostered that global community into a killer product business with healthy margins, seven figures in revenue, built-in UGC, and very low CAC (primarily in the form of time).
It's an excellent example of something you'll continue to see more of in the coming years -- creator-led brands monetizing directly via products they own and produce themselves.
A fascinating business - here's the story behind how it was built...
Hello! Who are you and what business did you start?
My name is Bryan Reisberg and I'm the dog dad of Maxine the Fluffy Corgi and co-founder of Little Chonk, the first and only creator-led brand in the pet space. In 2021, we launched our first product, a dog carrier backpack we call The Maxine One, which sold out in four minutes and has since been named the "Best Dog Backpack" by Wired, Good Housekeeping and The Dodo, who said it was "worth the hype."
In our first year, with limited inventory – we did over seven figures in revenue on a $0 CAC.
What's your backstory and how did you come up with the idea?
This all originates back in 2015 when my wife and I got a dog – before influencers were a thing and well before anybody knew what the creator economy was. We named her Maxine after our favorite movie (can you guess it?) and I thought she was the cutest thing in the world. Immediately, I wanted to bring her everywhere with me and capture our adventures together. I made an Instagram account because I was unsatisfied with the creative work I was doing at the time and needed an outlet.
She became my muse.
Over the next six years I brought Maxine to work with me, on the subway, on vacation, to job interviews…literally everywhere. I slowly started focusing more and more of my time on her social media account because the content we were making started traveling across the internet quickly. Maxine was getting recognized, we were receiving branded deals – it was crazy.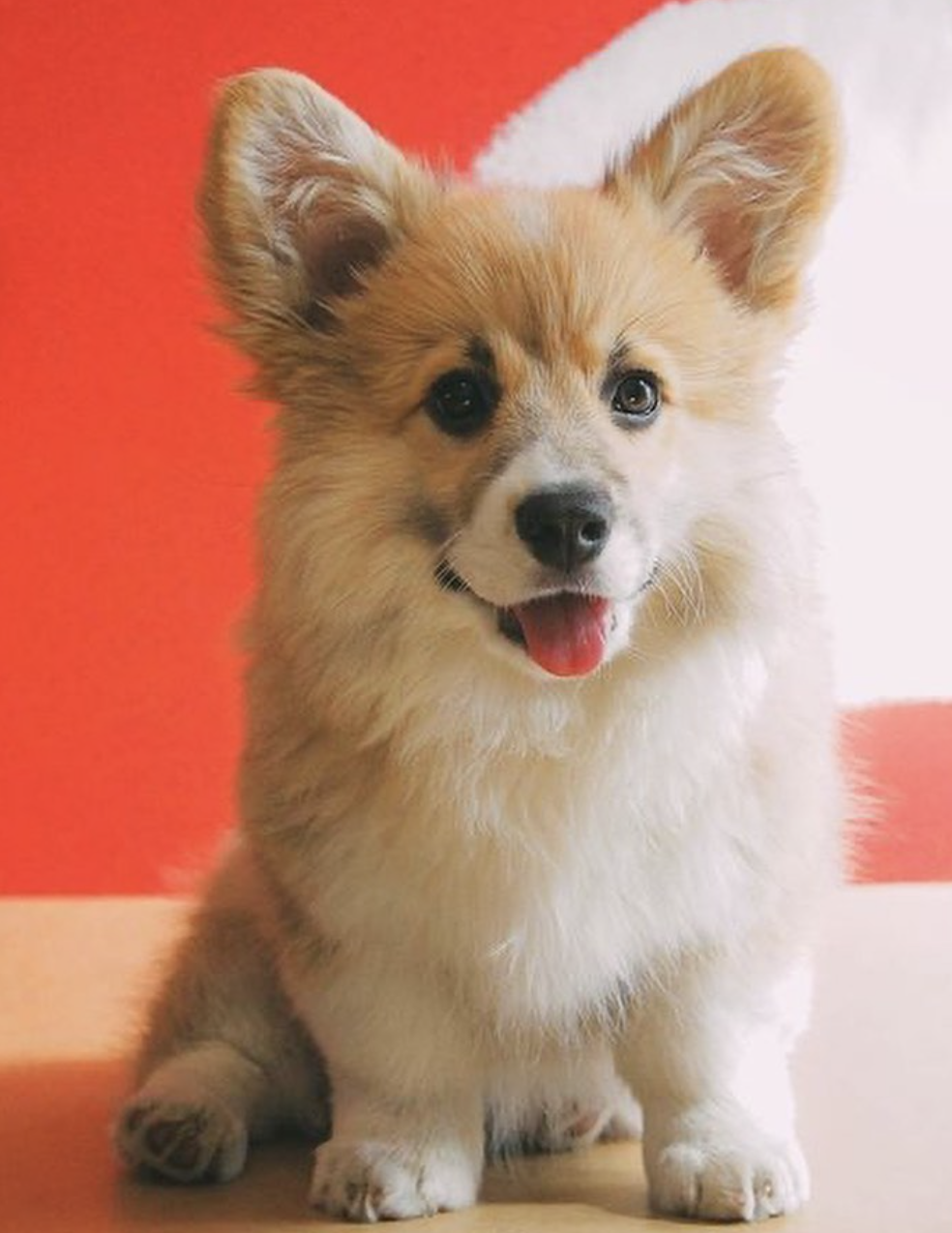 As Maxine's platform grew, I focused less on my day job and more on this increasingly lucrative side hustle. We focused on cultivating a loyal community that allowed us to become one of the most popular pet accounts on the internet. We became known all over the world as "the dog in the backpack", and we'd receive hundreds of DMs every day from folks asking us what carrier we were using…but there was a problem. We hated every dog bag on the market.
I know that's a strong word, but they were poorly designed and built with cheap materials. These products are so rarely made with the customer's best interests in mind. So in the midst of the pandemic, my business partner and I decided to just do this ourselves. We had an incredible idea, direct feedback from our audience, clear demand, all of this distribution…why not?
We raised a friends and family round and got to work finding the right designer and manufacturing partners to help bring a new product to the market.
Take us through the process of building and launching the first version of your product.
We knew EXACTLY what this brand and our hero product needed to look and feel like…we just didn't know about building and manufacturing a product. So we relied heavily on our network, which we had spent years building. My co-founder has an entrepreneurial background, so he pulled in some key investors and advisors that could push us in the right direction. Without trusted friends and supporters who had been through this before, I don't think we would've made it to the right partners. Creating these products isn't cheap, so there wasn't much room for error.
After a few false starts with some designers that didn't feel right, we found a manufacturing partner with a designer who had the kind of pedigree we felt was needed. We wrote a brief, answered what felt like a million questions, and a few weeks later we received a sketch of the first bag. We knew immediately this was our guy. I started diving into researching the best components in terms of buckles, zippers, fabrics, etc. so I knew what everyone was talking about on these phone calls.
We spent months designing, refining, and making sure everything was perfect. Not only did we want this thing to actually BE the safest, most thoughtfully designed dog backpack, but we wanted the user to immediately feel the difference in our product. Giving a pet parent a sense of safety and comfort is as important as the product actually being safe and comfortable. For example, we used top of the line auto-lock YKK zippers. Meaning that once the bag was zipped up, no matter how chonky your dog is, or no matter how you moved, that zipper would not come undone. For redundancy and peace of mind, we added a pull tap to the zipper so that you could buckle the top strap through that pull tab, making absolutely sure that zipper would not come down. As a pet parent, I know that redundancy and added sense of safety is important.
Pet parents are a very sophisticated consumer in the sense that they have incredibly discerning opinions, demand intuitive functionality across the board, and want to know (and feel) that they're buying the best for their dog…especially if that dog is aging or has health issues. That's why before we locked in our prototype, we delayed production by six weeks to get a certain standard of buckles that had a specifically high (and tested) tensile strength.
By the 3rd prototype, we had hit a bullseye and then we began performing rigorous safety testing. We had to make sure the bag was up to certain safety specs, because Maxine had fallen out of other carriers due to poor seam construction. And I'll be damned if I'm gonna let that happen to another pet parent.
During this time, I was breadcrumbing our audience as much as possible, building insane hype for something they had been asking for years. Once our patent was filed, we did a really nice photoshoot outside and in my kitchen. I'm pretty good with a camera, and because I had a robust production background, when I worked for years at a smaller agency, they used me as a swiss army knife doing all kinds of photoshoots for brands like Truly and BMW. So we turned my kitchen into a studio. That was fun.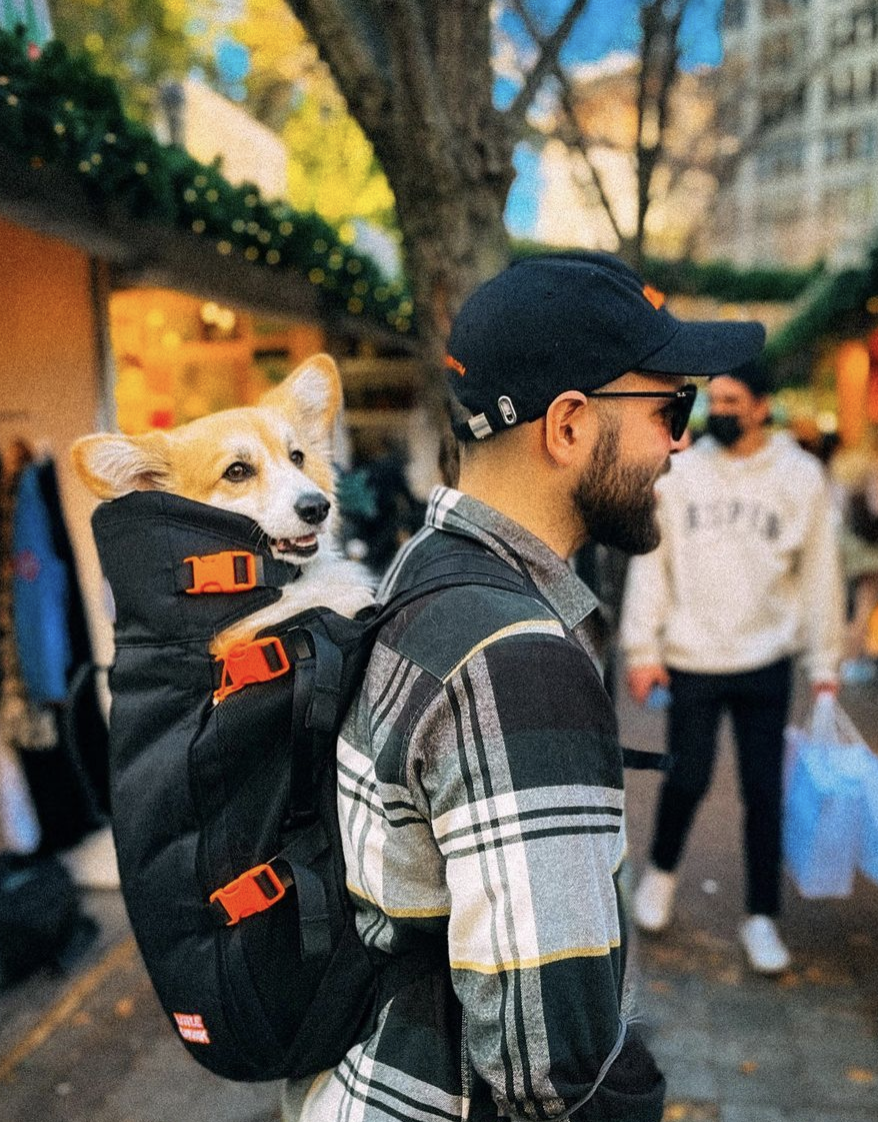 Then we got into packaging which for us, was another big expense. Everything about this product is a content flywheel, which means that every piece of it, box included, had to make a statement. So we designed a big orange box that said LITTLE CHONK. When you receive our product in the mail, it's a special moment. Because the truth is. It is. This product literally changed my (and my dog's life) for the better. I'm a kid at heart – so I love toys and the unboxing is one of my favorite parts about the experience. I love seeing how excited customers are to even instagram the box before they open it.
It was important to us that we launch the product on December 15, 2021. That was Maxine's 6th birthday, and having that date was paramount to maintain the ability to tell a compelling and authentic story. After all, the backpack was named after her.
And in that launch month, the goal was to make huge waves across the industry and involve as many of our famous friends as possible. We had a blast.
Since launch, what growth channels have been most effective for you?
We like to keep our spend as low as possible, so we lean on our built in audience and network of friends and influencers. Here's what we did right after launch:
And since launch we use every opportunity as a way to show off our product:
We've built up a lot of goodwill in our networks and within the community. Folks know why we're doing this, so they're always down to support and help our efforts because I've always been there for our friends when they needed help, or a little promo support for whatever they're working on.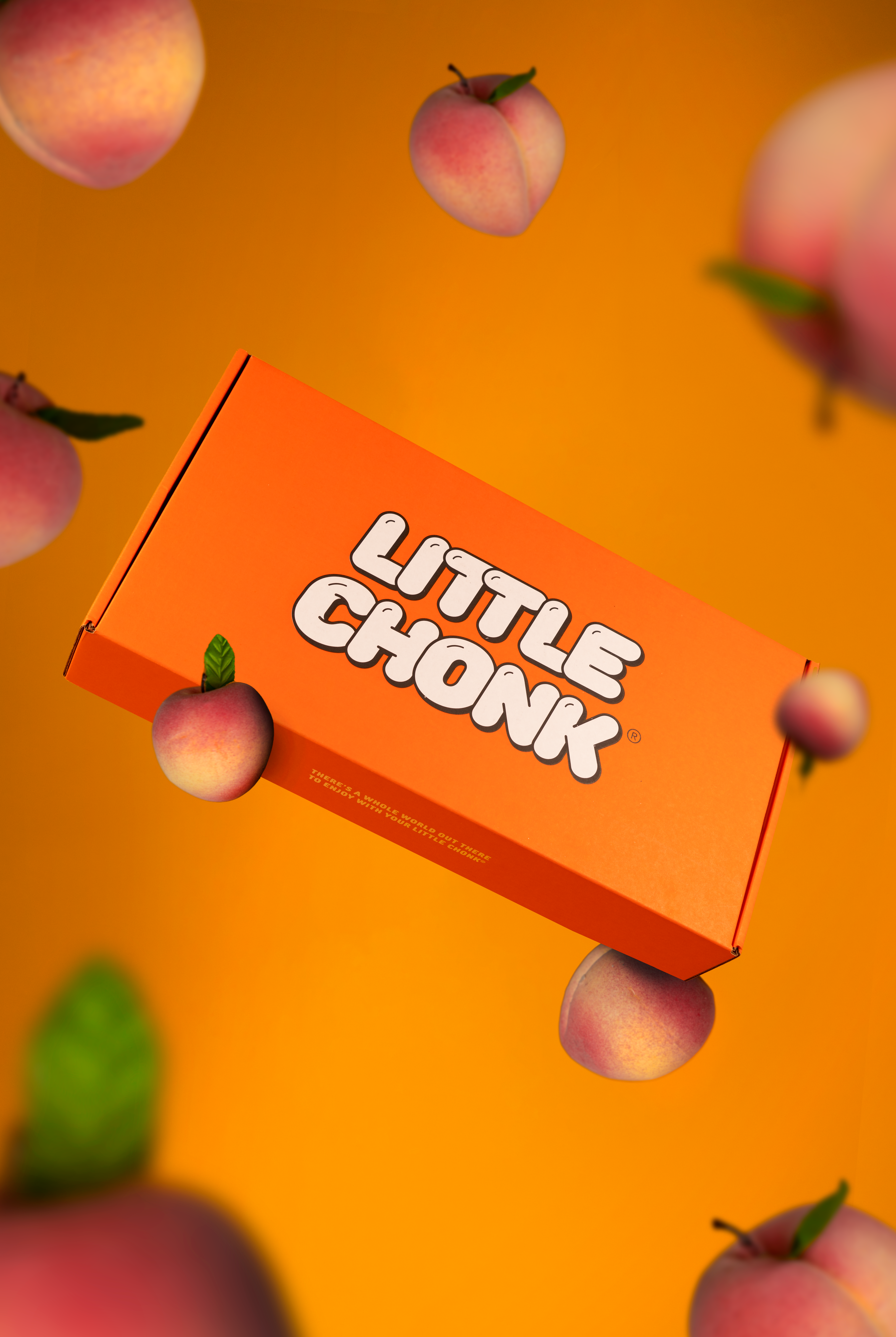 We've also been able to translate our large social following into a strong email list which has been incredibly effective.
We recently made the decision to put some of our products on Amazon to test an alternate sales channel and drive revenue. The margins are slightly lower but there's a lot of data to be gathered there on this current product, and help generate more sales on future SKUs. The growth on Amazon started slow, but since has been a hockey stick, again with very little marketing spend.
Did you ever have an "oh shit" moment where you thought it wouldn't work?
To be honest we never really thought this wouldn't work. But, we were surprised at how well it did work. I remember the day we launched. The anticipation couldn't have been any higher. We were getting hundreds of DMs from people around the world letting us know they were literally waiting by their computers for us to make the site live. And once we hit the live button on Shopify, we saw the inventory drop. We were screaming. Maxine was barking. It was wild.
I'm only human, so there are days I have my doubts that this will stop growing as fast. But I know people need what we're building. People are so grateful that we've built a reliable product that allows them to do more with their pets, so that's the fuel that keeps our eyes on the prize.
Can you break down the keys to this business model for us? What makes it work? And What do outsiders typically not understand about your industry?
What makes this business successful starts with the fact that we have incredibly healthy unit economics – north of 75% in margin for The Maxine One alone. Because we're creator led, we had the fortune of fostering a deeply robust and loyal community years before we considered launching a business and bringing a product like The Maxine One to market. Once we did, we benefited from the long-anticipated demand years in the making – which allowed us to sell the vast majority of inventory in '22 completely organically and through word of mouth.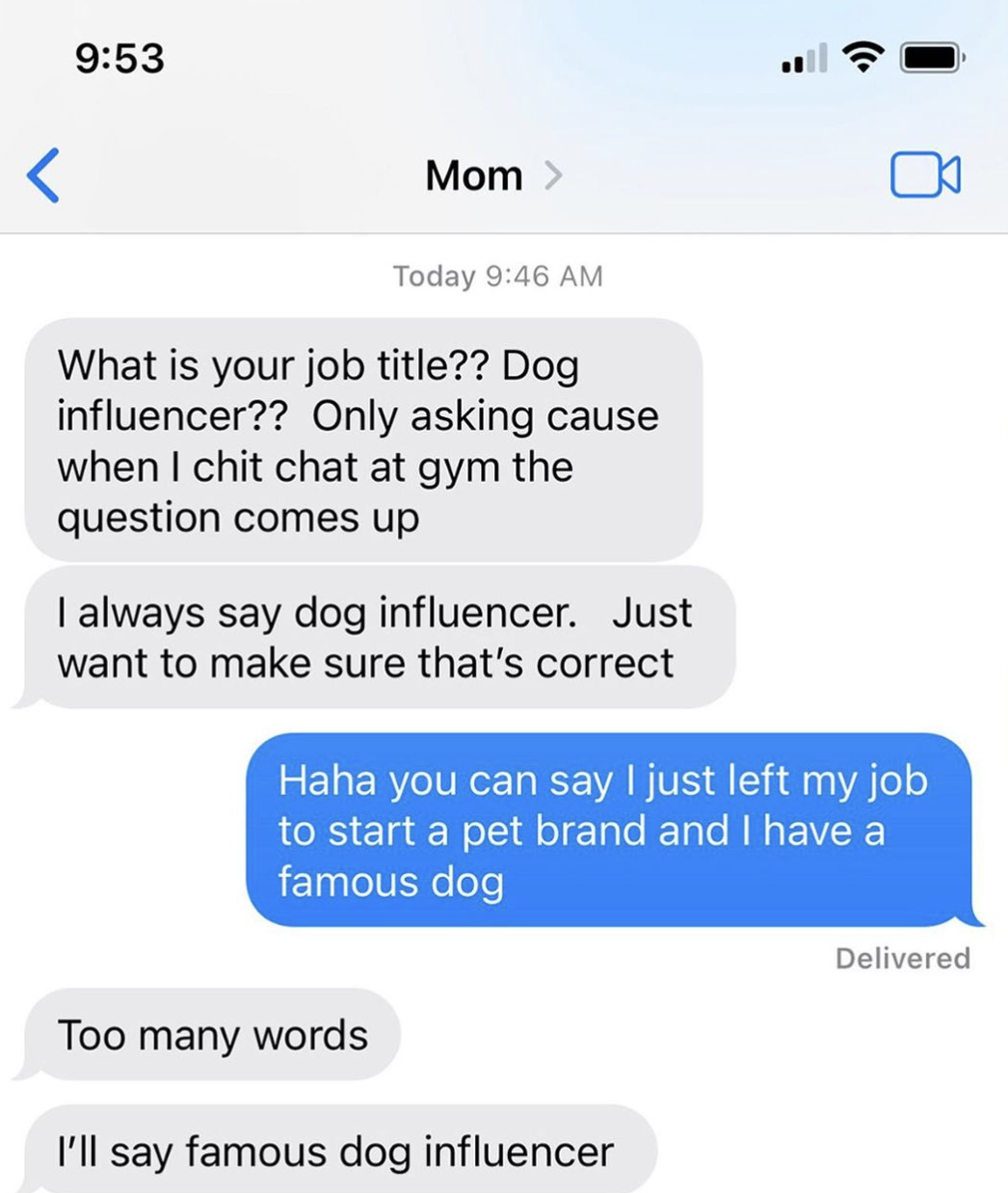 Of late, we've begun to teeter in the world of paid to expand our reach and diversify our distribution channels. Speaking of diversification, we recently added Amazon as our official second POS and have seen insane momentum. We've 8x'd sales volume in the last four months alone and look forward to pursuing a dynamic retail strategy in the months to come.
A common piece of feedback we often hear from outsiders is that it appears Little Chonk is run by a team of 15+. Believe me or not, it's just myself and my business partner. We've been incredibly scrappy and calculated when it comes to messaging, design and overall relationship-building with our customers. Obviously that's not a scalable model, being so in the weeds and meticulous with every small decision. But we wanted to do this right. Now, we're eager to stick rocket fuel underneath this thing and move faster. Much faster.
To be blunt, there is a sheer lack of thoughtfulness and playfulness when it comes to new age pet brands. We want to be different and breathe new, fresh air into the industry. We think we've earned the right to do this and timing couldn't feel any more perfect.
We are building the Nike for the pet industry.
What platform/tools are absolutely crucial for your business?
Our business runs on Shopify and we are proud partners of the platform – they've begun to invest in the creator economy and have given us incredible treatment and resources to scale this business. They've had us on their podcast, covered us in their blog. We're big Shopify fans!
Also, everything we do ultimately comes back to content creation and publishing, so we effectively live on social.
What have been the most influential books, podcasts, or other resources?
My business partner and I obsess over Phil Knight's "Shoe Dog" as well as the film "The Social Network." Sure it glorifies the entrepreneurial spirit and journey, but what we connect with most is the vision these things began with followed up by the relentless hustle and an undeniable approach to manifesting it into fruition.
We often see ourselves in real life "scenes" from these stories and we call it out immediately. We think our life is truly a movie sometimes.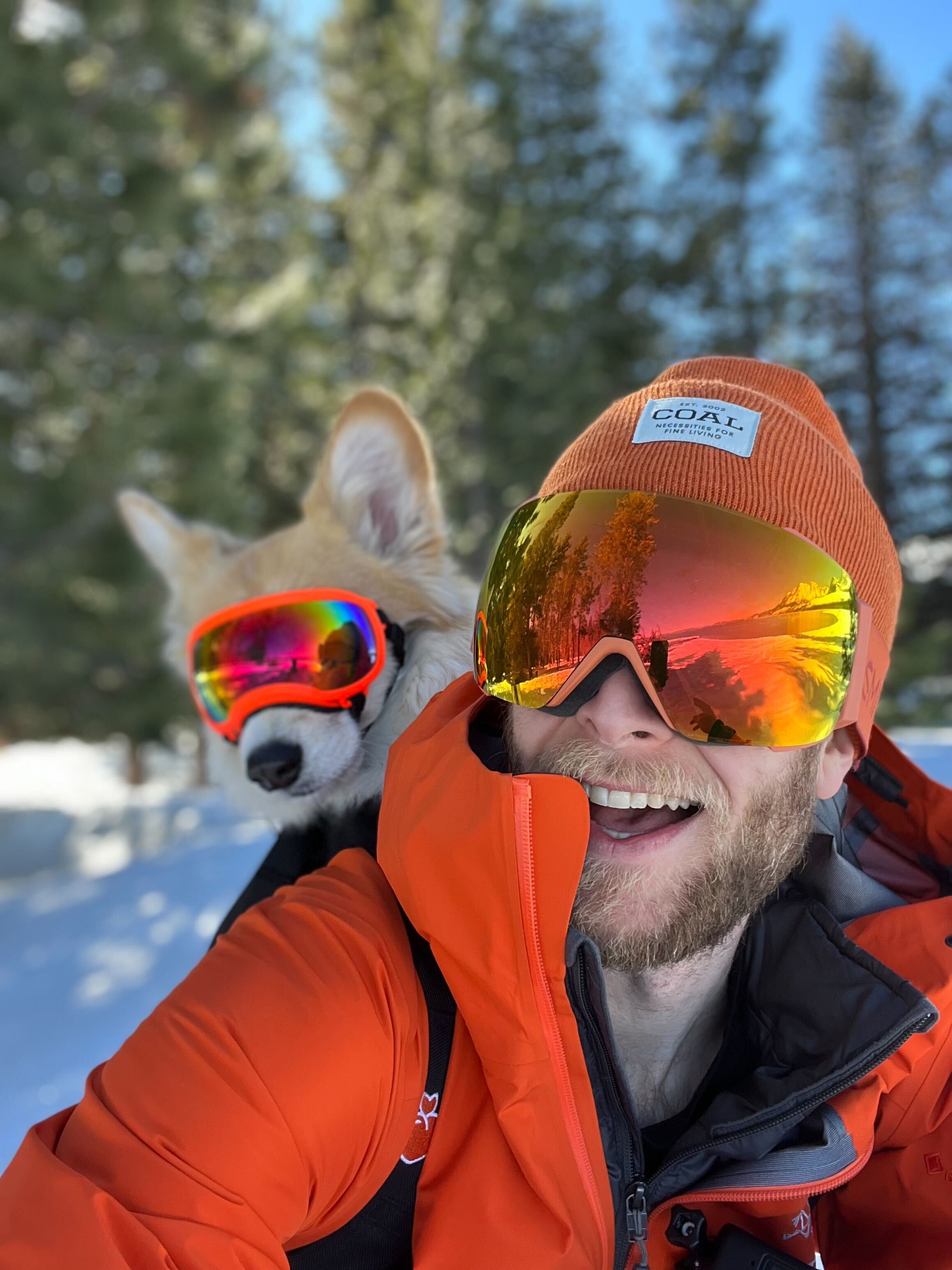 Where do you see untapped opportunity in the market?
Easy – it starts with building a transformative brand in the pet space that people actually care about. Far too many out there resemble each other, as if they're pulling a page out of the same playbook. They're sterile, devoid of energy, fun and overall playfulness. Our experience with our pets is silly, fun…oftentimes childish. Why shouldn't your favorite pet brands emulate that ethos?
As a small example, earlier in the year, I produced a fun video with Maxine and I on an ice rink playing hockey with a custom, one-off Little Chonk jersey. The NHL re-shared it, the video took off, and we began to receive demand from fans who wanted that very same jersey. So we designed several en masse and sold it to them!
It's stuff like that that truly gets us really going. We are a pet brand that sold hockey jerseys. There are no rules, we want to do things that we find fun and rewarding – and are confident our community will equally share that sentiment.
What are some strong opinions you have about leadership, and how do you actually put those into practice in your company?
Lead by example – the culture of a team oftentimes inherits the approach seen by its leader. People are impressionable, they're perceptive. If you are passionate, committed – have a great work ethic, those traits will trickle down.
Also, don't be a dick. Nobody wants to work for somebody they resent.
Where can we go to learn more?
Personally, I find being the CEO of a startup to be downright exhilarating. But, as I'm sure you well know, it can also be a bit lonely and stressful at times, too.
Because, let's be honest, if you're the kind of person with the guts to actually launch and run a startup, then you can bet everyone will always be asking you a thousand questions, expecting you to have all the right answers -- all the time.
And that's okay! Navigating this kind of pressure is the job.
But what about all the difficult questions that you have as you reach each new level of growth and success? For tax questions, you have an accountant. For legal, your attorney. And for tech. your dev team.
This is where Hampton comes in.
Hampton's a private and highly vetted network for high-growth founders and CEOs.