Bootstrapping A $5 Million Custom Drone Business
This founder went from working out of a spare bedroom to leading a 20-person team and a ten-thousand square-foot design facility.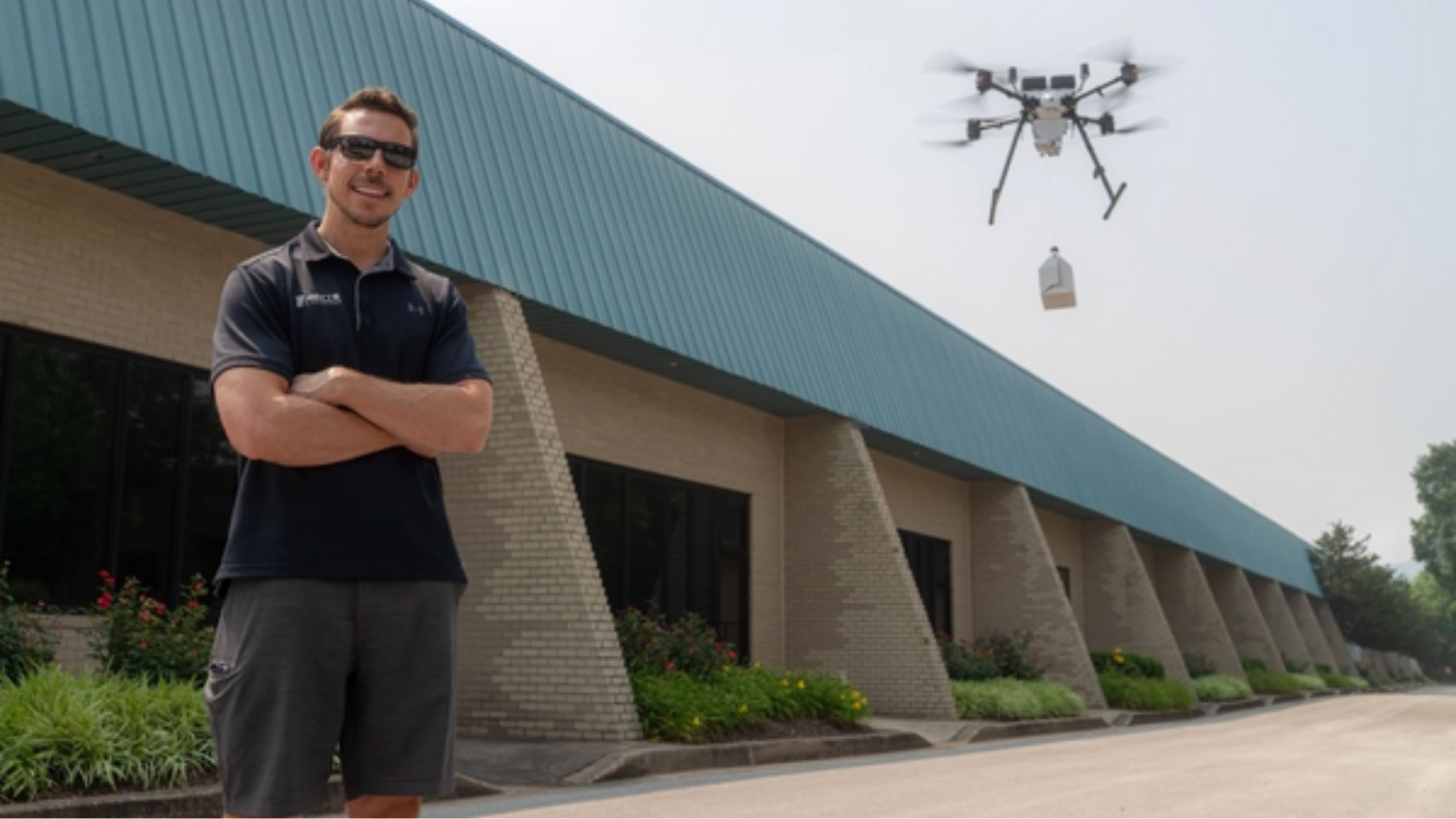 If your knees don't go weak when I say the words "futaba servo," "scorpion motors," or "castle creations speed controllers," that's okay. You'd be excused. You're about to enter a world you probably didn't even know existed.
Hampton member Bobby Watts is the founder of Watts Innovations, a multimillion dollar designer of high performance unmanned aerial vehicles.
Just 34 years old, he's been in the industry for over twenty years, starting as a professional RC helicopter pilot (yes, it's a thing), then eventually building custom drones for film crews, delivery companies, and more.
Even if you haven't heard of his company, you've definitely seen the results of his work. Stranger Things, History Channel, NatGeo, and others – he's worked with them all. And when Elon Musk shot a Tesla Roadster into space, Watts was there to film the aerials.
In this piece, he takes us behind the scenes to show…
Early days and how the company came to be
How they pivoted their way to product-market-fit
Top acquisition channels, and his approach to content marketing
"Oh sh*t" moments, and how he's gotten through them
And much more…
Bootstrapping any company is tough, but especially a physical product with exacting standards, high cost of goods, and a ton of regulatory oversight. If you're fighting that battle, you're gonna love this story.
Without further ado, enter Bobby…
Hello! Who are you and what business did you start?
I'm Bobby Watts and I'm the founder and CEO of Watts Innovations, located in Hunt Valley, Maryland.
We design and manufacture unmanned aircraft, or more commonly called 'drones'. The drones that we manufacture are industrial - so think of a high-end tool for professional, licensed drone operators to use in order to conduct their services. Our main customers are drone service providers and organizations who utilize our drones to perform a wide range of tasks such as cell phone tower inspections, surveying/ scanning, power line inspections, movie filming, as well as cargo delivery.
Bootstrapped from day one with minimal investments along the way, we reached over $5M in sales last year with just under 20 team members.
What's your backstory and how did you come up with the idea?
Well… I have been involved in the remotely piloted aircraft business for over 20 years now and started when I was a teenager in high school.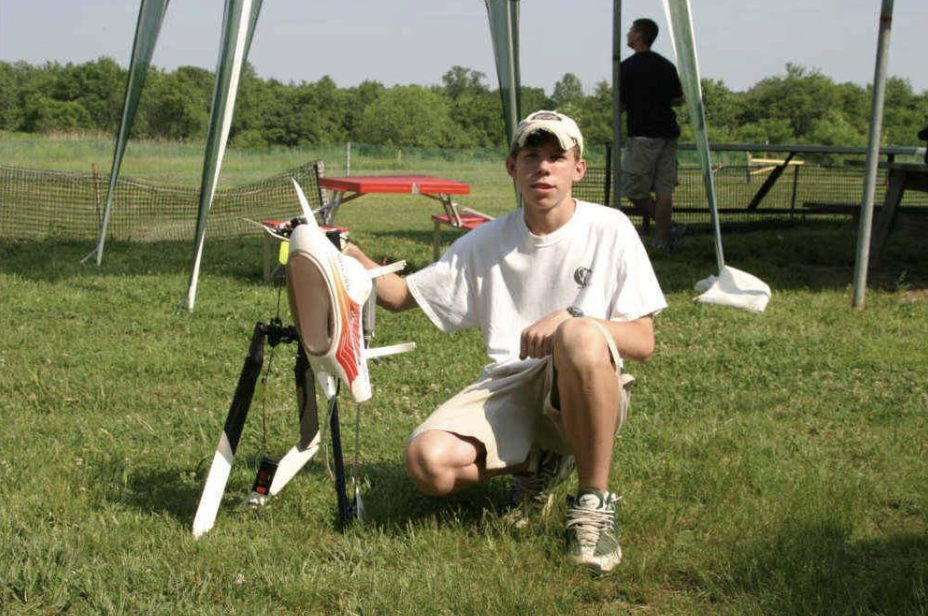 In 2003, I began to fly model RC Helicopters as a hobby. As it would work out, I was actually pretty darn good at building, setting up and flying helis and that would actually become my job all throughout high school and into college.
These helicopters are extremely high performance and can do the wildest tricks you can imagine.
For years I would make a living as a competitive RC helicopter pilot (yes, that job title really exists), as well as working with manufacturers to design and test products in the RC heli world.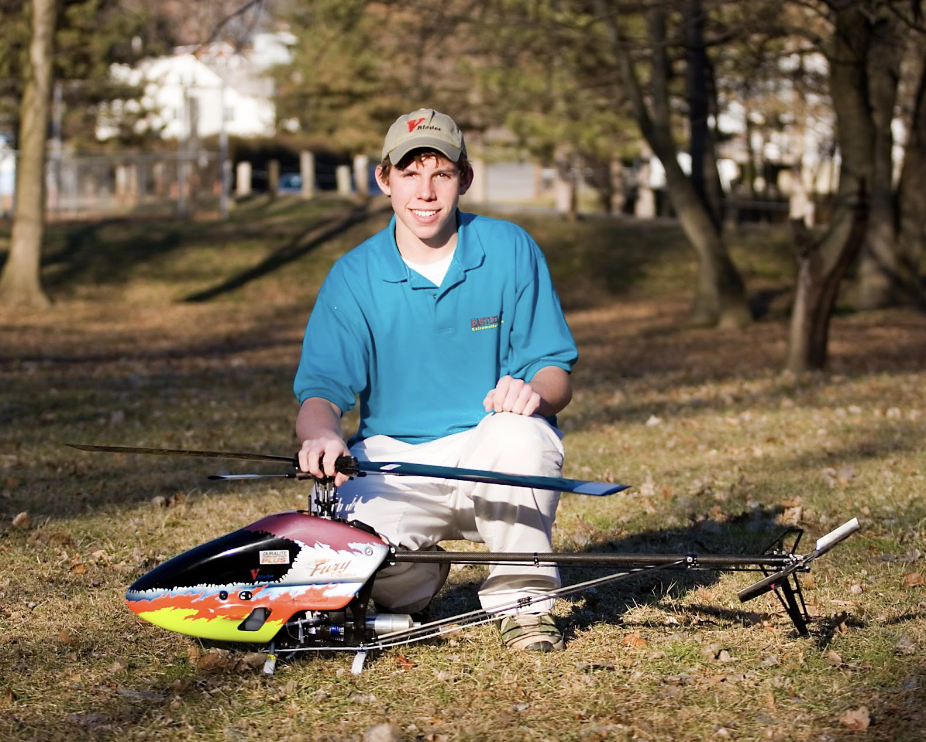 For the competitions - just think skateboarding meets figure skating. Or just click here to see one of my competition flights from back in the day.
As I was getting my bachelor's degree in Mechanical Engineering, I worked with some amazing organizations like Johns Hopkins Applied Physics Lab (2006-2009) to take my knowledge of Radio Controlled Aircraft and apply it to to what were known as "Unmanned Aerial Vehicles", or "UAV's". There I learned how to blend the RC world with the UAV world - introducing things like infrared cameras, autopilots, autonomous flight, and onboard processing into my bag of tricks.
I think the turning point was in 2007 when I was called to assist with a project where a well known cinematographer in Florida named Jordy Klein wanted to attach a movie camera to an RC Helicopter to get aerial shots that a helicopter or crane couldn't get.
I did my first shoot with him in '07 for Seadoo and we would later grow to become great friends and really do some cool things in the cinema industry together.

We reconnected in 2011 and began to work on all sorts of aerial cinematography projects together, shooting some really wild things along the way. Some of our notable highlights include shooting aerials for SpaceX's Falcon Heavy Demo Flight where they sent the Roadster into orbit, Filming the Oakley Pro Surfing Competition in Bali, Shooting the Tupac biopic All Eyez on Me, Dangerous Encounters on NatGeo (filming the Great White Sharks that jump 20' into the air), as well as a ton of commercials for the theme parks in Florida, car commercials, the list goes on and on.
At one point we were even asked to film and pitch our own Reality TV Show Sizzle reel, but it never got picked up.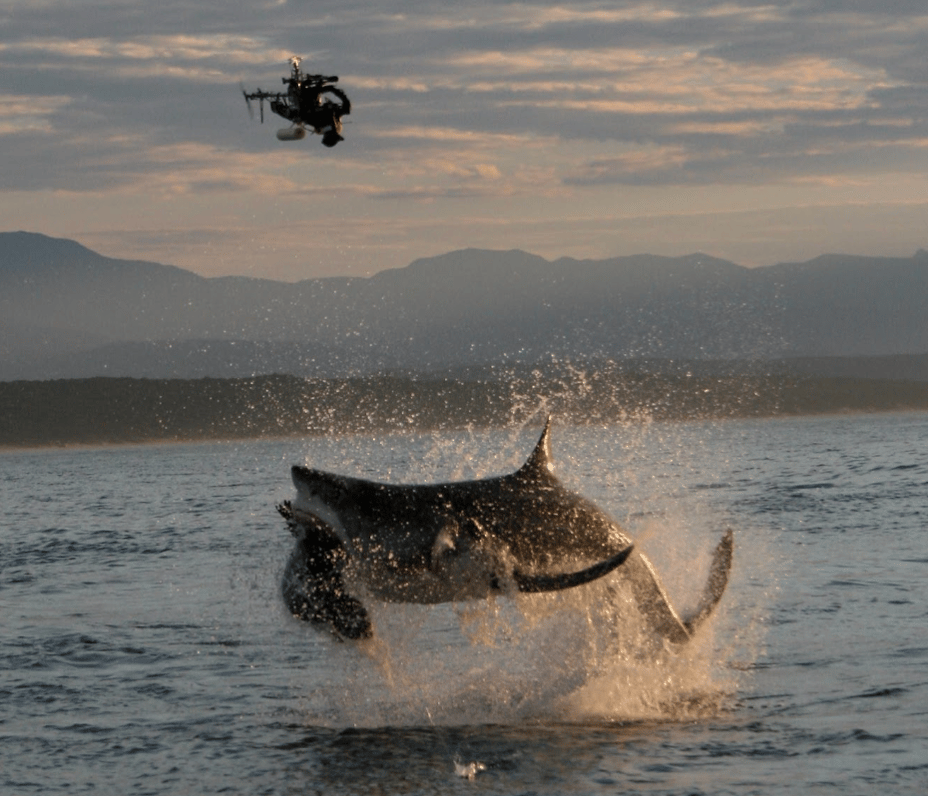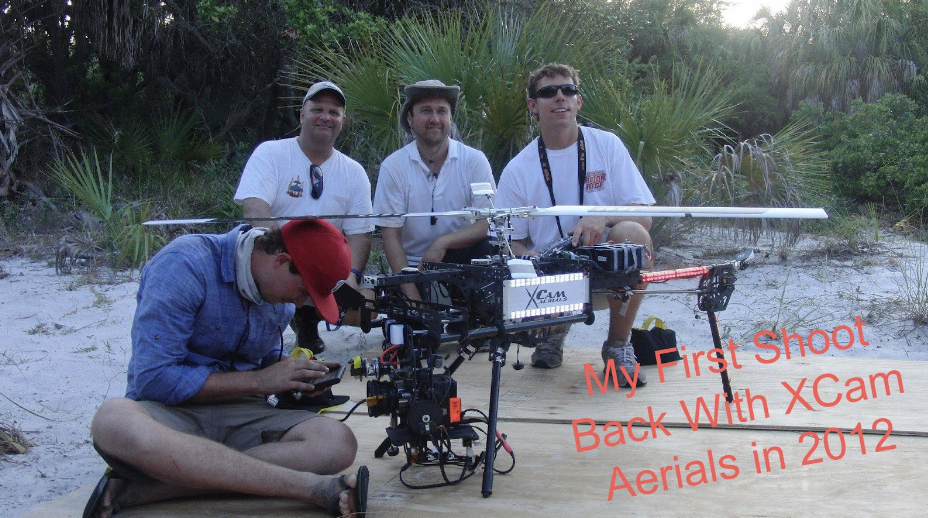 In 2013, we began transitioning away from shooting movies and commercials with RC helis and transferred that technology over to multirotors (aka drones). The tech directly correlates, and having that background from the heli world made it that much easier to come into the newfound vehicle platform with a solid foundation on the essentials of unmanned flight.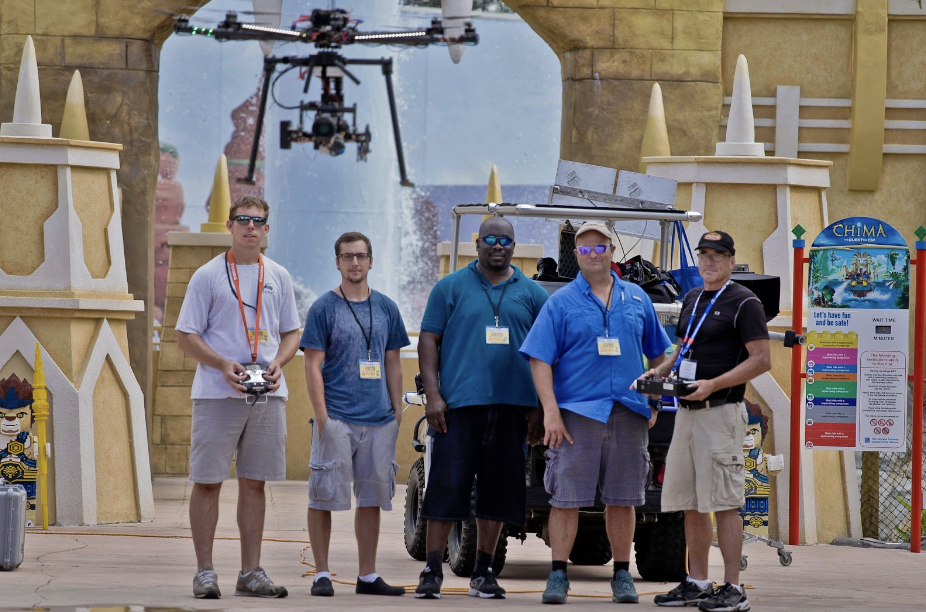 In 2016 I created Watts Innovations as a shell company more or less - to run my various designs and contracting services through.
At the time, I was indeed making a living being a drone pilot, but because the industry was so new, it was a bit of a struggle to find full time work. So in between movie shoots, I was working as a freelance designer, finding work on Upwork.com, helping people take their new invention concepts from ideas to reality.
It was a wild time.
During that period, I was helping individuals design everything from drink caddies to golf tees, dog prosthetics to toilet seat covers (Yep really). At that time, I was trying everything to get something to "stick".
My girlfriend at the time (now my amazing wife), Carly, was with me every step of the way on these projects - helping out wherever possible. Within that one or two year span, we must have tried over 5 serious business plans/products but nothing hit.
Notable achievements include Nibble & Stay, a pet product that we actually did end up getting a TV Infomercial for, but the tests didn't prove to be successful enough for them to pick up, as well as Drobotron, the world's first flying drone billboard (I think we were 10 years too early, give it time - the idea is legit).
Times were tough - I was heavily in personal debt from some of those failed businesses, just barely making my monthly rent payments, and we were just clawing to get something to stick. That would all begin to change in 2018…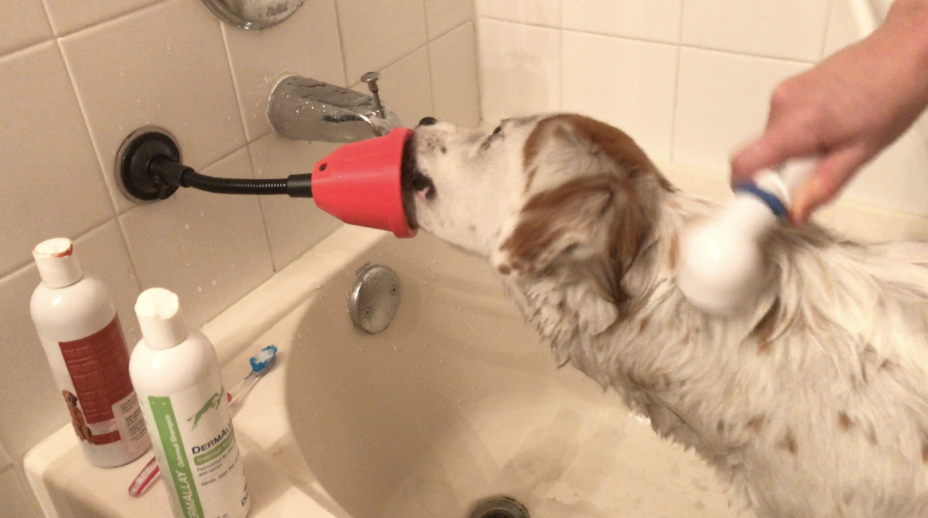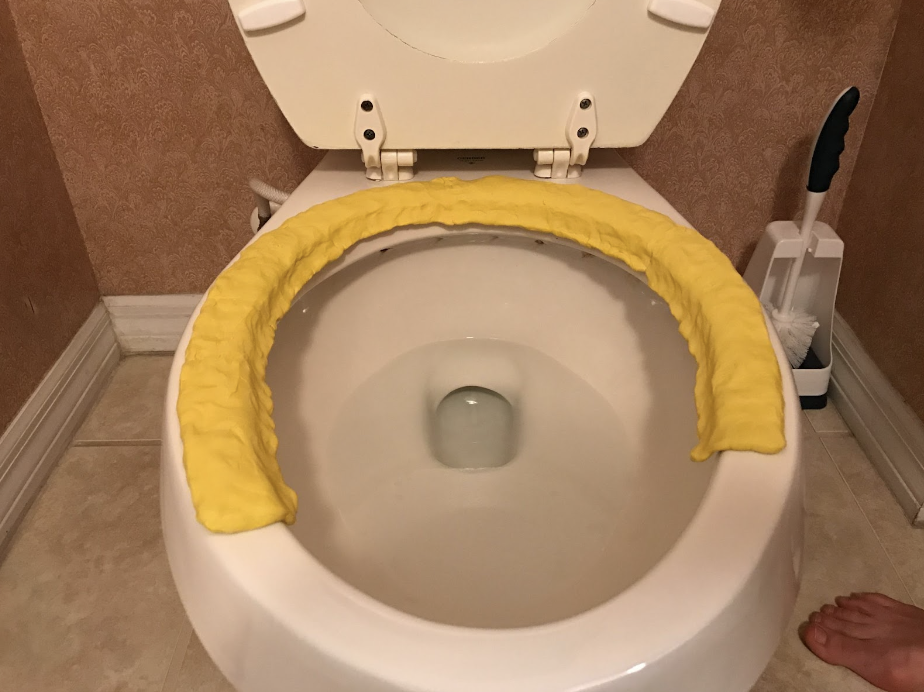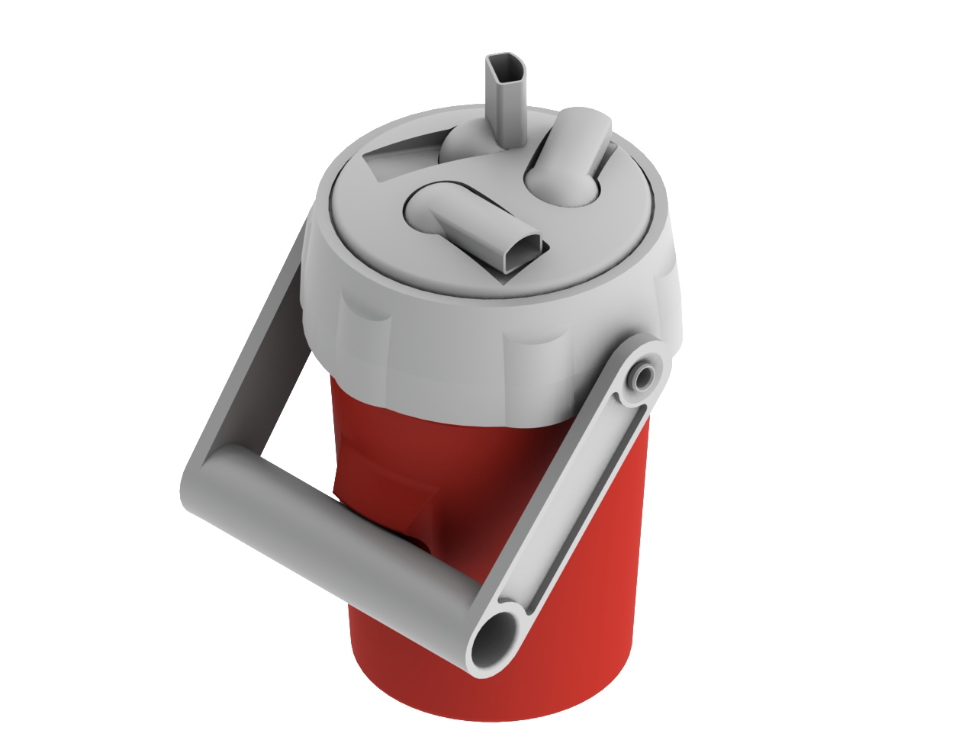 Take us through the process of building and launching the first version of your product.
In 2018, while working with Jordy and his filming company XCam Aerials, we found the need for a heavier lift drone that could carry larger cameras and lenses.
We looked around but there was just nothing on the market that could carry the weight we needed. So, I told him I could just design and make a drone for us to use ourselves on shoots.
I made him an offer he couldn't refuse: If he could cover the cost of the parts, I'd design and assemble it for free - but I wanted to keep the IP. He was in! So he paid me $5K for parts and I got to work designing and assembling in my "workshop" which was just a spare bedroom at the time. A few months later, the MFD 5000 drone was born.
We then put that thing to work all over the country, shooting movies, commercials and TV shows for over a year with the first prototype. Over that year I would refine and perfect the drone little by little based on what was breaking or wearing out. I was documenting the entire journey on my social media pages the whole time and came to find out that more people wanted a larger drone as well!
I then sold the next drone in July of 2018 and Watts Innovations, the industrial drone design and manufacturing company, officially had traction. (Fun fact: As of July of 2023 that prototype drone is still going strong and was even used on such bangers as Nextflix's Stranger Things S4 & Florida Man, and A24's Zola - to name a few.)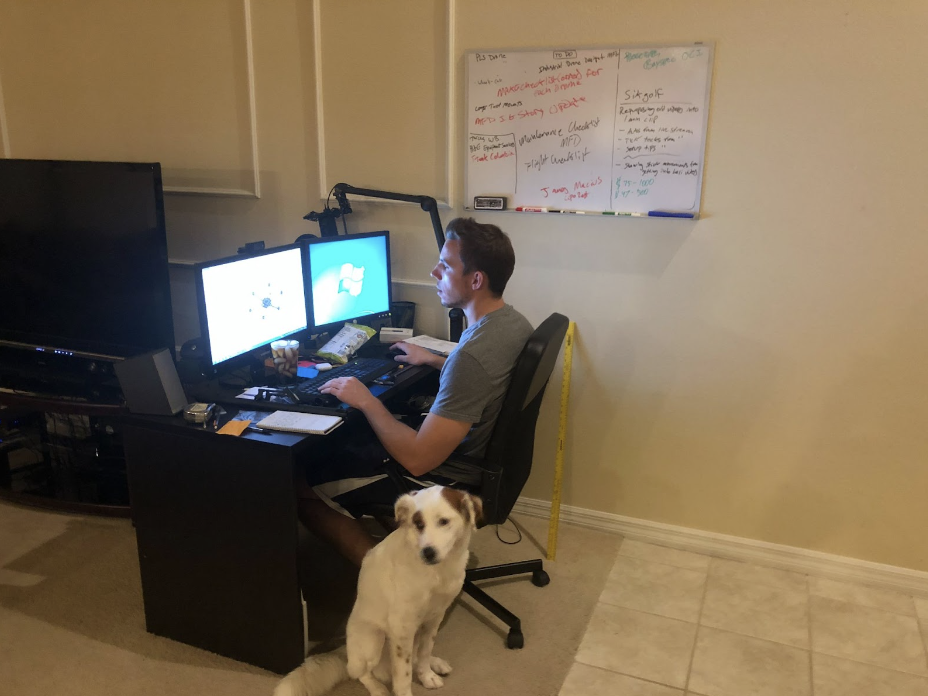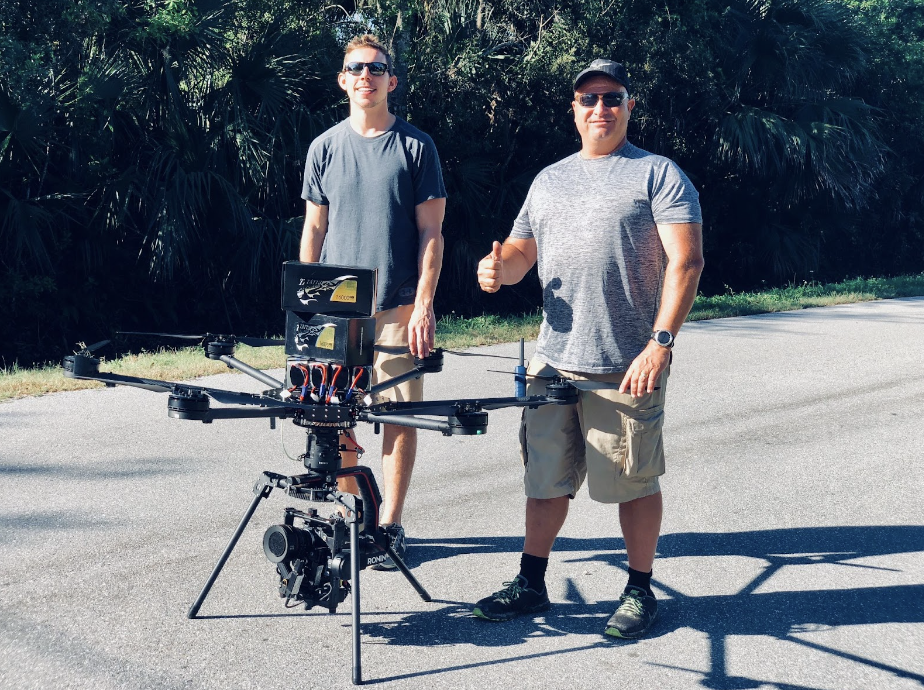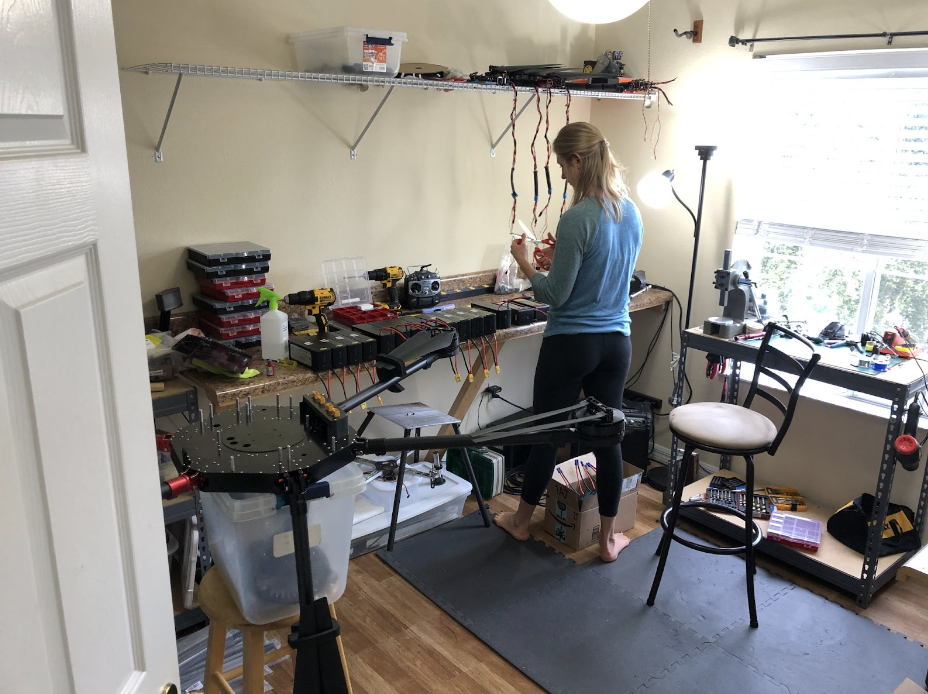 As the design became more refined, the cost of each drone inevitably increased… later getting up closer to about $10K per drone. We would then sell them for $17-23K retail over time. But as you can imagine, just purchasing the raw materials was so costly that I couldn't even afford to build a drone to have myself for demos. So whenever a potential customer would come my way to see a demo, I would ask Jordy to borrow his drone for the demo, then discount him a few hundred bucks the next time I flew for him on a shoot.
This really worked! We would then get a 50% deposit from the customer, use those funds to purchase the raw materials, then get the final payment when the drone was ready to ship. I think in that first year or so we ended up selling about 7 to 8 drones total to customers primarily doing movie filming, but also LiDAR scanning as well.
Even at that time, things were super tight. I eventually ended up working with a buddy of mine who imports and sells used truck tires. So I would wake up at 4 something, head to his tire warehouse, then help unload/load and sort truck tires until noon, then head back home to work on drone designs in the afternoon. It helped pay the bills while I could continue to reinvest every cent possible back into Watts Innovations.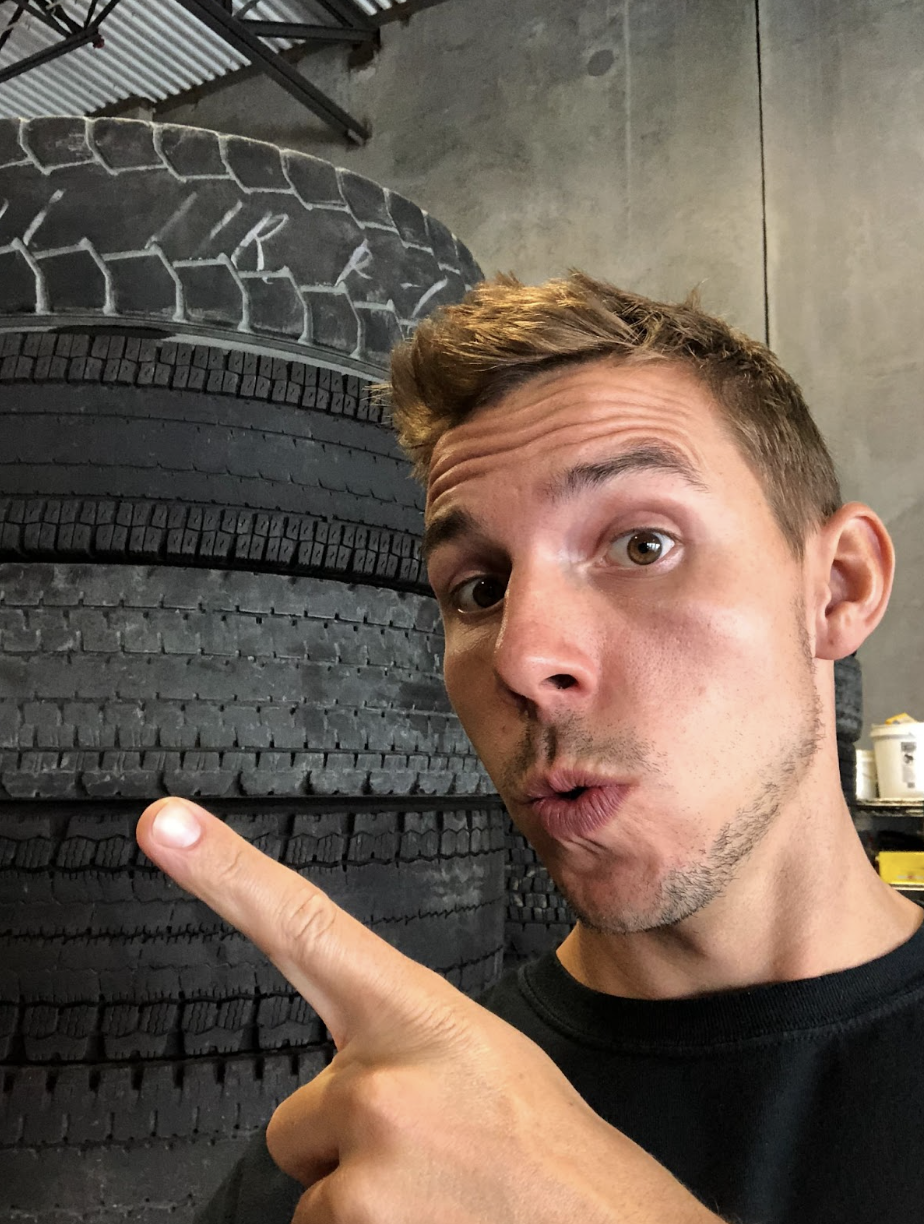 Word of mouth eventually began to spread and we eventually got some of the largest organizations flying our drones such as ACam Aerials, Drone Dudes, Beverly Hills Aerials, Phoenix LiDAR Systems, and more - all within that first year. I really owe it to them - without those companies coming in early, none of this would have happened.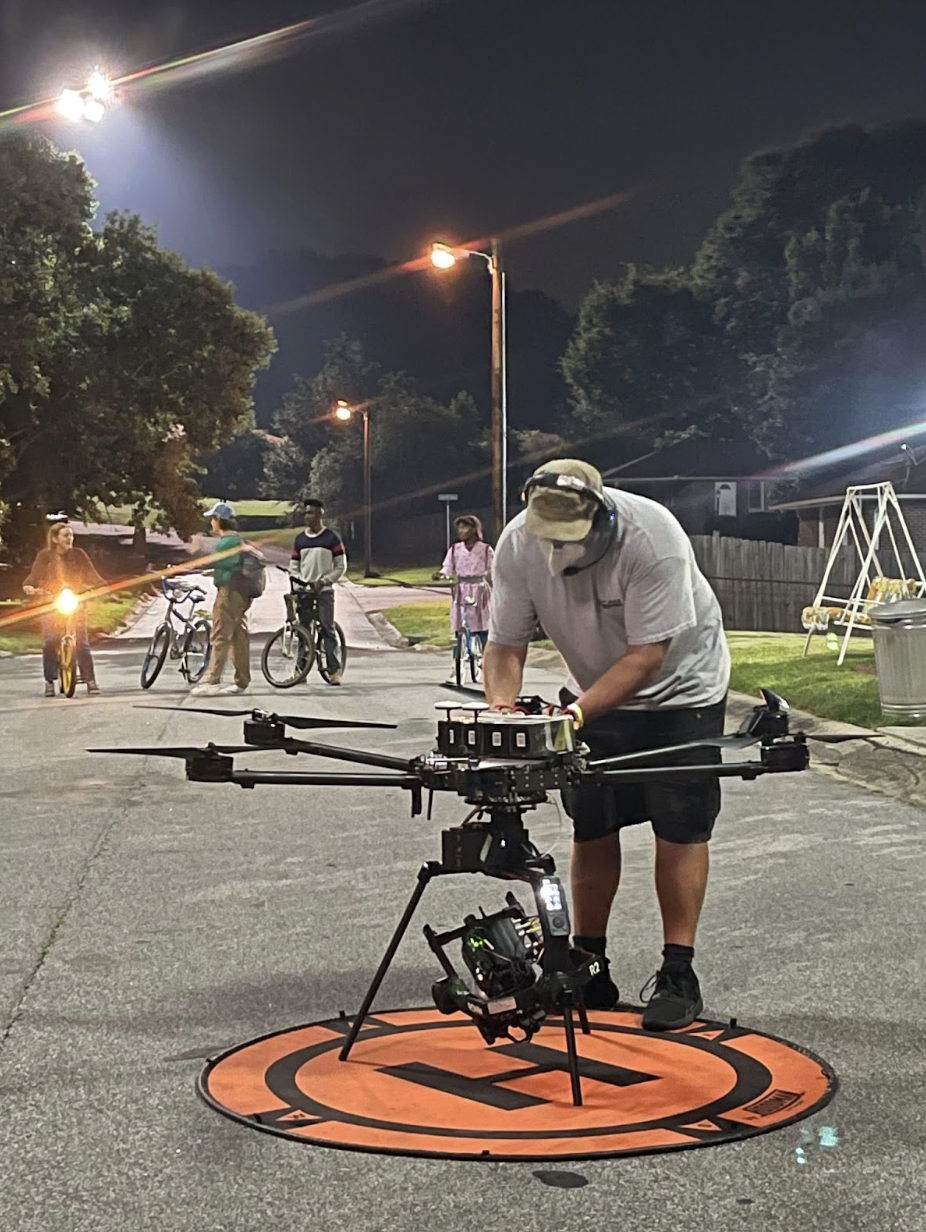 Since launch, what growth channels have been most effective for you?
Since day one of Watts Innovations, I was documenting my journey on various Social Media channels. I was super into Gary Vee at the time and really believed in his "Document, don't create" thesis. So that's what I did.
I was trying so many different things at the time, just trying to have one of our projects have legs and grow into a sustainable business. I figured if I just kept documenting what I was doing, the growth would come as a result. And it did!
As we began to sell more drones, it became apparent that the business that we were creating was a B2B design and manufacturing business, where we would sell turn-key drone packages to professionals needing high end, reliable equipment. There really weren't that many players in our space, due to it being so new, so the only thing I had to do was create a great product and provide the best customer service possible. Then at that point, word of mouth took over and the sales began to grow.
For our particular business, LinkedIn is our best avenue for awareness, marketing, and leading discussions in the drone industry.
The industry has really changed since those early days, so it's been wild to see the growth in that time. To date we have only spent a few thousand bucks in marketing, other than the cost of one or two trade shows per year. We just continue to find that creating informative, entertaining, or interesting content continues to be our best strategy for finding new customers.
We have now created multiple generations of drones in the last 5 years and over half of our customers have transitioned with us from one model to another, as they replace their fleet every few years. It's been so rewarding to see our customers using our products and services as tools to grow their own businesses.
Did you ever have an "oh shit" moment where you thought it wouldn't work?
To be honest, every day has its own "oh shit" moment!
Our industry is quite fascinating, as it encompasses traditional manufacturing hurdles, regulatory hurdles (FCC, FAA, NDAA), as well as supply chain and lead time challenges.
Looking back, it's always either feast or famine. We are either in over our heads, drowning in orders, trying to get products out the door - or things are slow, we aren't selling as much as we need to in order to cover overhead, waiting on that next big order to come through.
Last year we had our biggest growth year to date, where we scaled from just a handful of people to nearly 20 full time team members, to fulfill a large order for one of our customers, DroneUp, who utilizes our drones for one of the largest drone delivery programs in the country.
At that time, it was a sprint to finalize design and kick into production our largest order to date, while maintaining the highest quality and standards possible.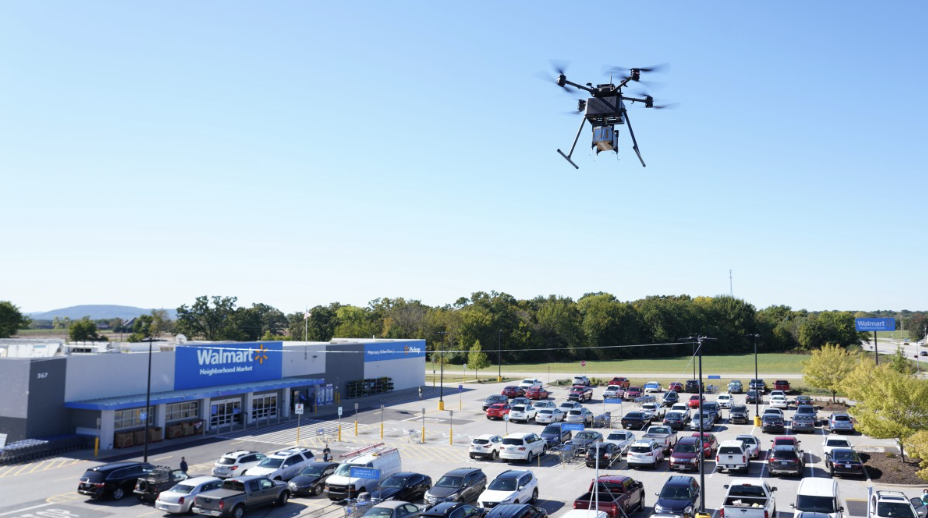 We have now scaled up our operations, from QC to production, engineering to accounting, in order to be able to come through for these larger orders in the future.
After our biggest year to date in 2022, we set out to raise funds in the beginning of 2023. Between the SVB collapse and the bleak economic outlook (especially in the tech space), our raise has been put on hold as we continue to just do our thing and grow organically. We do see plenty of opportunities and traction in other sectors of the drone industry that we are now attacking, but am very much looking for an opportunity to raise funds to take Watts Innovations to another level.
Can you break down the keys to this business model for us? What makes it work? And What do outsiders typically not understand about your industry?
As a B2B design and manufacturing company, it all starts with the product. We need to have the most compelling product possible and it needs to be reliable - day in and day out. Businesses and organizations rely on our products in order to conduct their services. Without a good product, it all falls apart. So that is number 1. If you are making a product, it has to be excellent. If it's not excellent, don't stop refining until it is. Be transparent with your customers and work with them through any issues that they may have in order to make your product even better.
Over 90% of our revenue comes from direct sales to customers. Not only do we offer a complete drone package (the customer will typically purchase a drone, as well as batteries, chargers and some spare parts), but we also offer design services if they require something custom that our stock drone doesn't offer out of the box. We can sometimes build that into a package price, or sometimes we bill hourly as engineering services. Over one third of our customers work with us for a custom feature of some sort.
Being a hardware manufacturer, our largest cost is the raw goods themselves to build the drones. Our typical drone package sells for approximately $30K-$40K and the raw cost of goods often account for over half of that. We then have to cover costs for our technicians to build the drones, so it's imperative that we balance our procurement/supply chain timing with forecasting sales, lead times, etc.
We are continually looking for ways to reduce complexity of our products and reduce costs wherever possible. As Mr. Musk wisely states "The best part is no part. It weighs nothing, it takes no time to assemble, it can't break. Can't go wrong." And we try to use that way of thinking whenever possible.
We have seen a ~300% YOY growth for the last three consecutive years with regards to team members, facility space, and revenue.
Here in 2023, our team consists of 7 engineers, 3 admin/accounting, 5 production team members, and 4 in the leadership team. We then have a handful of contractors that we turn to for design, marketing, and other aspects that don't require full time commitment. Our facility here in Hunt Valley, Maryland is split between ~5,500 sqft of production space with ~5,500 sqft of engineering/offices/prototyping.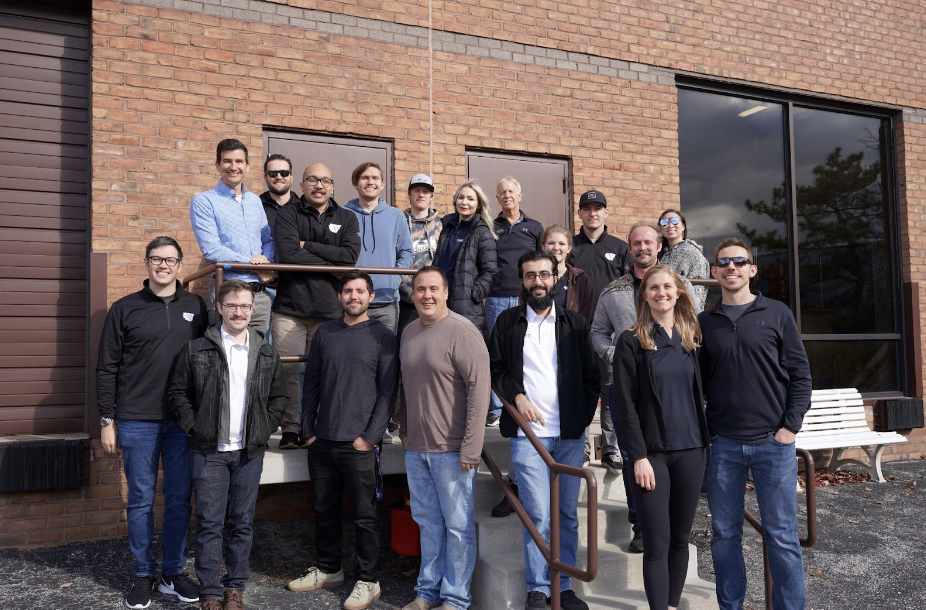 After seeing so many companies in our space fail over the years, I think the biggest reason for failure is an overestimate of how large the drone industry is. Think about it… during your average day, how many drones do you see flying? Personally, if they are not our drones, I don't see a single drone flying in a given day or even any given week.
So what happens is that companies and VC's will invest millions into drone companies expecting to see an immediate return - but because the industry is so new and regulations are still holding mass adoption back, the customers just aren't there to support such a large team. Then it all breaks down from there.
While there is certainly a large usage of drones in the military and other government sectors, when the main area of focus is the commercial market, it is imperative that some of these regulations mature to allow the industry to grow.
For Watts Innovations, we are continually striving to create the best products at scale with the best quality possible. I do believe that as regulations ease and more customers soon realize that they need a drone manufactured in the USA and not China, then we will be in a position to supply them with a quality product.
In addition, with services like drone delivery gaining traction, we are in a great position to create next generation products based on our fleet's experience and data points that we've captured over the years.
What platform/tools are absolutely crucial for your business?
Our business relies on Slack. Internal communication is key. Next to that, it's an even split between engineering design programs such as SolidWorks or Altium, production MRP's such as Katana or Quality Control programs such as AgnosPCB or Safety Culture.
We then use Gitbook for our online documents and Knowledge Base. While we do have our products for sale on our Shopify Website (yes, you can literally go on our website and purchase a $30K drone package right now with a credit card), most of our customers and their organizations are still operating in the good ole process of RFQ->Quotation-> PO -> Sales Order-> Invoice.
The hardest part for us logistically was to find the tools and create a workflow that encompasses custom products manufactured at scale, that works across the entire organization from the accounting team, to the build team, to the fulfillment team. It's not like you can just go get a book (or read a Twitter thread) that outlines "10 steps to stand up a custom drone design and manufacturing process" Click the below 🧵 thread to see how.
What have been the most influential books, podcasts, or other resources?
I don't think that Watts Innovations would have grown to be what it is without listening to Gary Vee so much in the early days. I recall the countless mornings driving the forklift in the tire warehouse, stacking truck tires, listening to the Gary Vee Audio Experience, thinking how I can grow my drone company. Unbelieve to think about really.
The main concepts that I got from him:
Play the long game: nothing is going to happen quickly
Make an incredible amount of content and document your journey
Create value with your content, don't go asking for the sale every single post (

see Jab, Jab, Jab Right Hook

)
Dave Ramsey's EntreLeadership book and podcast is another recommendation that I would give to any business owner. His principals are conservative, grounded, and full of wisdom. I can especially resonate with his views on how to treat team members, foster a family type of atmosphere, and treat others with respect.
As for podcasts, I think that Lex Fridman is doing an incredible job, having tough conversations and asking questions from an engineering lens with regards to how humans and technology are co-dependant upon one another. It's imperative that we, as engineers, continue to design and create with the utmost of integrity and morals and understand how the creations that we release into the wild affect the world around us.
Where do you see untapped opportunity in the market? What business do you wish someone else would build that would make your job easier?
At the moment, there is a tremendous amount of growth potential for the drone industry as a whole. We are primarily focused on building the entire system for the user. Our involvement spans the entire end-to-end solution, from the controller in the operator's hand, through the batteries and payloads, all the way to the drone itself.
We do utilize a considerable amount of Open Source software in our drone systems (the entire DroneCode and Ardupilot teams are incredible and their projects are truly impressive), but then it requires some insanely talented engineers on our team to take that and productize it, exactly how our users intend to use the aircraft.
Ideally, I think that there needs to be more standardization across our industry so that more companies can work together instead of in their own silos.
We do work with Auterion, an organization who is attempting to do just that, but I believe that there needs to be a considerable amount more effort put into how the various manufacturers can work together to achieve an ecosystem that is similar to a PC, automobile, or mobile infrastructure.
In addition, the regulations that are currently in place set forth by the FAA are both allowing organizations to operate freely, while also handcuffing manufacturers and drone operators at the same time.
For example: If our customer wants to fly a drone at 55lbs all up weight (the max takeoff weight currently legal by the FAA), then they can follow rules that are clearly laid out, get a license, and go do their job. If that same operator wants to add an additional 1lb of payload to the drone and fly at 56lbs, there is no clear roadmap laid out for a path towards operating a drone legally at 56lbs.
He will then have to hire specialized law firms who deal with this exact thing and the answer is always in the Gray area. This ripples down to us as a manufacturer as well, where we cannot build new products due to regulations put in place. Or better yet- we cannot design and build products because there are no commercial customers who can utilize it legally without jumping through a considerable amount of legal paperwork.
Having more individuals come in and work hand in hand with the FAA and various other organizations to represent both manufacturers and end customers would be greatly beneficial in moving the entire industry forward together.
I truly believe that the drone industry mainly has a regulations and customer problem. The tech is already quite sound and the rest will sort itself out when the number of available customers increases exponentially.
What are some strong opinions you have about leadership, and how do you actually put those into practice in your company?
In terms of running a smaller team, I can boil it down to 5 key points:
You can be the boss and still be kind. Nobody wants to work for a jerk
Working with friends and family is absolutely possible and I'd highly recommend it - just be sure to separate friendship and business
Be honest with the team, always
Team craves direction and feedback
People honestly want to work hard and do amazing things. Give them something to work towards.
Currently on our team, I work with my wife, extended family, as well as some of my best friends in the whole world. I think that it's super healthy and actually really fun to work with people that you care about and admire so much.
The key is to just communicate clearly. For example, I've always had great luck in starting off any tough business conversation with a friend by saying "Hey, I need to have a business conversation with you right now. You know I love ya, but I'd like to discuss something on the business side. We good?"
Then you begin your conversation. It keeps you both grounded and creates a little bit of a safe zone to speak freely while knowing that your friendship won't suffer as a result.
As far as leadership, I believe that I give the team a considerable amount of autonomy to operate and do their thing. This is why I brought them on the team. I trust them and believe that they will get the job done.
Sometimes I probably don't provide enough direction and just assume that they can read my mind, but I'm trying to get better at that.
Overall, we just continue to treat our team with respect, like family. At the end of the day, I just want to create a culture that both challenges our team but gives them the opportunity to learn and grow their skills, while continuing to create the best products possible for our customers.
Where can we go to learn more
Our Website: https://wattsinnovations.com/
LinkedIn: https://www.linkedin.com/company/28660144
Instagram: https://instagram.com/wattsinnovations
Facebook: https://www.facebook.com/WattsInnovations

YouTube: https://www.youtube.com/channel/UCCOCVOHKSGyM2tDuKdmuKKA


Personally, I find being the CEO of a startup to be downright exhilarating. But, as I'm sure you well know, it can also be a bit lonely and stressful at times, too.
Because, let's be honest, if you're the kind of person with the guts to actually launch and run a startup, then you can bet everyone will always be asking you a thousand questions, expecting you to have all the right answers -- all the time.
And that's okay! Navigating this kind of pressure is the job.
But what about all the difficult questions that you have as you reach each new level of growth and success? For tax questions, you have an accountant. For legal, your attorney. And for tech. your dev team.
This is where Hampton comes in.
Hampton's a private and highly vetted network for high-growth founders and CEOs.