Bootstrapping The Multi-Million Dollar "Patagonia of Marketing Agencies"
How taking one year off to travel eventually led to a 7-figure agency, major 8- and 9-figure clients, and three consecutive years on the Inc. 5000
Here's something that we've seen a few times so far inside Hampton: A person with no entrepreneurial background is suddenly faced with an extreme life event, takes a leap on a business, and ends up finding big success.
We saw it with Jasmine Star, who dropped out of law school and bootstrapped a successful SaaS after her mother was diagnosed with cancer. And with Taylor Hersom who got stuck between jobs in the pandemic, and ended up building a multimillion dollar security firm.
Well, here's another.
Hampton member Antonella Pisani spent the first part of her career as a marketing executive at major brands like Guitar Center, JC Penny, Fossil, and more.
But when her best friend was diagnosed with stage 4 cancer, she decided to take her career freelance, using the extra time and flexibility to be there for support.
She launched Eyeful Media, which started as a very small solo-consultancy. But it's since grown into a thriving multi-million dollar agency with dozens of employees and contractors, millions in revenue, and three consecutive years on the Inc. 5000.
In this piece, she breaks down how the business works, including the tools she loves, leadership lessons, and the "upside down funnel" that has made them so successful with clients.
It's just one more great example of how sometimes life happens, and it can mess you up, or it can help you find the thing you were meant to do all along.
Hello! Who are you and what business did you start?
I'm Antonella Pisani, and I'm the founder & CEO of Eyeful Media. We're a boutique values-led agency focused on digital marketing and strategy for mid-market businesses and supporting private equity firms. We specialize in performance-oriented paid search, SEO, paid social, strategic advisory services, and eCommerce/digital strategy for B2C and B2B companies.
Eyeful Media is one of the fastest-growing digital marketing agencies in the USA.
We made the top 11% of the Inc 5000 list three years in a row, and Adweek named us to their Fastest Growing Agency list last year. We were #13 overall, #6 among digital agencies, and #5 in the woman-led, minority-led, and Southwest categories. We are also a certified Shopify Plus partner.
Our agency is unique because we only used experienced talent (13 yrs of digital marketing experience per person on average) and eliminated the account manager role. This allows us to get closer to the clients and creates a better environment for our team because they get to hear strategy & priorities first-hand.
We're a fully remote team of 20, plus we have some long-tenured contractors & freelancers. We're also bootstrapped and have grown nearly entirely through word of mouth.
In addition to Eyeful Media, I recently founded a nonprofit called Provision Promise that is focused on making personal care / hygiene items accessible to those who need them, and am also on the board of Dwell with Dignity & the North Texas Food Bank's Advisory Council.
What's your backstory and how did you come up with the idea?
I grew up in San Diego to parents born in Latin America. My dad owned a jewelry store, so I learned about entrepreneurship at a young age and then began hustling on my own, all while developing a really strong work ethic.
I would buy & resell baseball cards at trade shows at around 13 yrs old.
My marketing career began when I was 17. I was an intern for Transworld Snowboarding and Warp magazine, working on a charity event featuring musicians and pro snowboarders. This solidified my love of marketing and desire to give back to the community.
In 1996, I got a work-study job at St. Edward's University building websites for the university's professors (at the same time as being a student & ethics teaching assistant!). I had no idea that this would lead to a career in digital and serve as a foundation for where I am today.
Before starting Eyeful Media, my corporate career included VP & SVP of digital marketing or eCommerce roles at Proflowers, Guitar Center, JCPenney, and finally, Fossil.
While taking a year off to travel and work on my own website, life happened. My closest friend was diagnosed with stage 4 cancer and I decided not to go back to a full-time role right away. A friend who leads a large agency introduced me to the CEO of a company who become my first consulting client.
The plan was for consulting to supplement my income while I was working on the website and focused on being a friend. Little did I know that it would lead to creating an agency, especially since I had never worked for one before!
(Fast forward 6 years, and my friend not only recovered but has been declared cured of cancer - thank you, Memorial Sloan Kettering and National Jewish Health!)
Take us through the process of building and launching the first version of your product.
At first, Eyeful Media was only me, and I was focused on eCommerce strategy and conversion rate optimization (CRO).
But as I got entrenched with our first client, I would point out that certain marketing channels weren't working well, and they asked if I could help manage those programs. Since I had been on the leadership side and not hands-on in marketing in many years, I wasn't the right person but started assembling a team of freelancers.
As I started gaining traction with other clients, I knew I wanted to offer something different from typical ad agencies. My perspective was that I only wanted to bring on marketers who had in-house experience since in-house teams are often exposed to a lot more - inventory planning, site optimization, creative, etc.
I also didn't want to be surrounded by a lot of junior marketers - I only wanted to use experienced marketers that would challenge each other and our clients.
After a few years, I started hiring full-time employees and focused really heavily on developing a strong culture and values, in addition to bringing together people with a strong marketing acumen. This has been a huge part of what sets us apart and what I'm most proud of.
In the early days, we grew by taking on nearly every client that came our way. Fortunately, having a startup service business that was fully remote didn't require a lot of overhead or investment - I remember that with every new contract, I'd figure out what % of a new hire's salary it would cover, and then doing a lot of just-in-time hiring.
Most of our expenses came in the form of salary / contractor fees, software, and computers for new hires.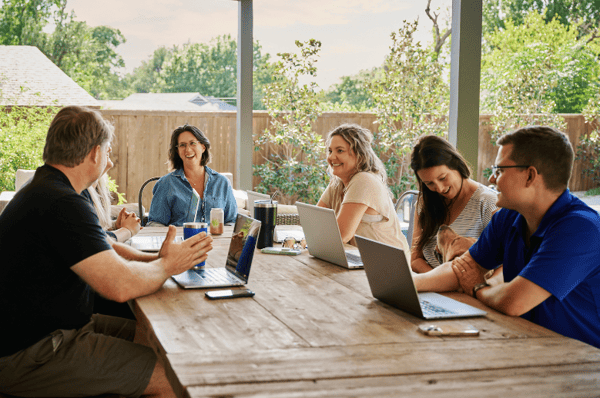 Since launch, what growth channels have been most ef

fective for you?
We have really focused on delighting our customers and letting them spread the word for us.
It's a bit of an inverted funnel - focus on the few and let them spread the word to the many. We monitor client NPS scores and get their feedback every quarter to ensure we are on track. We even poll past clients to ensure they still feel good about their experience with us.
Early on we had a site that was pretty ugly but brought in good SEO traffic on some ecommerce consulting terms. We decided to go to something more stylized that would do better at closing clients that had heard of us through WOM and getting people excited about working for us. There are times that I miss that ugly site!
One area that has been valuable for us is alignment with private equity firms. They rely on us for assistance with diligence, and that leads to introductions to their portfolio companies.
Our goal this year is to be more proactive with growth. We have started leaning into PR and applying to a select group of awards. The awards have been more beneficial for hiring than business, but getting that credibility is good. One of the coolest opportunities we've had due to our PR efforts was a piece in Harvard Business Review. I joke that Harvard probably wouldn't have let me on campus as a high school kid, and that's not too far from the truth!
In addition, we are starting to dip our toes into applying for certifications that we think can open some doors. We just obtained our minority-owned business certification through NMSDC and our HUB certification for Texas. Next, we'll go after some of the Women-owned business certifications.
Sometimes it feels like the cobbler's kids have no shoes. We spend all our time and effort marketing for others and don't allocate enough to ourselves.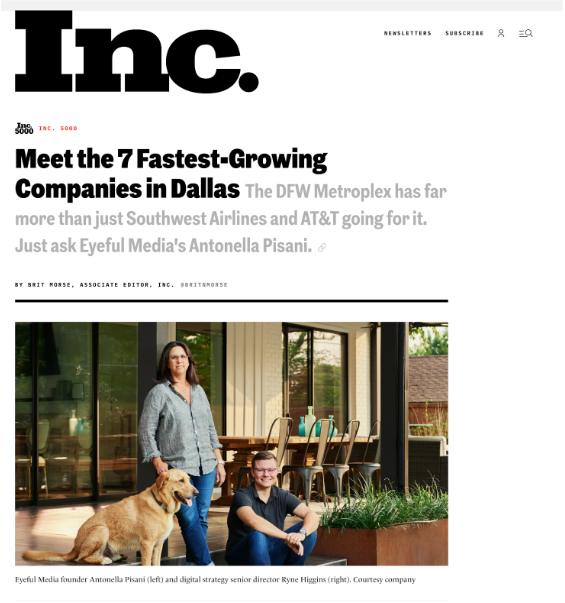 Did you ever have an "oh shit" moment where you thought it wouldn't work?

We have been pretty fortunate, all things considered. I remember having a hard time hiring a solid SEO leader early on and getting to the point where I said that if the next one didn't work out, we'd stop offering SEO. Fortunately, that didn't happen. This was all before people worked from home, and it wasn't for everyone, so there were some starts and stops.
The only other period of time that got really stressful was when we lost a few clients due to B2B marketers pulling back because of economic concerns. We knew that another program was going away in a couple of months due to some unforeseen circumstances and started doing a bit of contingency planning for the organization. Fortunately, we didn't have to make any major changes, but knew it was better to be prepared than get caught off guard.

Can you break down the keys to this business model for us? What makes it work? And What do outsiders typically not understand about your industry?
The agency business is extremely labor intensive, with many diverse skill sets needed to properly support clients. Your biggest expense is people, and it can represent a large percentage of revenue.
I think that outsiders don't realize just how hard it is to balance staffing against accounts, never having too much or too little bandwidth (utilization rate) so that you stay at a healthy margin.
You're constantly balancing monthly planning (different number of working days each month), seasonality (more time needed on certain accounts during certain times of the year), and skills to align with the types of new clients being onboarded (B2C vs Shopping vs B2B, etc).
This also impacts the company's financial profile because if you're billing on a percentage of media spend, you may do a lot of work in anticipation of a peak period but not get the associated compensation until later.
We started out with a heavy contractor mix, but then shifted more to FTEs for predictability. I think other agencies fail because they don't bring good strategic thinking, lack a distinctive offering, or hire too quickly to support a single client.
We have grown nearly exclusively through word of mouth, so a short-term goal is to build more diversified sources of leads / clients. With that, we are revisiting our service offerings.
Our long-term goal is to make meaningful strides toward our vision - "To build a reputation as the Patagonia of agencies - known for our fierce commitment to our values and passion for inspiring others. We will earn the trust of our colleagues, communities, and clients alike by serving them in an authentically generous, gracious, and humble way, every day."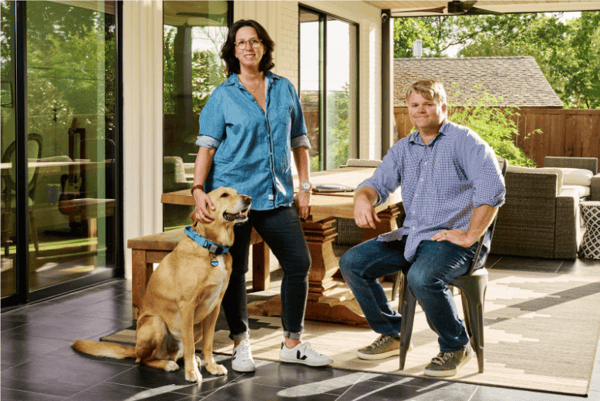 What platform/tools are absolutely crucial for your business?
We use a lot of tools to manage the business, but my favorite is AskNicely. We use it to capture an NPS score and client feedback really easily and helps us get a pulse on what clients love and what they want us to do better.
I'm also a fan of 15Five, which is our employee management platform. We use it to gather a weekly pulse score, manage 1:1s and performance reviews, but my favorite feature is the High Five channel within Slack. Our team loves giving each other positive recognition, and this has made it super easy.
Some of our toolkit to run the business includes: Slack, Gusto, 15Five, AskNicely, Asana, Quickbooks, Squarespace, DocuSign, Typeform, Donut (Slack app), Google Suite, Hubspot, Calendly
Some of our toolkit to do our work for clients includes: SEMrush, Lumar, Ahrefs, ScreamingFrog, and Domo, as well as some proprietary technology on the SEO side
For Provision Promise, we use Shopify (even though it's really designed for commerce) and Fundraise Up. I've been really impressed with Fundraise Up's capabilities - it seems like it was designed to follow eCommerce best practices and makes capturing donations & running fundraisers really easy. I also just implemented it on a site that I built for another nonprofit.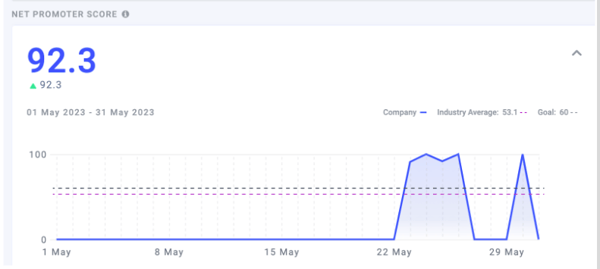 What have been the most influential books, podcasts, or other resources?
I walk between an hour and a half & two hours a day, which means that I have a lot of time for audiobooks. Here are a few of my favorites:
The GoGiver - This is a short story but summarizes a lot of how we work within the business and our values. The basic premise is about serving others - being that trusted resource that overdelivers and then the business will find you. I've read it a couple of times, but also given it to a few people.
Trillion Dollar Coach - I took a year-long leadership course last year, and this book summarized a lot of the points in there. It was a helpful reminder of some of the principles we focused on and made it easy to hand off to people on our leadership team to read.
TED (The Empowerment Dynamic) - I've always seen people as creators, and sometimes struggle with those that don't see themselves that way. This is a helpful framework to empower conversations with leaders.
5 Dysfunctions of a Team - I'm really proud of the team we've built and how we trust & collaborate, but this helped us have some conversations that encourage us to raise the bar on accountability.
Others I enjoyed this past year included Bet on Talent and Good to Great.
Where do you see untapped opportunity in the market? What business do you wish someone else would build that would make your job easier?
One of the things that would make our life much easier is a great staffing planning tool for agencies with retainers (as opposed to projects with fixed deliverables like creative or a website).
It's a fairly complex process when accounting for the number of workdays in a month, client seasonality, vacations, holidays and new clients rolling on, along with different skills required. And then there's the need to adapt throughout the month when comparing forecasted hours against actuals.
Most of the staffing tools out there work well for projects that have fixed start & stop dates or final deliverables, but aren't built for ongoing work.
Everyone I've met in the agency world seems to cobble multiple sources of data together into spreadsheets. There has to be a better way!
What are some strong opinions you have about leadership, and how do you actually put those into practice in your company?
I think the most important leadership lesson I've received came from an executive coach I worked with back at Guitar Center. She helped me understand that where I had come from (prior company's hiring profiles & strategic focus), and my general profile, was very different from that of others.
One of her lessons was to always try to tie directives back to the overarching picture or strategy; the other was to let others go first. One of my strengths on Strengthsfinder is Command. It took a lot of work, but I had to shift from talking over people and railroading them a bit, to letting them go first, calling on people who tend to have a lot of insight but may not be the first ones to speak up.
As a leader now, I think that one of the most important things we've done is to have a strong and clear perspective on our values, mission, and vision (in that order). Without this in place, it would be hard to have guardrails around the types of people we hire and how we want to service our clients.
Some tools we use include: Strengthsfinder (for interviews), Leadership Circle Profile, quarterly Start/Stop/Continue surveys & eNPS capture, an ongoing training curriculum, and coaching.
We believe in training the whole team on leadership topics instead of just leaders of people, and also have extended executive coaching to those at various levels in the organization.
Personally, I try to walk up to 2 hours a day. This helps clear my head, gives me time to listen to books, and keeps me centered… and it helps tire out my giant pup!
Where can we go to learn more?
Website: Eyeful Media
Personal LinkedIn: Antonella Pisani
Company LinkedIn: Eyeful Media
Company blog: Eyeful Media Blog
Nonprofit site: Provision Promise

Personally, I find being the CEO of a startup to be downright exhilarating. But, as I'm sure you well know, it can also be a bit lonely and stressful at times, too.
Because, let's be honest, if you're the kind of person with the guts to actually launch and run a startup, then you can bet everyone will always be asking you a thousand questions, expecting you to have all the right answers -- all the time.
And that's okay! Navigating this kind of pressure is the job.
But what about all the difficult questions that you have as you reach each new level of growth and success? For tax questions, you have an accountant. For legal, your attorney. And for tech. your dev team.
This is where Hampton comes in.
Hampton's a private and highly vetted network for high-growth founders and CEOs.