How A Single Zapier Automation Morphed Into A $2m+ Business
BetterLegal started with 2 friends and a Zapier flow. Now it does $70K+ in MRR alone, competes with juggernauts like LegalZoom, and recently took No. 2 on Product Hunt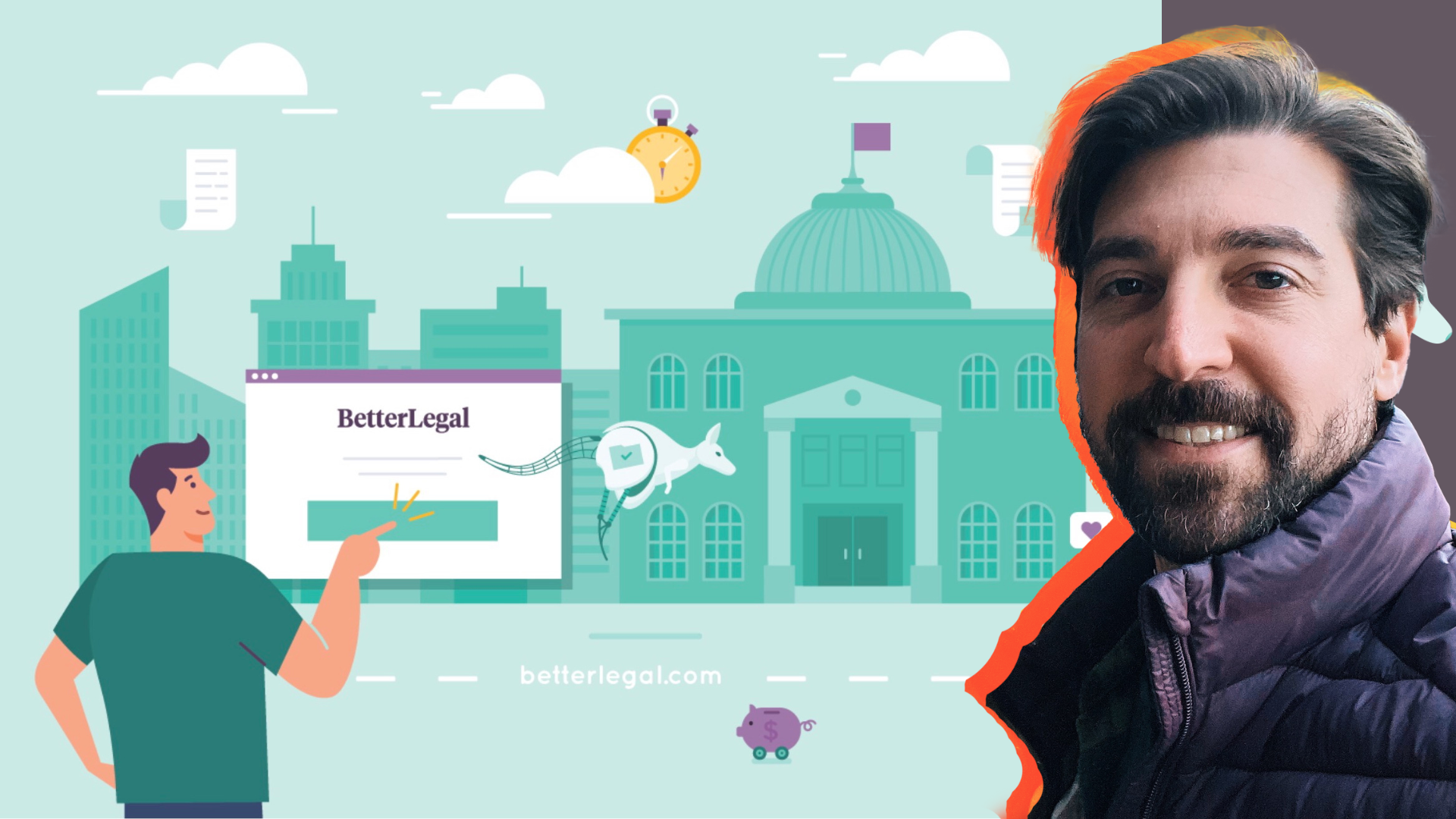 If you're reading this, chances are you've filed your fair share of LLCs in your day. You know what a pain it can be. What should take a few minutes often becomes a bitter slog through a swamp of legal jargon, up-sells, and government red tape.
We hate red tape.
Well, Hampton member Chad Sakonchick is fixing that. He's the founder of BetterLegal, which uses automations to make it easy for entrepreneurs to form a business and open bank a account.
My favorite part about the company: It started with a single Zapier automation. He wasn't even trying to start a business. He was just helping a lawyer friend use automation to save time on paperwork.
But the ability to apply new technology in an outdated industry gave them a foothold. Now they do millions in revenue and are going toe-to-toe with long-standing behemoths like LegalZoom.
It's a great example of how one insight (and plenty of execution) can unlock opportunities anywhere. Here's their story...
Hello! Who are you and what business did you start?
I'm Chad Sakonchick, founder and operator of BetterLegal. We're in the business of providing a comprehensive business formation service, along with registered agent and state compliance services.
Our flagship offering is a one-price package that equips entrepreneurs with everything they need to officially open a bank account and ensure they're legally protected. Unlike our competitors, we don't lure customers in with "free" filing or tiered packages, only to hit them with hidden costs later. Our upfront pricing might seem more expensive at first glance, but in reality, it usually turns out to be the more affordable and less confusing option.
What sets us apart is our commitment to speed and transparency. We don't charge extra for rush fees. For instance, we can get a business set up in New York in under an hour and in Texas within two days, without any additional charges. We believe in empowering entrepreneurs, not slowing them down with unnecessary delays.
We recently launched the first phase of BetterLegal Assistant, an AI tool that will help entrepreneurs understand, analyze, and create contracts. It's an exciting addition to our suite of services.
As for our financials, we're currently making about $2.5 million a year on a trailing 12-month basis. While we're down about 10% from last year, we're on track to break even this calendar year, a significant improvement from the $400,000 loss we experienced last year. This means we're no longer reliant on raising money to fuel our growth, which is a huge milestone for us.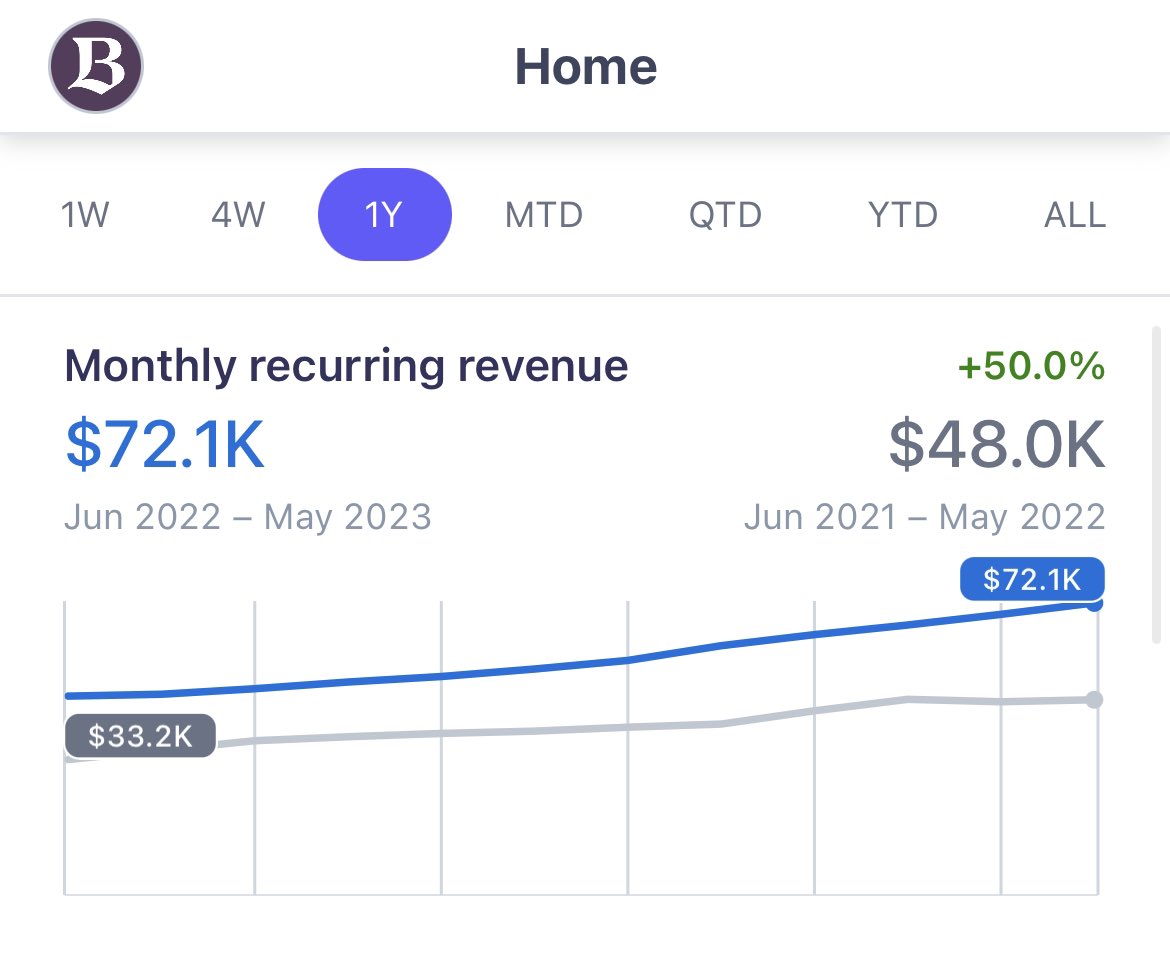 What's your backstory and how did you come up with the idea?
My journey into entrepreneurship has been a long and winding one, filled with numerous attempts, failures, and invaluable learning experiences. After graduating from college, I started out as a salesman at Dell. However, the entrepreneurial bug bit me early on, and within a year, I quit to work on my first startup – a website-building tool. This was back in 2005, and I was using rentacoder.com (now known as Upwork) to get the job done while working for my dad's friend who installed and maintained septic systems.
Over the years, I dabbled in various startups while working for an integration company (integration is what we called "automation" before Zapier popularized the term). The dream of owning my own business, just like my father and both grandfathers, was always at the back of my mind.
BetterLegal was born, quite by accident.
I was working on a website called Spacesift, which was essentially Airbnb for event spaces. I had sold my house and decided to use the equity I'd built over 10 years to fund my entrepreneurial journey. Around the same time, a friend of mine quit his law firm to become a sole practitioner. He was struggling to find new business and was losing potential clients to services like LegalZoom or Incfile due to his $1,200 price tag.
Upon digging deeper, I discovered that he was charging $300 an hour to fill in the blanks of a templated legal document, this was my "aha" moment. I realized that this process could be automated, where he would make more money per minute vs his existing method. Using tools like Zapier, Typeform, Webmerge, and Asana, I cobbled together an automation, reducing the time it took to file with the Secretary of State and generate legal documents from three hours to just 10 minutes.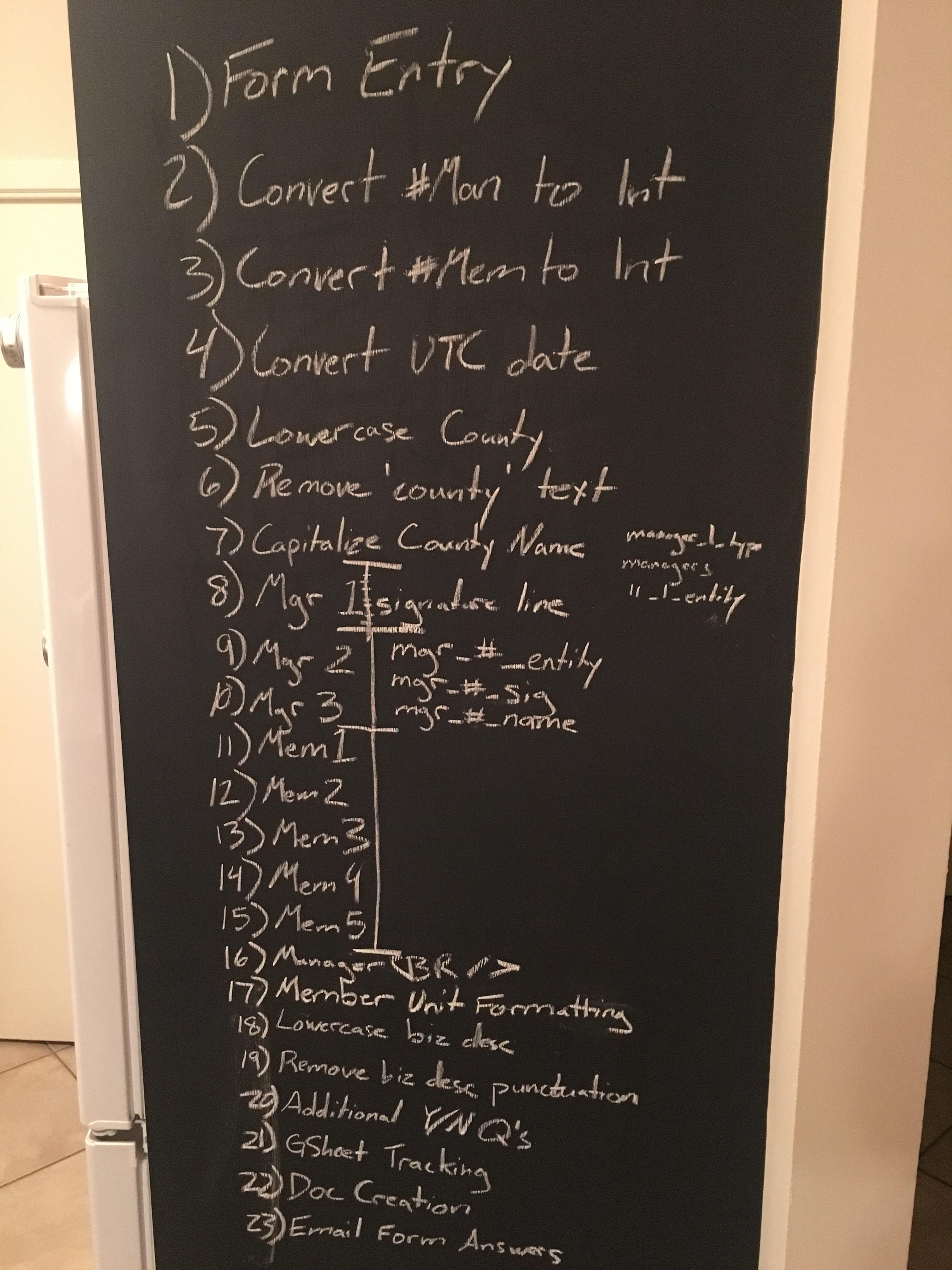 For the first year, we split a $299 fee, with 50% going to him and 50% to our joint venture. After a year, we formed 50 LLCs and had some money to invest. We bought the domain name betterlegal.com, I put together a website, fine-tuned the automation, and tested it with about $1,200 on Google ads. Although we only made $600 back, it was enough to validate the idea. People who had never heard of us were willing to trust us with their credit card information and social security numbers.
I had spent six solid years at that integration company, and during that time, I racked up a wealth of product management and business development experience by building our flagship product which integrated Salesforce and QuickBooks. That, along with the hands-on knowledge I gained from numerous bootstrapped side hustles, really gave me a decade's worth of insights. Looking back, all these experiences and skills were like puzzle pieces, fitting together perfectly to help me develop BetterLegal.
Take us through the process of building and launching the first version of your product.
When we first launched BetterLegal, it was a patchwork of different services, with a landing page on a custom-coded Jekyll static website that I had put together.
It was far from impressive, but it was enough to get us started.
As soon as we made a few sales, I began refining the website and process. The original Typeform we launched with lasted for five years until we finally updated it in 2022 (thanks Bubble).
Our initial stack included Typeform, WebMerge, Zapier, and Asana, but we quickly switched from Asana to Salesforce. This was primarily because we needed a more efficient way to make changes to the customer's order before generating the legal documents. Most of our development efforts were focused on internal processes, such as how the order got from payment to state filing, EIN filing, generating legal documents, and handling changes or errors.
We knew from the start that we didn't want to follow the path of companies like LegalZoom, which relied heavily on manual labor. We were a small team with a limited budget, so our focus was on automation and process development. We built a custom-coded internal tool that streamlined the process of state filing, tax filing, and document generation.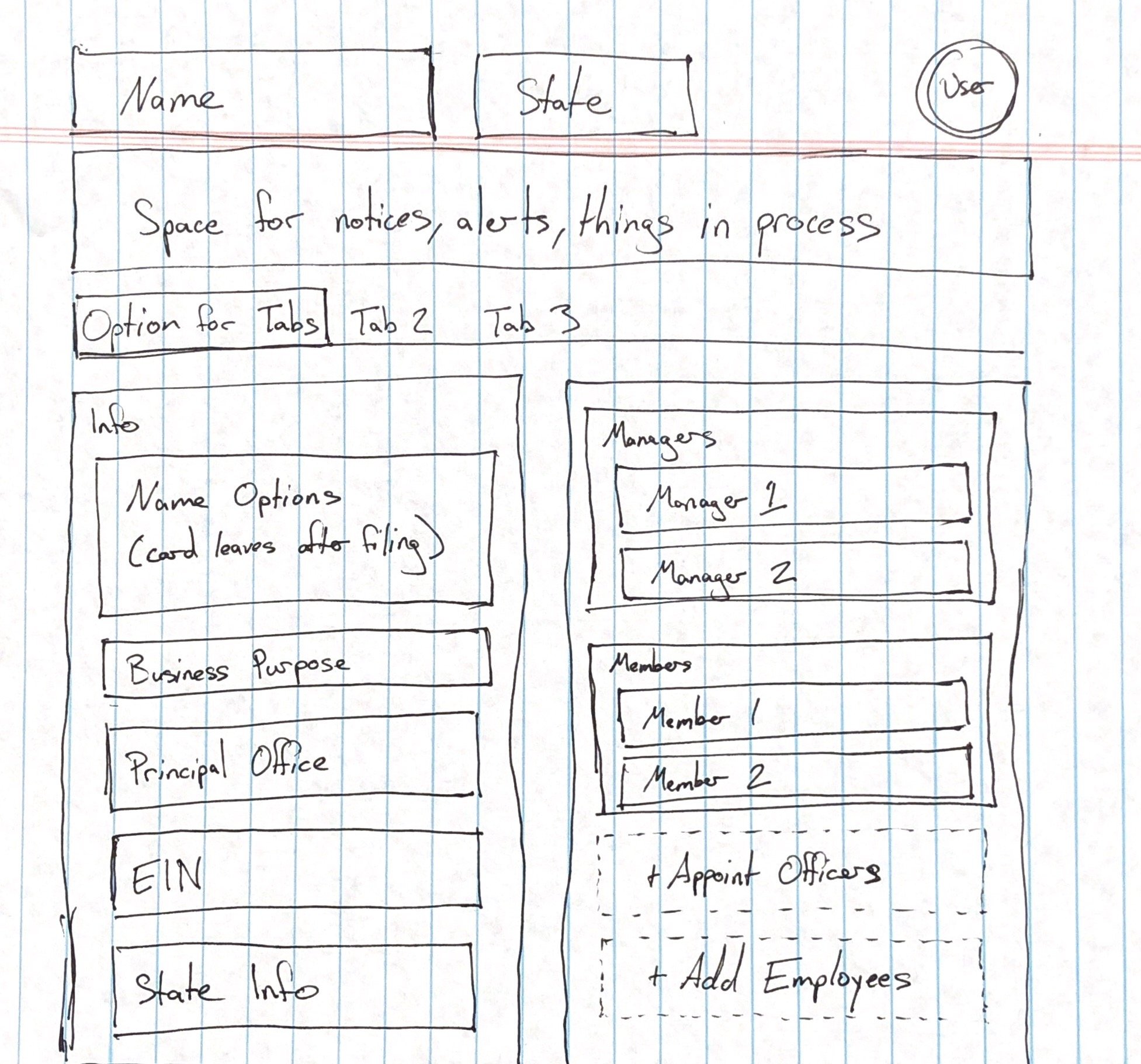 As our volume increased, we realized we needed to automate even more. We developed bots that could log into state websites and the IRS website to file automatically, and then automatically generate the documents. This allowed us to automate about 50% of our filings. However, developing a bot for automation is a labor-intensive process. To solve this, we built a Chrome extension that allowed our operations team to build the bots themselves.
As we added more products like State Compliance Service, we needed to handle a multitude of different forms for different states and types of filings. Our team built tools that allowed us to automate these tasks, enabling us to handle a large volume of work with a small team.
In January 2022, I discovered Bubble, a visual programming language and application builder. This was a game-changer for us. We realized we could migrate our entire system to Bubble, saving us the six-figure sum we were spending annually on developers. Within ten months, we had not only replicated our custom-coded system on Bubble but also built additional tools.
Our launch wasn't a grand affair. It started with a Facebook post, and we gradually spread the word and added to our offerings. We didn't have a large marketing budget, and we were competing against billion-dollar companies that had been around for decades. We had to find ways to out-innovate them and use technology to appear bigger than we were. Our launch was more of an organic, slow process, with small mini launches along the way.
As for costs, we bootstrapped initially, then raised about $100,000 from friends and family, followed by a few hundred thousand dollars from angel investors. We also had a rolling convertible note for a couple of years to carry us through the COVID-19 pandemic.
Since launch, what growth channels have been most effective for you?
Marketing has admittedly been a challenge for us, mainly due to the sheer volume of tasks that running a startup entails. From hiring and managing staff, developing and implementing products and services, liaising with investors, to ensuring customer satisfaction, the workload was immense.
As a result, I chose to focus on developing the best product I could, which left little bandwidth for marketing. However, one marketing channel that proved to be incredibly effective for us was Google Ads.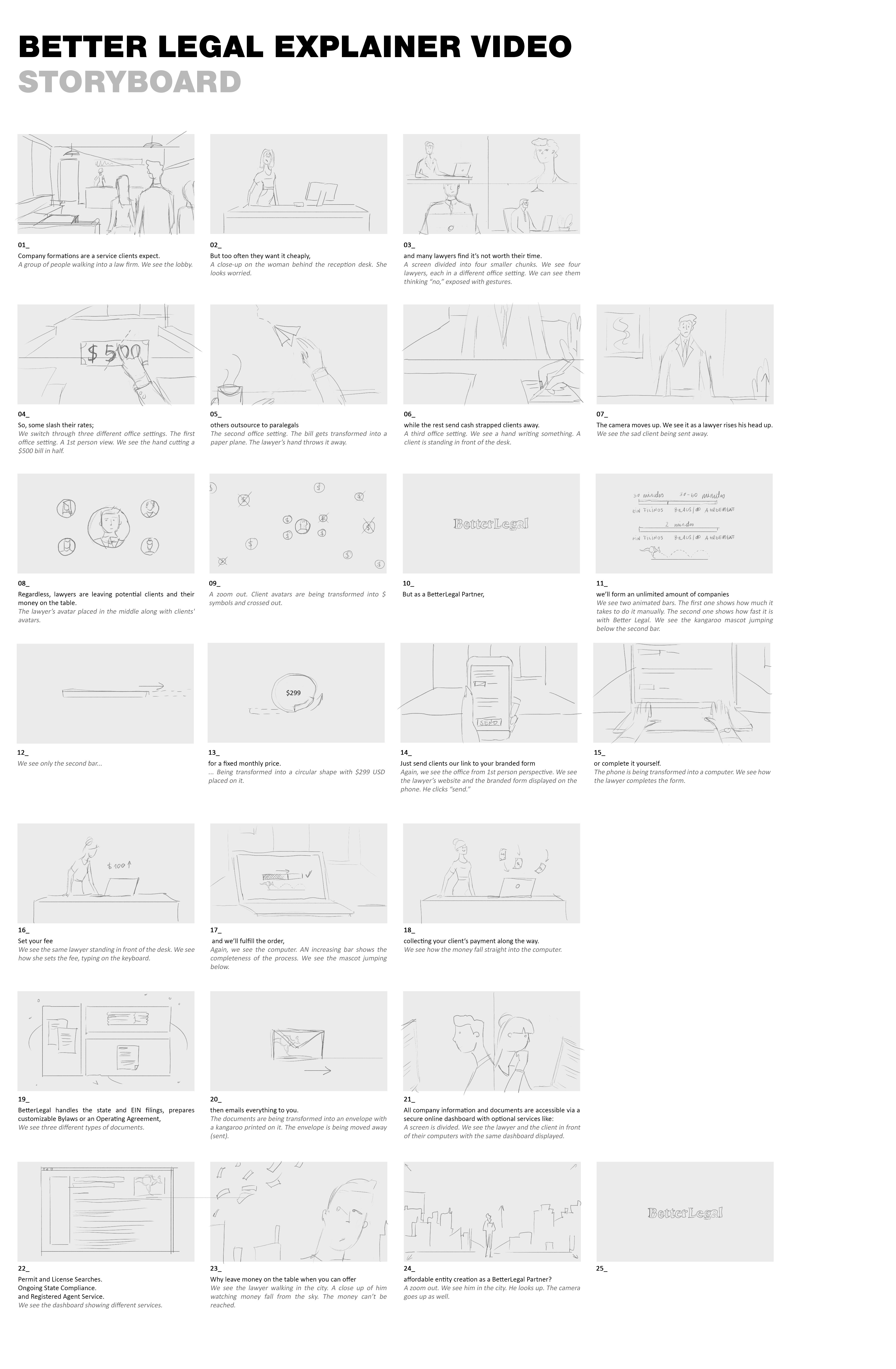 Google Ads was instrumental in building BetterLegal. It provided a level playing field where we could compete with larger competitors. We spent a significant amount of time optimizing our ad positions for each state, adjusting our bids accordingly with an internal automation tool that updated the bids every morning at 6:00 AM. This manual approach to Google Ads ended up being beneficial for us, especially when the Apple crackdown affected many businesses that relied heavily on automated ad buying.
Now that our team is running smoothly and we're mostly profitable, I've been able to focus more on growing other marketing channels. In 2023, we launched programmatic SEO and created high-quality, highly researched pages for every state on how to start and maintain an LLC. We also have pages for every variant of filing you can do once your LLC is filed, such as how to end the LLC, change the name, change the address, and add managers. With the advent of new AI tools, we're able to compete on a legitimate level with companies that have been doing this manually for the past five or ten years.
We've also started putting more effort into our social media channels. Our TikTok account has grown from nothing to over 50,000 followers in about six weeks. We're still figuring out Twitter, but we're making progress. Our YouTube channel has always been successful. I built it out by answering questions that came in through our chat widget. I created Khan Academy-style blackboard videos to answer these questions, which we can now send to customers whenever they ask a similar question.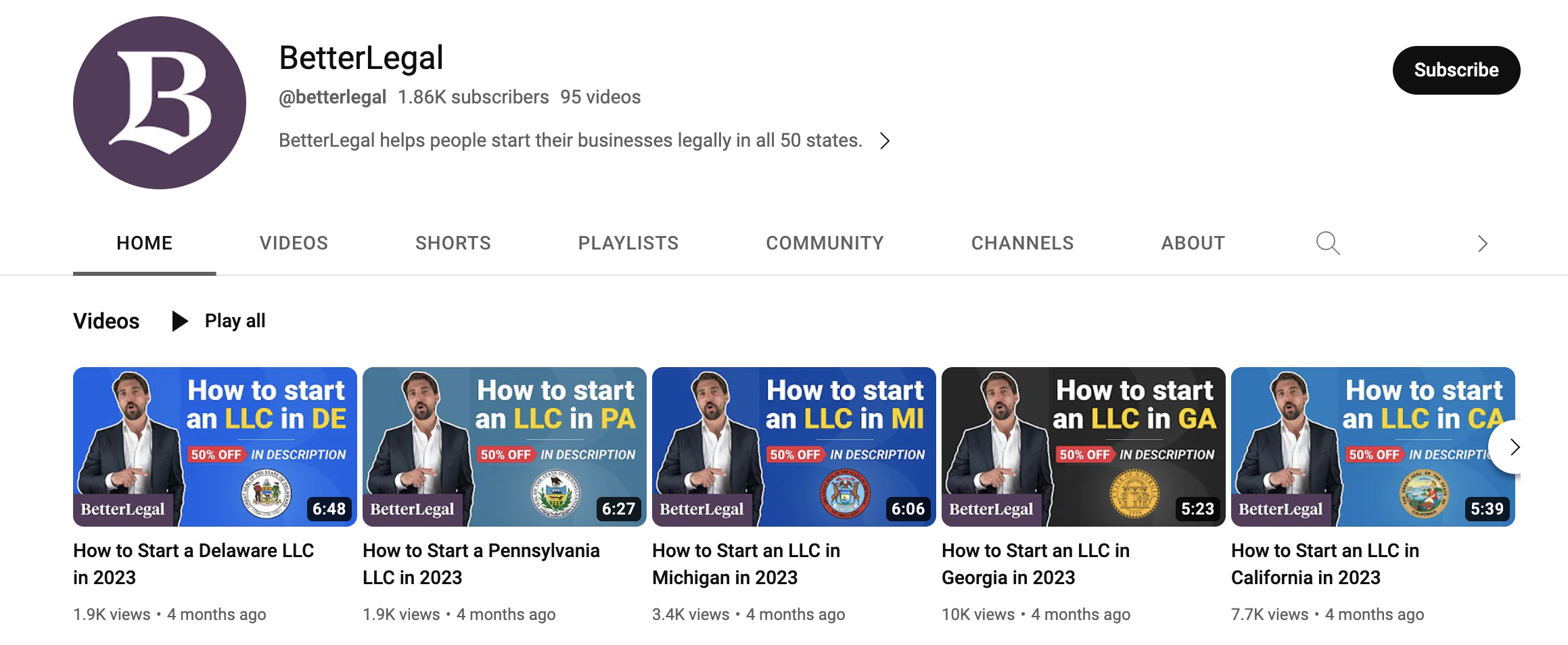 In summary, while Google Ads was the backbone of our marketing strategy for the first five years and was instrumental in building the company, we're now branching out into other marketing channels. We're starting to see the fruits of our labor and are excited about the future.
Did you ever have an "oh shit" moment where you thought it wouldn't work?
There have been numerous "oh shit" moments throughout my journey with BetterLegal, but I can't say I ever thought it wouldn't work. I was determined to make it work in some form, especially since this was the first venture where I had friends, family, and others invest in. The stakes were higher than in my previous bootstrapped ventures, and I wasn't willing to let it fail.
That said, we've had several close calls with running out of cash. One particularly challenging time was in the summer of 2022, when our former director of operations was issuing too many refunds without trying to solve the customers' problems. At one point, we were giving away 15% of our monthly revenue in refunds, which nearly broke us and led to me laying off our first-ever hire.
Another critical moment came in 2020 when we were running low on funds. An investor had promised funding on the condition that we hire a couple of "experienced" former LegalZoom employees. We hired them at a combined annual salary of $375k, or $30k monthly, before the investment was made. After a few months and accumulating about $100k in personal credit card debt, the investor pulled out three days before Christmas. I remember sitting with my head in my hands, thinking about how I had not only lost all the money of everyone who believed in me but was also $100k in debt. Thankfully, the investor decided to invest a couple of weeks later.
These experiences have made me extremely diligent in our spending. I've always wanted to grow from customer revenue and not be beholden to investors. I've seen the damage that constantly begging for money can do, and it takes a lot of time away from actually growing the business profitably. I'd rather grow slower.
There have also been times when our monthly recurring revenue (MRR) was almost flat-lined for many months, and we were losing money. When we started to gain traction again, we were only netting an extra $300 a month in growth. It was demoralizing more often than not.
To get through these tough times, I've adopted a "left foot, right foot" mentality. No matter how much it sucks, I remind myself that there are bigger issues in the world and in history where people have had to endure much more difficult things. I try to put things in perspective and remember that my business is just a part of my life, not the entirety of it. It adds depth, character, and interest to who I am as a person, but it doesn't define me.
Can you break down the keys to this business model for us? What makes it work? And What do outsiders typically not understand about your industry?
One of the most common misunderstandings about the business formation industry is the perception of our business model. We're not a traditional one-time sale business, nor are we a conventional SaaS (Software as a Service) company. We operate on a hybrid model. In a typical SaaS company, they might charge $20 a month and pay an upfront cost, say $60, to acquire a new customer. It takes them three months to recoup that cost. In our case, the upfront fee we charge for our service, $299, goes directly towards acquiring that customer through advertising on platforms like Google Ads, Facebook, and Twitter. If we didn't have to pay for customers, we could theoretically charge $0 for an LLC.
This unique model often leads to misunderstandings when we try to raise funds, as investors don't see us as a SaaS company, even though we operate like one, but with customer acquisition costs paid upfront.
Our revenue comes from the upfront fee and from customers who opt into our subscription services like registered agent service and state compliance service. We also earn from referring customers to our partners, such as banks, insurance companies, and accountants.
We're now venturing into the realm of legal tech services with the MVP launch of BetterLegal Assistant, which is a fully SaaS service and unique in the industry. I don't believe any of our competitors offer anything similar even though LegalZoom has been around for 20+ years with vastly more resources.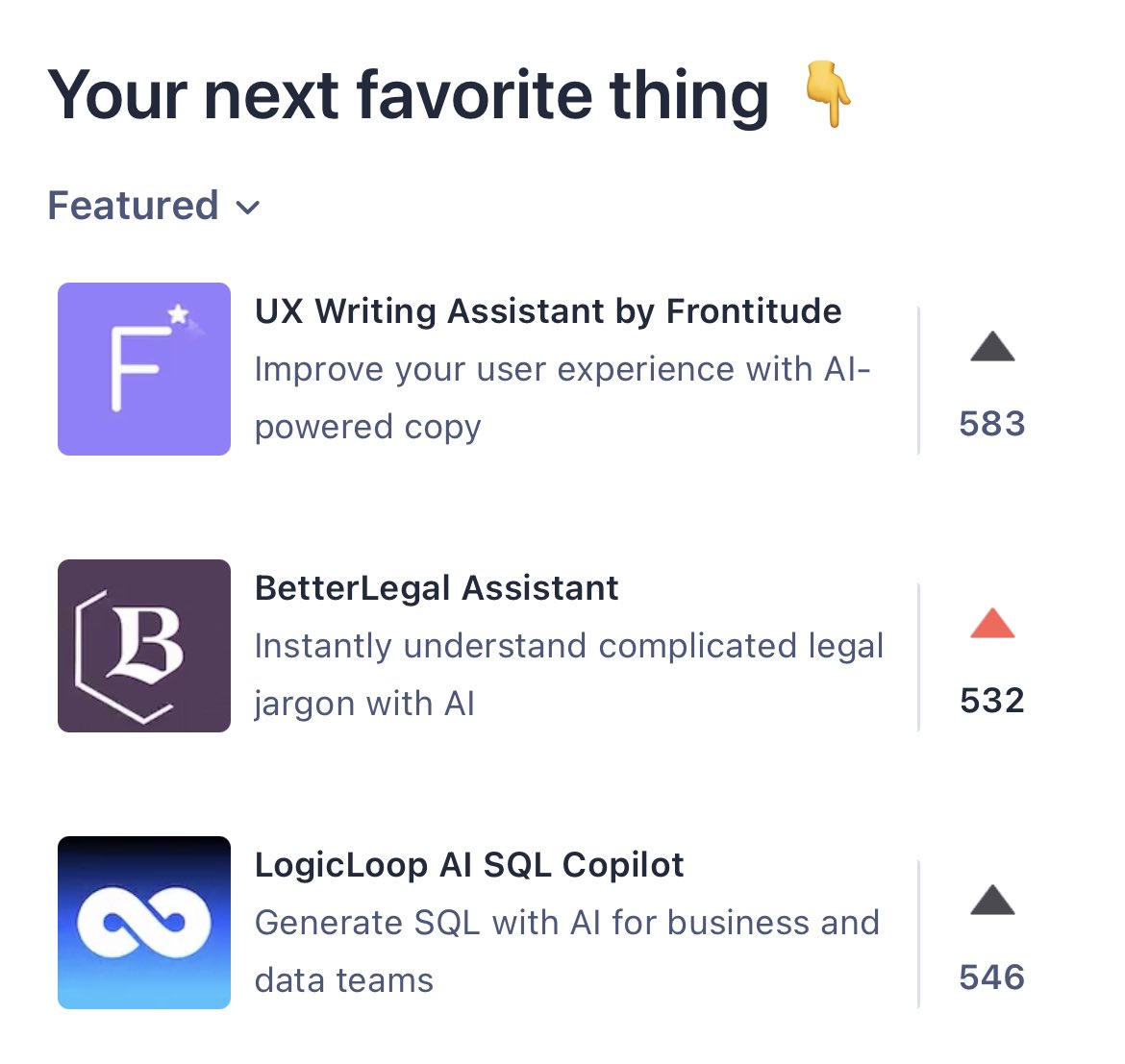 One thing that outsiders typically don't understand about our industry is that every review site operates on a pay-to-play basis. Larger competitors with more resources can afford to compensate companies like Forbes for referrals. Every publication that has a "best of business services" review is rating companies based on how much they're compensated. The more you pay them per sale, the higher your ranking. This is the industry's dirty little secret.
As for our short-term goals, 2023 is the year of marketing for BetterLegal. We spent 2022 revamping our entire stack to be no-code on Bubble, and in 2023, we're focusing heavily on SEO and social media marketing. Our aim is to be in a position to compete legitimately with our multi-billion dollar competitors by 2024. In the longer term, I see our artificial intelligence solutions potentially generating more revenue than our business formations.
What platform/tools are absolutely crucial for your business?
The most crucial tool for my business is undoubtedly Bubble. This single service saved my company. When we were working with custom code, we were paying hundreds of thousands of dollars a year to developers who weren't making much progress. We spent more time maintaining the product than actually developing new features. Once we fully transitioned to Bubble, we no longer needed to host on AWS, maintain libraries, or worry about the myriad of little things that had nothing to do with actually running my business. Bubble was a game-changer for us.
Another tool we heavily rely on is Integromat, now known as Make. We use it for connecting different services and running quick automations. We used to use Zapier, but after spending upwards of $600 a month for some basic high-volume tasks, we decided to fully transition to Make.
I love dogfooding side hustle products that I've been building for the past several years. These include The Masonry, which I call "Gumroad for Code," then Productivity Sweet, which provides us with our internal task management system and develops all the amazing internal tooling that makes BetterLegal hum.
Lastly, I'm a big fan of Upwork. About 90% of the people we've hired have been sourced from Upwork. If not from Upwork, I've found great talent on Twitter. I've hired several people that I've met on Twitter, some of whom have been amazing additions to our team. So, that's my stack.
Links to the tools:
What have been the most influential books, podcasts, or other resources?
The Acquired podcast is my top recommendation. The value I derive from listening to their three-hour-long episodes surpasses any book, article, or other podcast I've come across. The hosts collectively consume all the public information about a company and then spend three hours educating each other on the full story and lifecycle of the business. This provides more insight and pattern recognition than anything else.
With every episode I listen to, I continually find parallels with my own business. The hosts present the information in such a relatable way that it resonates with my experiences. It's a resource that I believe every entrepreneur can benefit from.
Where do you see untapped opportunity in the market? What business do you wish someone else would build that would make your job easier?
One thing that baffles me in our industry is the prevailing trend of trying to become a "business in a box." Almost every startup pitch I've seen in our space is aiming for this. Yet, the 800-pound gorilla of our industry, LegalZoom, despite having the most money and profit, hasn't been able to make this work. So, why would a startup be able to magically pull it off? LegalZoom is pushing hard into bookkeeping, accounting, and taxes, which doesn't align with their branding. Moreover, these services require a lot of manual labor, which isn't profitable.
Instead, I see untapped potential in providing high-margin software services that align with our brand. That's why BetterLegal is starting to focus on helping people understand contracts, legal simplification, contract analysis, education through courses and quizzes, contract creation, digital signature, and contractor and employee management, all through contracts. We want to provide more software services rather than more hourly professional services.
One tool I wish existed is a new version of ShareASale.
ShareASale is a platform used by many of our major competitors and drives a lot of volume, but it's one of the clunkiest pieces of software I've ever used. It's also required by publications that want you to pay for reviews. I'd love to see a solopreneur or startup founder version of ShareASale.
Imagine a marketplace where all the creators of great new products and services that could benefit my customer base could come together. I could curate this marketplace, giving thumbs up or down to different offerings. The ones I approve would become part of the BetterLegal marketplace. For every sale I push to them, I would get a referral fee. This would be a game-changer for our industry because everyone could start reducing their cost of acquisition. Every startup founder could start recommending other startup founders they like, creating a mutually beneficial ecosystem.
What are some strong opinions you have about leadership, and how do you actually put those into practice in your company?
One of the strongest opinions I hold about leadership is that taking care of your team should always be the top priority. The adage "the customer is always right" is, in my view, a flawed perspective.
Your team, the people who work for you and run your business, are the lifeblood of your organization. As a leader, my role is to ensure they are supported, valued, and empowered.
In practice, this means I prioritize their needs, listen to their feedback, and involve them in decision-making processes. I believe that by taking care of my team first, they, in turn, will take care of our customers. This approach allows me to focus on the strategic aspects of the business, solving the complex puzzles of growth and operational efficiency, knowing that the frontline work is in capable hands.
This philosophy is embedded in our company culture and informs our hiring practices, training programs, and daily operations. It's not just about having the right tools or documents; it's about fostering an environment where everyone feels valued and heard.
Where can we go to learn more?
ONLY TWITTER BABY! (Chad's Twitter)
Personally, I find being the CEO of a startup to be downright exhilarating. But, as I'm sure you well know, it can also be a bit lonely and stressful at times, too.
Because, let's be honest, if you're the kind of person with the guts to actually launch and run a startup, then you can bet everyone will always be asking you a thousand questions, expecting you to have all the right answers -- all the time.
And that's okay! Navigating this kind of pressure is the job.
But what about all the difficult questions that you have as you reach each new level of growth and success? For tax questions, you have an accountant. For legal, your attorney. And for tech. your dev team.
This is where Hampton comes in.
Hampton's a private and highly vetted network for high-growth founders and CEOs.