From Internal Tool To $50m+ SaaS: How Triple Whale Got Its Start
Maxx Blank and his co-founders built Triple Whale for themselves. Two years later they've raised $50m+, power over 5,000 DTC brands, and see $15B+ in GMV.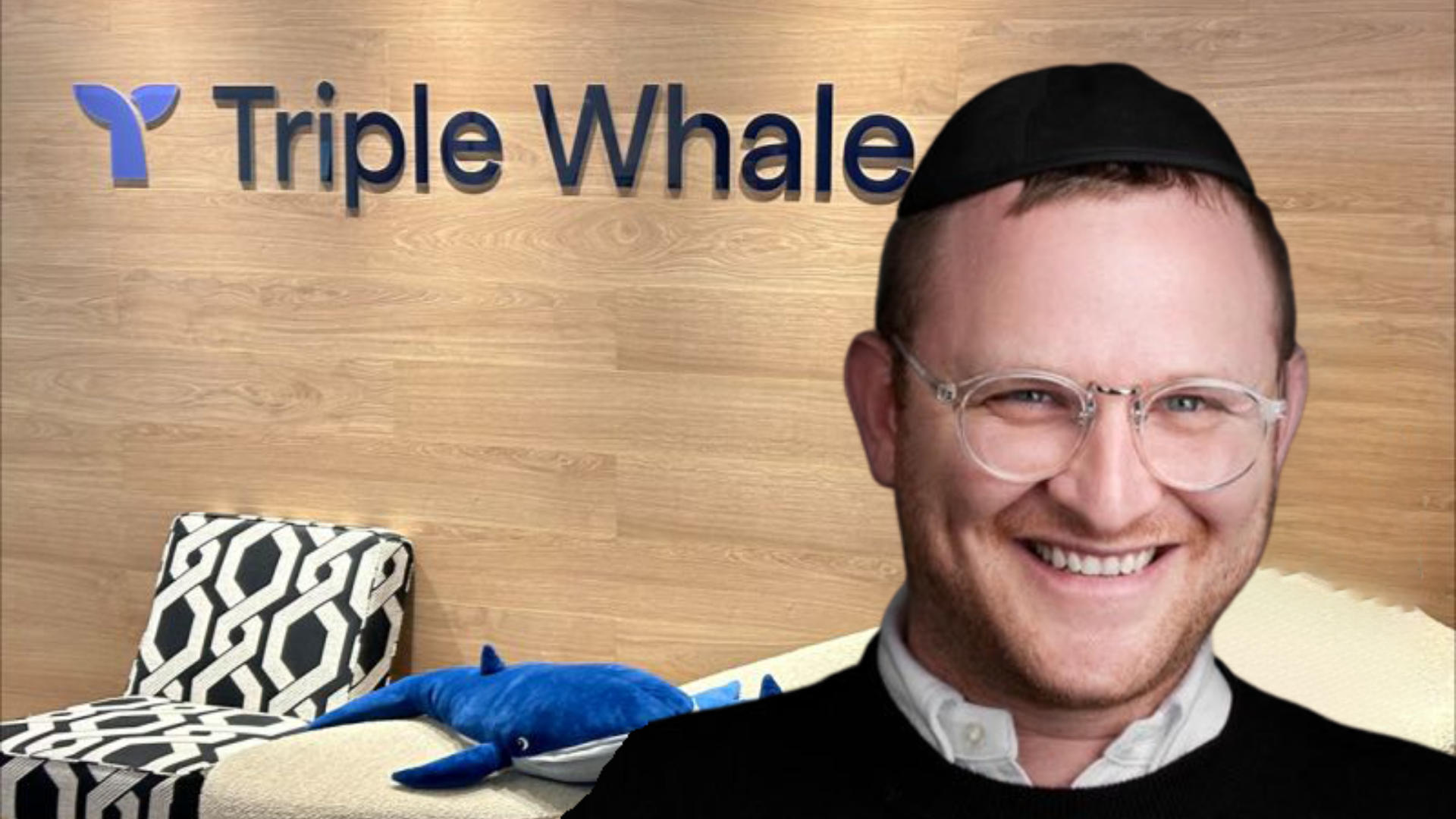 I once heard someone say that, "Everyone has a potential 6-figure product sitting in their Google drive."
What they meant was that the home-grown tools you use every day in your business – the spreadsheets, templates, slide decks, etc.– are valuable. People will pay for them.
Today's interview is an extreme example of that.
Hampton member Maxx Blank is the co-founder of Triple Whale, a wildly popular SaaS platform for DTC founders.
It started as an internal tool Maxx and his co-founders built to help them run their own DTC brand. But it was quickly spun out into a stand-alone SaaS product, and inside two years, the company has grown to 100+ employees, thousands of clients, 8-figures in revenue, and billions in GMV.
It's a wild story, and it may just change the way you look at that cluttered G-drive forever...
Hello! Who are you and what business did you start?
My name is Maxx Blank, and I'm the co-founder of Triple Whale – software that helps DTC brands manage and automate analytics, attribution, merchandising, forecasting.
We've raised over $50M from leading investors (including Shopify), and we have 5,000+ DTC brands on the platform, who generate more than $15 billion GMV.
And we're just getting started…
What's your backstory and how did you come up with the idea?
After graduating from Ohio University and launching a couple tech startups, I became entrenched in the DTC world by consulting with e-commerce businesses. Once I learned all aspects of the industry and helped other brands grow, I realized I could do this myself. So, I did! I scaled multiple Shopify brands to 8-figures, with the most successful one being Madison Braids, a hair accessory brand that my wife and I launched together.
It was tons of fun! But the most exhausting part was the hours of manual work needed to input data into spreadsheets to derive insights. I wished there was a more automated solution… And that's how Triple Whale was born.
Along with two other friends, I originally built Triple Whale to help scale our DTC brands, but then realized I could transform it into a significantly more lucrative and impactful SaaS business. As we celebrate our 2nd birthday, it's humbling and exciting to see how much we've already accomplished.
Take us through the process of building and launching the first version of your product.
In the early days, it was just my two co-founders and me. We hacked it all together with our complementary skill sets. AJ is a product visionary, Ivan is a coding guru, and I have business and marketing experience. Mutual respect is key for any partnership, and we greatly valued and respected what we each brought to the business.
Thankfully, because we were running a successful ecommerce brand, we were able to bootstrap the early days of the startup until we got traction. None of us had massive social media followings or strategic distribution, so we hustled hard for it.
The biggest hack? The DTC community on Twitter. We were cold-messaging tons of DTC owner/operators, trying to get some influencers to test the platform and posting whatever we could to garner attention. And it worked. A couple big influencers loved what they experienced, began using our platform, and started raving to their audiences about the value they got from Triple Whale.
Then, when Shaan Puri tweeted the following to his 350,000 followers, we knew this would be huge:

I launched a number of startups before Triple Whale, but never experienced this kind of product/market fit. Seeing how much our customers loved our product gave us a tremendous boost to continue quickly building, iterating, and shipping more valuable products!
Since launch, what growth channels have been most effective for you?
As I mentioned, the earliest growth driver was Twitter, both organic and with influencers. And to this very day, that's continued to be our primary source for generating buzz.
Moreover, with TikTok taking off as an ad channel, we became the de facto source for attribution on TikTok ads: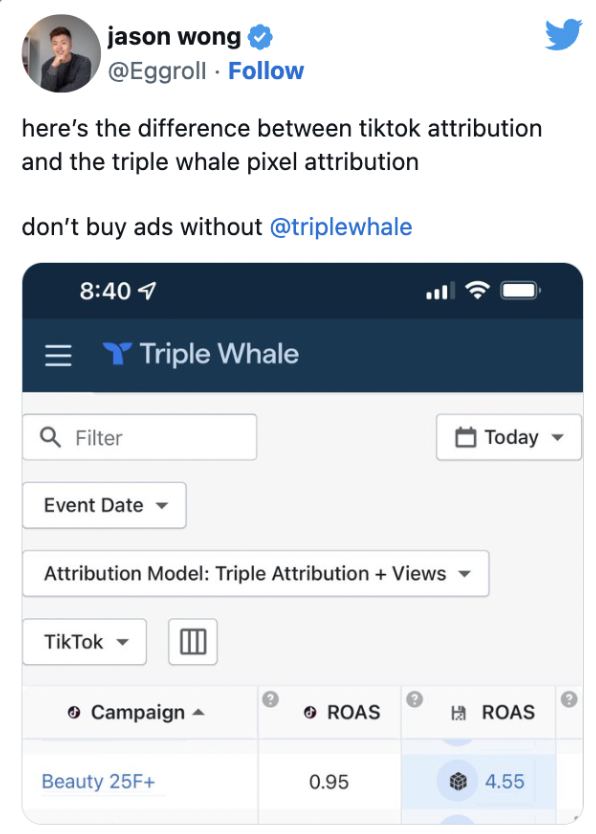 We put out a lot of thought leadership and data trends around TikTok becoming an ad channel for DTC brands, which got picked up by top tier outlets, including Business Insider, Digiday, and even The New York Times! All of this attention helped us become respected as a tech platform.
Even to this day (~2 years into the business), Twitter launches remain an integral component for generating excitement for our new products. As you can see from this recent AI launch, we generated over 150,000 views from this video – and we consistently get that kind of engagement, especially when we highlight practical use cases for AI.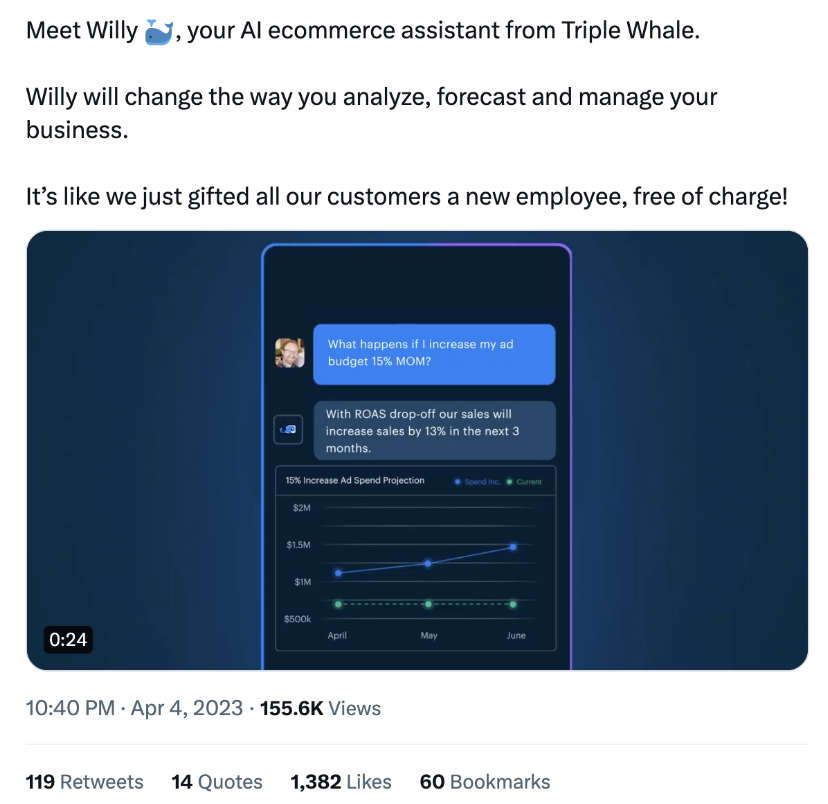 Agency partnerships have also been a major success for us. As a DTC founder, I used many marketing agencies for my brands, so I was extremely well-versed on both the value of – and the need for – an agency. When we began selling Triple Whale, partnering with agencies was our primary focus. And to this very day, we have a dedicated team serving hundreds of DTC agencies, which generates about a third of our revenue.
One more highlight: This past January, Shopify invested into our business as a part of the Series B. It has not only been a tremendous honor to have the opportunity to partner with the platform that has facilitated my entrepreneurial endeavors for the last number of years, but their investment has also instilled more confidence from customers in our ability to provide complementary value to Shopify brands.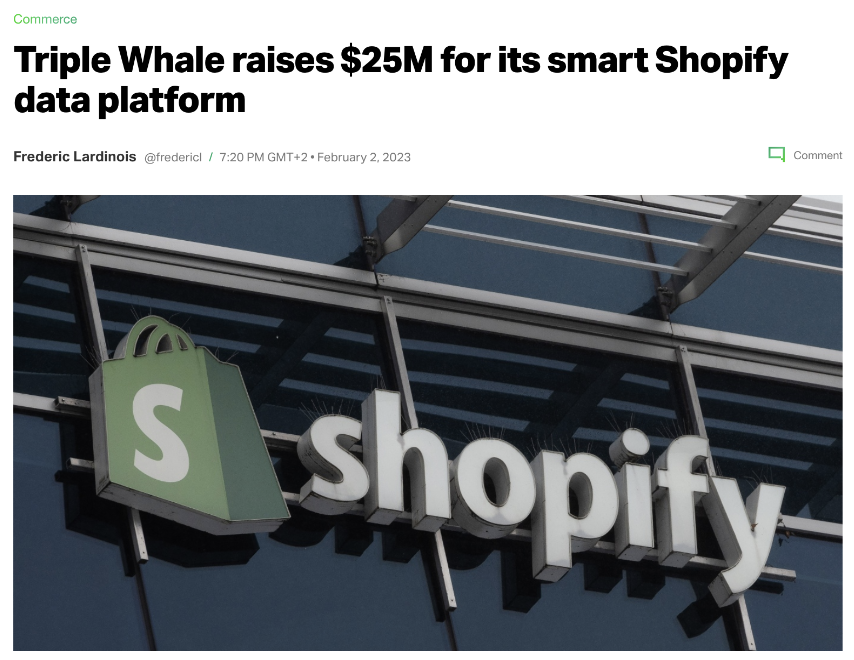 Did you ever have an "oh shit" moment where you thought it wouldn't work?
Here's my moment: I launched my early e-commerce business through drop-shipping, using platforms like Oberlo and Shopify to manage my online stores. I'd test around 10 products a day sourced from AliExpress, rating them, and running Facebook ads to drive sales. Rarely would one be a hit. But when it did, it could be a homerun!
It was October 2016, just six months after I launched these efforts. I was primarily focused on selling jewelry and handbags, averaging $25,000 to $50,000 in monthly revenue. However, things took an exciting turn as Q4 approached: September sales hit $50,000, October jumped 10x to $500k, and then November landed at $1.2M!
This was remarkable, especially since it was the first time I experienced such success in drop-shipping. However, this rapid growth also brought unexpected challenges…
One of my suppliers on AliExpress couldn't keep up with the sudden surge in demand, forcing me to establish new relationships with a different supplier. This required quick action. So within a couple days, I hopped on a plane to Guangzhou, China, hired a translator, and met a new supplier, who had already prepared a warehouse full of my handbags. (It was a wild experience to see this in real-life!)
Nervous about meeting the Christmas demand, I made arrangements to transport the bags to Chicago, resorting to using a speed boat to ensure they arrived on time. And from Chicago, the bags were sent out to customers across the country – thankfully arriving in time for the holidays.
This could've been the end of my business. And instead, it was just the start. This experience marked my entry into the vast world of the e-commerce supply chain, and as I shifted into Triple Whale, it has given me the ability to provide better inventory tracking and predictable revenue analytics to thousands of other e-commerce entrepreneurs.
Can you break down the keys to this business model for us? What makes it work? And What do outsiders typically not understand about your industry?
It's really simple. Imagine you have a DTC brand, spending hundreds of thousands (or even millions) of dollars per year on ads to acquire customers. Each decision you make requires data to ensure those ads are properly targeted. What if you could use a better creative? What if your best customer cohort is coming from TikTok and not Instagram? What if you're sending traffic to a product that has no more inventory?
Triple Whale empowers brands with the data they need to make smarter decisions. Our brands currently spend about $3 billion per year on ads. So can you imagine if we helped them be 10% more efficient in that spend? That's already $150M of savings!
In 2022, we grew over 1,300% YoY. Clearly, brands experienced the value of Triple Whale. And now, we're continuing to invest in better attribution, actionable insights, and AI that'll continue to empower our customers to scale their brands to the moon!
What platforms or tools are absolutely crucial for your business?
Early on, we tried to hack together a couple CRM platforms to capture the inbound demand, but we were definitely falling short due to limitations. Therefore, we not only made the move to Hubspot, but we also invested heavily into customizing the platform to the needs of the business, which was an excellent decision. Our GTM team works from within Hubspot and everything is streamlined through the platform, creating transparency and efficiency for the business.
What are some strong opinions you have about leadership, and how do you actually put those into practice in your company?
It's all about people: As a founder, it's not about the work you do, per se, but rather about the people you hire (and empower) to build their departments, drive results, and achieve the company's mission.
Taking care of yourself is actually taking care of your business: I try to carve out a couple of hours every evening (with my phone off) to be with my wife and children. The meaning, purpose, and energy I get from my family actually gives me more passion to succeed as an entrepreneur!
Data. Data. And more data

: Trusting your gut is important, but it's critical to use data to frame your decision – and to keep everyone aligned. Because data speaks a more universal language than gut.
Where can we go to learn more?
Triple Whale:
Personal:
Personally, I find being the CEO of a startup to be downright exhilarating. But, as I'm sure you well know, it can also be a bit lonely and stressful at times, too.
Because, let's be honest, if you're the kind of person with the guts to actually launch and run a startup, then you can bet everyone will always be asking you a thousand questions, expecting you to have all the right answers -- all the time.
And that's okay! Navigating this kind of pressure is the job.
But what about all the difficult questions that you have as you reach each new level of growth and success? For tax questions, you have an accountant. For legal, your attorney. And for tech. your dev team.
This is where Hampton comes in.
Hampton's a private and highly vetted network for high-growth founders and CEOs.