This Scientist Bootstrapped A $5 Million Niche Recruiting Firm
They're fully remote, have matched 4k+ employees, and didn't spend a penny on advertising for almost a decade
Have you ever gotten one of those terrible recruiter messages on LinkedIn? The ones that have nothing to do with your background or experience
Of course you have.
Hampton member Carina Clingman did too. As a PhD in biotech, she found a huge gap between recruiters in the field and the scientists they were trying to reach. And she turned that insight into a multi-million dollar business.
In this piece, she breaks down the business, how it grew, and where it's headed (along with areas where she sees untapped opportunity for other founders to pursue). She also dives into the "oh sh*t" moments, leadership lessons, and voices that have inspired her along the way.
Hello! Who are you and what business did you start?


Hi, I'm Carina Clingman, and I'm the founder and CEO of Recruitomics Consulting. We provide fractional talent acquisition and strategy consulting to biotechs. Most of our clients are venture-backed startups, so we get to set up talent strategy, systems, and technology from the ground up.
Over the past decade, we've helped more than 80 biotech companies grow their teams, hiring over 4,000 candidates. Our firm is niche and we keep things small. We have twelve employees, plus contractors, and we typically average $3-5M topline revenue, depending on the funding climate.
We've also started an exciting project called the Collaboratory Career Hub. This initiative helps biotech job seekers develop their skills, and we've partnered with colleges and universities along the way. We're now expanding into the outplacement field because traditional outplacement training does not work well for biotech.
What's your backstory and how did you come up with the idea?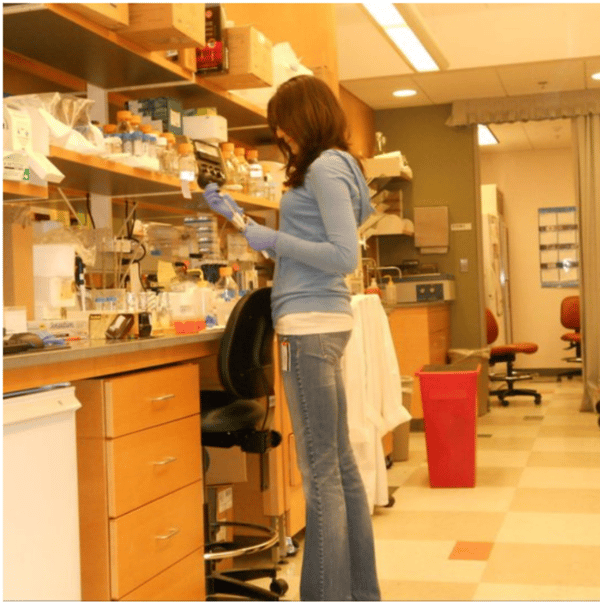 My story is pretty common among new PhD grads – a tricky shift from school to the working world. It's a running joke that even though we know a LOT about our little area of research when we graduate, a PhD doesn't teach you the first thing about drug development.
When I tried to break into the biotech scene, I noticed a big problem—the recruiters in this field lacked a scientific background. They'd often contact me about jobs that didn't match my skills. The big ah-ha moment came during one interview when a recruiter couldn't even explain what the job needed, what the company did, or why they called me.
Why were there no scientists in recruiting? It seemed like an oversight, so I created Recruitomics.
Take us through the process of building and launching the first version of your product.
At first, I was a one-person consulting 'firm,' located in the upstairs spare bedroom of my boyfriend-turned-husband's house. He provided the crucial financial and emotional support to kickstart the venture. I am forever grateful to him. He really puts up with a lot.
My specialty lay in specific scientific areas, particularly RNA biology, which led me to explore companies that matched my expertise. My first client was Moderna Therapeutics, a small but rapidly growing company with groundbreaking ideas in RNA vaccines; you might have heard of them.
My initial task was to collaborate with Moderna in recruiting niche RNA talent. A significant achievement was hiring their Chief Scientific Officer (CSO), Melissa Moore, who was a former mentor and well-known in the RNA field. As Moderna expanded, they started handling more talent acquisition internally. During this phase, I noticed a distinct need for external talent acquisition expertise, especially during a company's early stages. That became my niche!
Since launch, what growth channels have been most effective for you?
Our early growth primarily relied on word of mouth. We are 100% bootstrapped, and for almost nine years, we didn't invest a dime in advertising or social media.
As we expanded, we built a team who, like me, were PhD-level scientists turned recruiters. Our services grew to cover the entire talent acquisition function.
To keep costs low (PhD-level recruiters are not cheap to employ!) we focused on creating tech-enabled efficient workflows and a multi-layered team of non-PhD employees to handle candidate communications, our internal operations, and keeping everything running smoothly.
Our growth was also influenced by the biotech industry's volatility, which worked to our advantage while the market was strong. Smaller clients often got acquired or didn't make it, but their employees, who loved startup culture, transitioned to other startups, providing us with ongoing referrals. We often work with clients across multiple companies as they move around and advanced in their careers.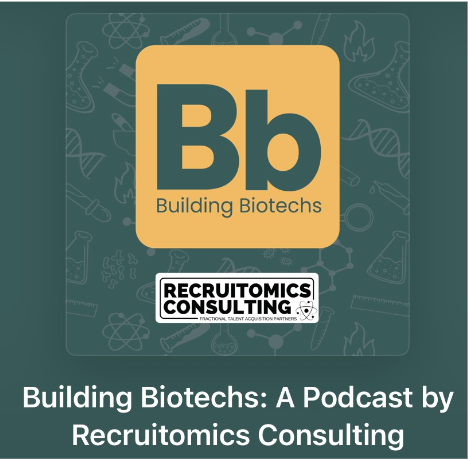 Recently, we have not been able to rely on word of mouth for growth. The funding climate has changed for the worse in both tech and biotech.
To that end, we recently ventured into podcasting, collaborating with the wonderful production team at Fame. Our podcast, Building Biotechs, highlights fractional expertise, showing how startups can grow faster by accessing executive-level talent part-time, avoiding the need for a top-heavy full-time team. I'm also on the PR trail, so reach out if you ever need a podcast guest or an article on biotech!
Did you ever have an "oh shit" moment where you thought it wouldn't work?
Absolutely. Our journey has had its share of ups and downs. We experienced a shockingly smooth ride as our company grew organically. During the pandemic, things were looking great, but the biotech industry experienced a period of over-hiring due to a surge in funding. Public and Investor sentiment was very strong while biotech was solving the vaccine and covid testing problem.
Around May 2021, we faced a turning point. The biotech and tech sectors started correcting themselves, leading to layoffs and RIFs.
It was like a chain reaction.
Some of our clients lost their funding, and suddenly we had to make the tough decision to lay off some of our employees. This was an incredibly challenging period, and we even came close to running out of cash. It really showed my inexperience as a CEO.
Fortunately, we had a fractional CFO who took proactive steps to guide us through this tough phase, outlining the precise actions we had to take to ensure our financial stability.
While we successfully navigated this critical situation, it did take an emotional toll. The layoffs not only affected our workforce but also our company culture. It's been a challenging process, and even now, a year later, we're working on recovering.
This experience left a deep impression on me, and I remain grateful for our fantastic team. It also heightened my awareness of potential risks and market fluctuations. That's why we're currently focused on enhancing our PR efforts to create a stronger brand and ensure our resilience against such challenges.
Can you break down the keys to this business model for us? What makes it work? And What do outsiders typically not understand about your industry?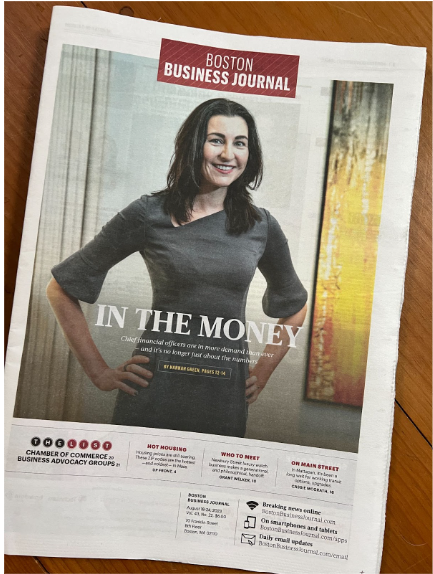 People don't like recruiters, and we get it. We struggle to distance ourselves from the slimy recruiter stereotype. Once we get past that initial yuck factor, for many of our clients, we become their entire Talent Vertical, but at an affordable fractional cost.
Our role extends beyond recruiting; We do early-stage planning, assisting companies in crafting career ladders, and developing growth strategies for the upcoming years.
We tackle legal and compliance matters, advocate for a culture-first approach, and refine employer branding and messaging.
With a deep understanding of our client's businesses, our scientific team can also effectively pitch the company to compete with bigger biotechs and pharmaceutical companies for the best talent.
We also focus on retention, because turnover is very costly and often avoidable. We engage in diversity, equity, and inclusion (DEI) initiatives, establish training programs, and offer guidance on industry trends to enhance employee satisfaction and loyalty.
In essence, we don't just match candidates with companies; we closely collaborate to understand their specific needs and find the right candidate for the job.
In the short term, our goals include getting the word out so we become recognized as the industry experts we are. In the long term, our primary focus is on promoting the idea that there's a more effective way to approach talent acquisition and company growth in the biotech sector.
What platform/tools are absolutely crucial for your business?
We are definitely a tech-first company. One of our key tools is an Applicant Tracking System (ATS), which is essentially a fancy SQL database. This tool allows us to track applicants over extended periods, index their resumes, and maintain detailed notes about our interactions with them.
Recently, we've embraced AI tools to enhance our recruiting processes.
The recruiting landscape is evolving rapidly, with early estimates suggesting that AI technology could reshape up to 80% of traditional recruiting roles in the near future. To stay ahead, we've integrated an AI tool for talent sourcing. This tool efficiently indexes our vast candidate database, which includes over 150,000 specialized scientific candidates. It also scours external sources like LinkedIn, Indeed, and web searches to identify suitable candidates based on job requirements.
By automating the initial candidate search, this AI tool significantly reduces the time recruiters spend on manual resume screening, allowing us to focus more on meaningful candidate interactions.
LinkedIn Recruiter is another tool we heavily rely on. While we recognize the need for industry changes, especially in response to AI advancements, LinkedIn remains central to our workflow. We anticipate that LinkedIn will need to adapt to meet the challenges posed by AI advancements in recruitment, and we're closely monitoring these developments.
What have been the most influential books, podcasts, or other resources?
One podcast that I find particularly inspiring is "Build with Leila Hormozi." Leila's straightforward approach in her podcast has a unique way of motivating me to be more assertive in business and in life. Additionally, I've gained valuable insights from "Marketing Made Simple" by StoryBrand, where I've learned to see things from the customer's perspective.
I'm also a fan of broader business podcasts like "My First Million," which offers diverse perspectives on entrepreneurial journeys, and I appreciate the insights of individuals like Alex Hormozi, whose unconventional business perspectives keep me on my toes.
I'll read anything (over and over) by Brené Brown. I use her frameworks when I coach my internal team and in how I approach client consulting. And "Radical Candor" by Kim Scott has been instrumental in helping me overcome my aversion to conflict by teaching me the art of direct and honest communication.
Where do you see untapped opportunity in the market? What business do you wish someone else would build that would make your job easier?
One area with significant potential is the creation of an alternative to LinkedIn.
Many folks in our field, including myself, have reservations about how LinkedIn operates. While it's a valuable platform for networking and business development, there's room for improvement, especially from a recruiter's perspective. A platform that seamlessly integrates with other tools and offers cost-effective talent acquisition solutions for small companies could have a substantial impact.
I also believe there's room for innovation in the applicant tracking system (ATS) field.
An all-in-one ATS that offers superior integration with popular tools like HubSpot, LinkedIn, and various social media platforms, combined with cutting-edge AI capabilities, would be a game-changer. Access to such a system would significantly enhance efficiency and streamline the recruitment process. I've been searching for such a solution for years without much success.
I should really offer my services in evaluating ATSs because I've demoed them all over the years.
What are some strong opinions you have about leadership, and how do you actually put those into practice in your company?
One of the fundamental leadership principles I strongly believe in is the importance of direct and honest communication. It's not always about being overly polite; sometimes, it involves delivering constructive criticism or uncomfortable feedback.
Within my company, I put this principle into practice by maintaining straightforward and candid communication with my team. I've observed that those who view such feedback as an opportunity for growth rather than taking it personally tend to excel and progress faster. It's crucial for my team to understand that my direct approach stems from a genuine desire for their success and career growth. This leadership style fosters open and honest communication, which is vital for our collective growth and development as a team.
Recently, I introduced a new practice in our company: daily video standups. Because we operate remotely, the goal is to ensure my team sees my face and hears my voice every day. During these sessions, I provide updates on my agenda, current focus areas, and key priorities for the day. However, it's not limited to updates; I also use this time for coaching. I firmly believe that personal improvement contributes to overall company success. I try to make time to engage in discussions on various topics, including productivity, time management, and strategies for handling challenging client situations.
Where can we go to learn more?
Podcast:
Personally, I find being the CEO of a startup to be downright exhilarating. But, as I'm sure you well know, it can also be a bit lonely and stressful at times, too.
Because, let's be honest, if you're the kind of person with the guts to actually launch and run a startup, then you can bet everyone will always be asking you a thousand questions, expecting you to have all the right answers -- all the time.
And that's okay! Navigating this kind of pressure is the job.
But what about all the difficult questions that you have as you reach each new level of growth and success? For tax questions, you have an accountant. For legal, your attorney. And for tech. your dev team.
This is where Hampton comes in.
Hampton's a private and highly vetted network for high-growth founders and CEOs.