Bad Water Made His Family Sick, So He Built A $3m+ Business To Fix It
Just 4 years old, the company has raised $3.6 million from Google and others, works with major cities like New York, and grew over 3X YoY so far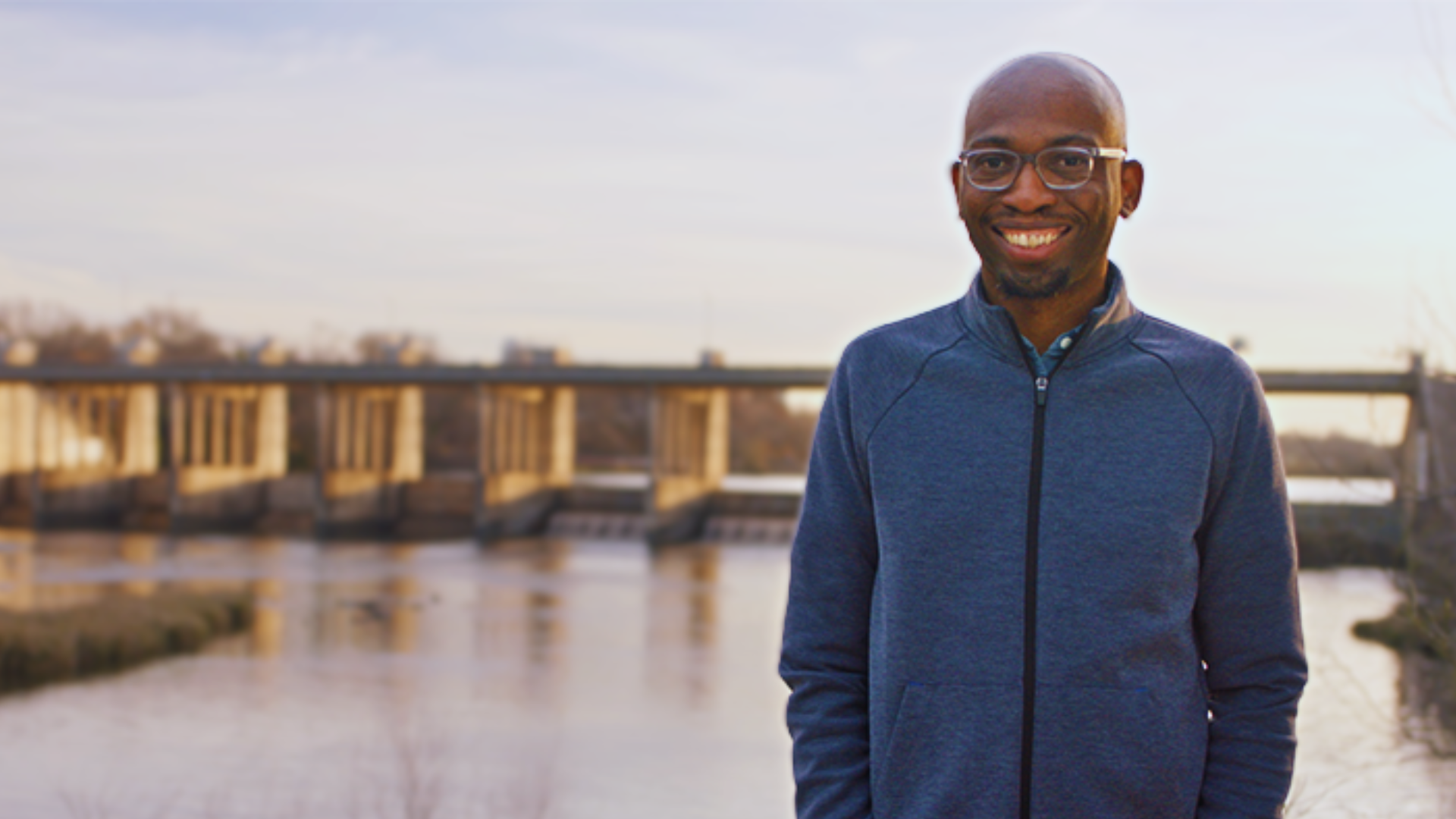 There are more than 150,000 public and private water utilities in the US. Thousands of them run on outdated infrastructure, and many serve worse water than that found in Flint, Michigan.
Is yours one of them?
It's hard to know. Unless you receive one of the 100+ "Boil Water" notices that go out every day, people have very little insight into the quality of their water.
This founder is changing that.
Hampton member Seyi Fabode runs a company called Varuna. They build tools that help both utility companies and average people understand when their water is unsafe.
I have a unique attachment to this company, because I lived through the same Austin water outage that affected Seyi's family. When it happened, I was one of the last to hear about the contamination, and it was only by chance that I hadn't drank the tap water earlier in the day.
Back then, I remember thinking it was weird that at-home water monitoring wasn't more common, and that someone should start a business to address that.
Little did I know, someone would. And several years (and several million in revenue/investment) later, we would meet via Hampton...
Hello! Who are you and what business did you start?
My name is Seyi Fabode and I'm the CEO and cofounder of Varuna. Varuna provides operational tools that help utilities, cities, and water-reliant companies track and manage risk. We're like an early warning system to ensure your (city or company) water system doesn't fail. We track risks like water contamination, asset failure and water availability.
We provide alerts and recommendations to technicians so they can address any issues (ideally before they become catastrophic) and also enable the decision-makers at these water systems to create emergency response + capital improvement plans. We've grown 2X YoY since we started in 2019 starting with a small city in Louisiana to having NYC as a customer. We're a SaaS business with two products (Varuna and AI-powered Resilio) and did just shy of $1M in 2022 and with contracts in hand for ~$3M in 2023. We've raised $3.6M and we're an 8 person remote-first team (even before COVID).
We've just recently launched a consumer version (Resilio) that tracks water issues for the average home (free) and we offer an emergency clean water delivery subscription service to consumers should there be a disaster (contamination or outage) in their town/city.
What's your backstory and how did you come up with the idea?
After my postgrad I landed a great role running operations for a privately owned power station that served 500,000 people in the greater London area. This was a front row seat in the belly of the complex utility systems that keep cities running. This private power station was also my second experience of seeing how just a couple of entrepreneurs with an idea could build huge impactful companies (the first was experiencing the birth and growth of the largest insurance company in West Africa).
I met my (now) wife and moved to the US in 2008. While in Chicago I saw there was a gap to build an "Expedia for electricity/renewable energy" and started a company called Power2Switch. I ran that company for 6 years and sold it to a company in Dallas, and shortly thereafter moved to Austin TX.
Coinciding with our move to Austin was a spate of water disasters across the US – Flint, Michigan being the most publicized one.
As I dug deeper into the situation I realized that most water systems (private and public) did not even have the tools that I had been using to run the power plant in London over a decade before! So I set about building Varuna while consulting for utilities across the world. The consulting gigs kept the lights on while we dove into customer discovery to determine which was the most serious pain we could solve for cities with water issues.
Things ramped up when we had water quality issues in Austin and my wife + first son had adverse reactions to the water in our home. I stopped the consulting gigs, connected with a few of my investors from my previous company and set about on what I knew from the jump would be at least a 10-year journey for me with Varuna.
Take us through the process of building and launching the first version of your product.
The original Varuna product was a sensor (images below) that tracked water quality parameters, provided alerts on the screen to let the operator know where there was a problem, and recommended actions for the operator to take. It was game changing in the market even though the sensor was a turbidity sensor that came out of a dishwasher :)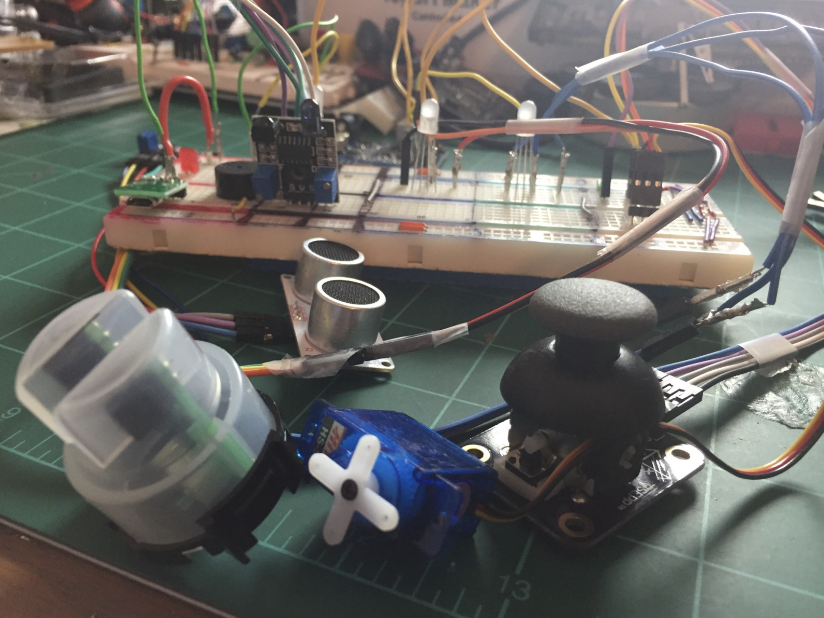 The insight for us was that the sensor in a dishwasher is just passing light through water and, as the water gets less soapy (or turbid for the nerds out there) the sensor lets the dishwasher know to move on to the next step of the cycle. The same concept is what we applied to monitoring water quality for the first version of the solution. I took this rough prototype and got on truck rolls with technicians in some pretty rural places in LA and Texas, including up the side of rained out barrier-less hills in CA (not planning to ever do that again!).
Working out of a buddy's garage in South Austin, we ended up building a more robust version of the device (and yes that is a kids rocking seat frame holding up the device) and eventually found a partner in China to manufacture the versions we ended up deploying in NJ, TX, NY and LA right before COVID.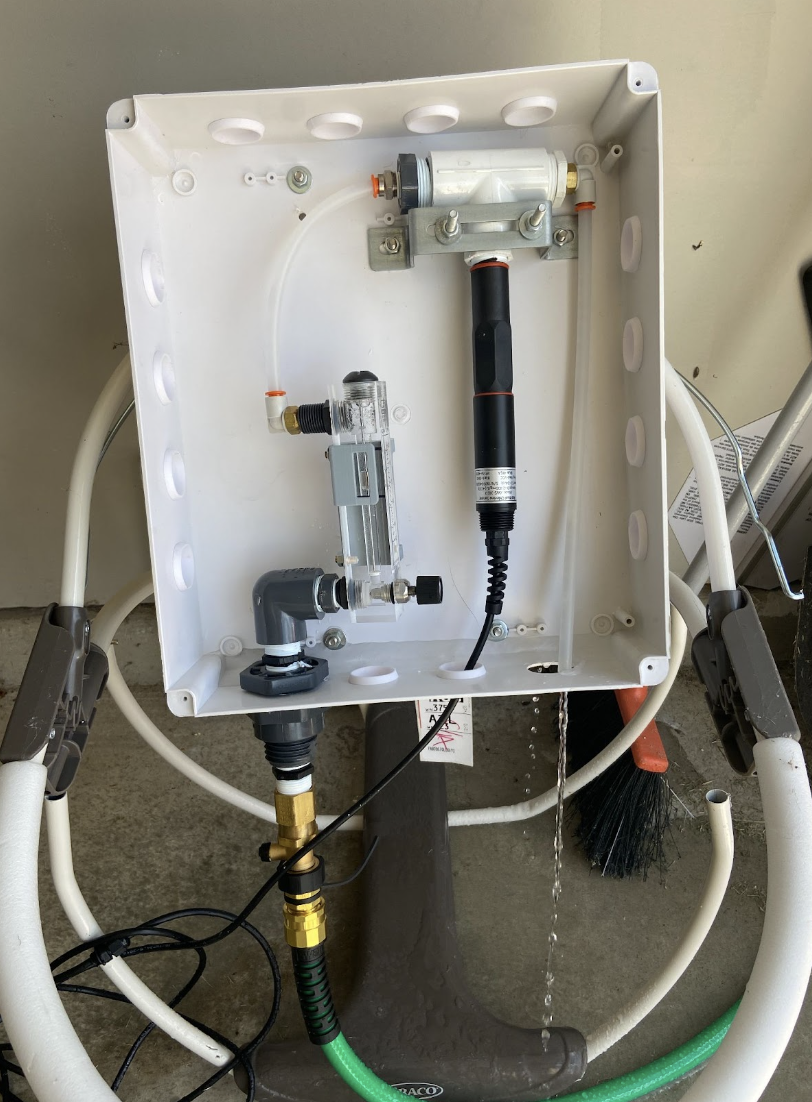 Fast forward to COVID and supply chain issues (the manufacturers were just sending us bad batches due to manufacturing and supply constraints) + increasing visibility into deeper customer pains/needs (the water systems needed more comprehensive solutions to track more than water contamination risk) forced a pivot. But we'd worked so closely with our customers that we knew exactly what modifications we needed to make to the product. We also knew we had to focus just on software and provide them with 'gateways' to turn all their 'dumb' assets and systems into smart real-time data transmitting devices. And that's how the current tools were born.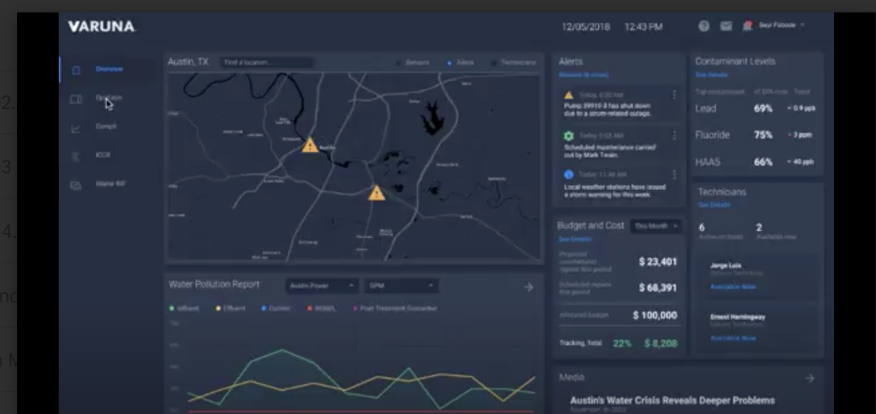 Since launch, what growth channels have been most effective for you?
The most effective sales channel for the water system solution has been curated conference board rooms. We pay an organizer to pitch 10-20 leaders of water systems in a room at a time. We would send them a survey beforehand to give us clarity about what needs these buyers have/had. The responses enabled us to customize the pitch and informed the customized handouts we'd provide during the pitch. We got our first 10 customers this way and those we didn't close would end up in nurturing campaigns.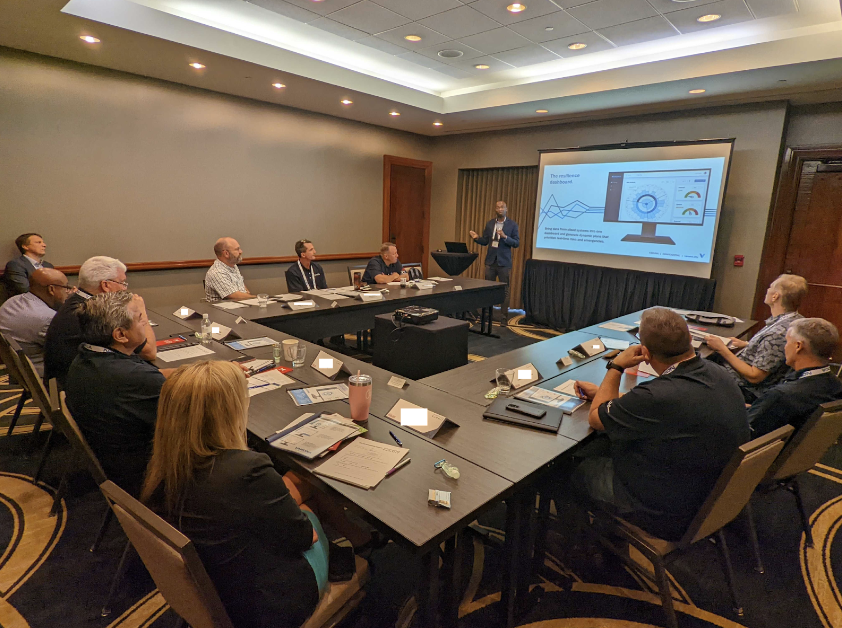 Supporting the curated board rooms has been thought-leadership. Specifically ebooks created based on keyword topics that our target audience have used as conference/panel topics. We then partner with an association or group that these target audience members are already aligned with (city leader associations for example) and sponsor the email/newsletter directing the audience to the eBook download (which pulls them into our funnel and the traditional nurturing approach kicks in). The conversion rates on this have been ~50% for us.
Did you ever have an "oh shit" moment where you thought it wouldn't work?
We once lost all our sensors in the field in one afternoon. We had physical damage of all the sensors in the city of Trenton due to storms and our IoT streaming data service provider had an outage in the northeast of the US (which was also due to storms) and this impacted the rest of our devices.
This was one of the points when we started to truly consider stopping hardware. Replacing all the sensors in Trenton cost us more than the contract itself but we kept going knowing the criticality of our work and the value we provide in ensuring proper functioning of cities and society.
To address the issue of the down devices we ended up connecting with an IoT hacker chap in New York who drove to Trenton and spent a couple of days bringing all the devices back up (I joined him on the second day) and we set up new instances and moved our whole IoT data transmission services provider to bring those devices (and the others) back up.

We've almost run out of cash a bunch of times (isn't that the life of a business?) and a contract comes through or we get featured on the homepage of Google and all of a sudden a bunch of people want to invest in the company, etc.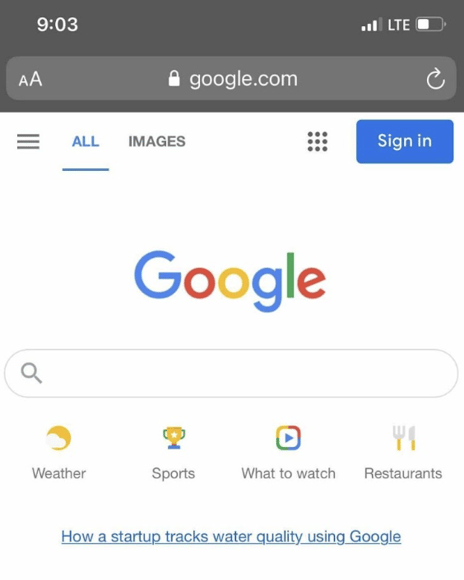 Can you break down the keys to this business model for us? What makes it work? And What do outsiders typically not understand about your industry?
The biggest reason for failure in this industry is the length of the sales cycle. We're talking 1 year sales cycle in some cases and even more for the larger contracts.
The great things about the heavy-infrastructure industry is that there are actually 150k water systems (public and private) across the US. The contracts tend to be substantial and the customers are open to paying a large percentage of that at the beginning of the contract.
Our software sits on top of data generating infrastructure/assets (assets that the operators want to keep on all the time) and that enables us to maintain 60-70% margins. A channel that is working for us is providing this same software to OEMs who split some of the revenue with us but it opens up 'after-market services' (which is basically offering technical support and services to go with the asset that the OEM sold to the city), an additional revenue stream for the OEM.
The goal is to grow to a $100M company between the combination of selling directly to cities/private water systems and being the after-market service enabler for all the OEMs that provide the pumps, tanks, heavy equipment to the water systems.
We're opening up the consumer solution, which utilizes the same backend software infrastructure (our risk tracking models), and layering on top of that the ability to deliver end-point/tap water filters and gallons of clean water to consumers who have signed up for our water risk monitoring service.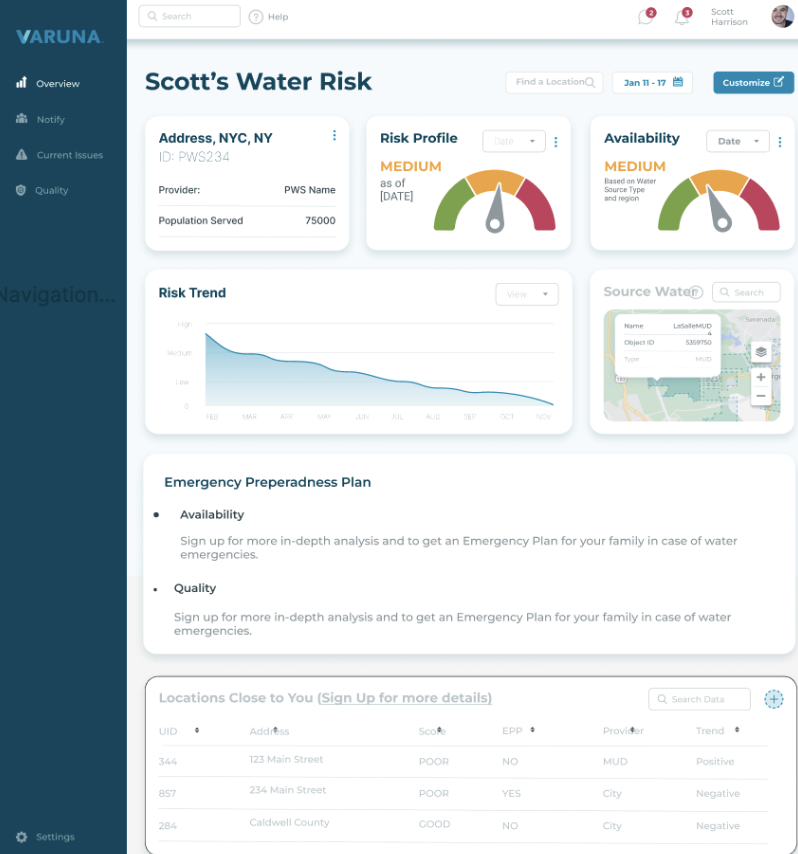 We only deliver in/before emergencies but only if you've signed up for delivery (and not just the free risk alert dashboard access). The insight here is that in an emergency, consumers just want clean water and Varuna knows where clean water is, and we can get that to those customers faster than their traditional water provider. We're projecting this to be an equally big part of our future revenues.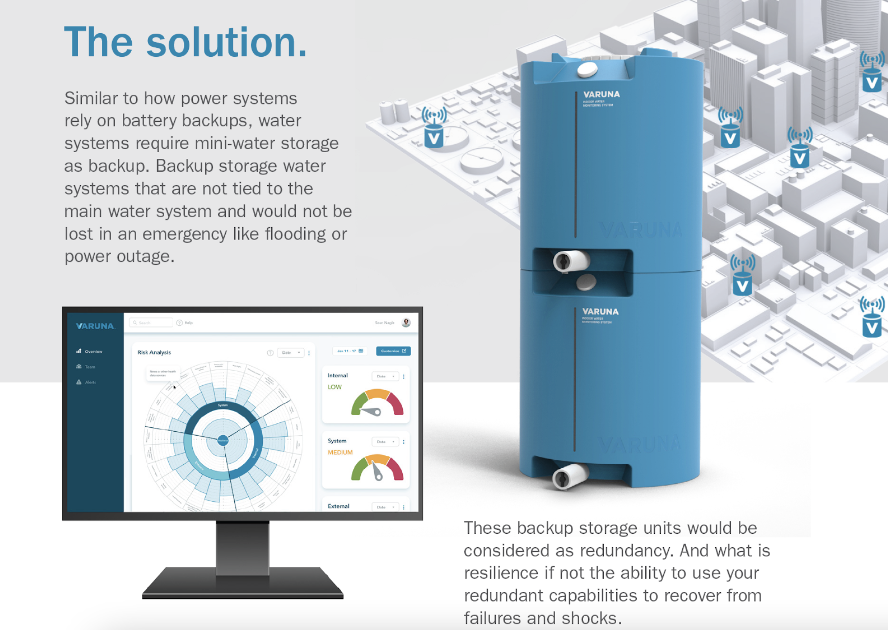 Very few companies have gone public in this space in the last few years but there have been a good number of acquisitions (some of the most steady cashflow generators in public markets are utility/utility service providers) and it's time for a new generation of companies like Varuna to step up.
What platform/tools are absolutely crucial for your business?
Trello, with integrations (Jira, Google Drive, Slack etc) and powerups (Stand up trackers etc), has been a great way to stay on track with work as I'm not the most organized person. Now I create a card for every single thing, pull in the necessary information and assign tasks where necessary. Tracking everything and communicating progress through this one tool has been a huge boost.
What have been the most influential books, podcasts, or other resources?
I love to read and most of the books around business lessons for me have come from non-traditional business books. Specifically relating to business though the most influential books have been...
Thinking in Systems by Donella Meadows

(and every single one of her essays and books are great) which discusses the fundamental systems principles that one has to understand. Everyone talks about 'thinking in first principles' nowadays and Donella Meadows was one of the pioneers of applying this to business.

7 Powers by Hamilton Helmer

for thinking about the underlying structures of business and the business strategies/models that exist to capture opportunity today.

Master Switch by Tim Wu

it talks about the never-ending cycles of aggregation and decentralization that most industries go through (with a focus on the telecommunications industry) and the 'riches go to the rich' theory of markets. Key to understanding/framing whatever industry you are going into.

The Fish That Ate The Whale

: fantastic book about Samuel Zemurry, one of the most fascinating business people ever. We're talking about militia, bananas, overthrowing governments etc.
Every article and podcast episode by Morgan Housel of Collab Fund. And his book, Psychology of Money', has been huge for me personally.
Where do you see untapped opportunity in the market? What business do you wish someone else would build that would make your job easier?
To wave a magic wand here, the business that needs to exist is a net-zero way of purifying salt water or dirty water. Until that exists, end point water filtration and ending the scourge of single use plastics for drinking water would make for huge businesses.
What are some strong opinions you have about leadership, and how do you actually put those into practice in your company?
I always pause to ask my self the question 'How human are you choosing to be in this moment?' and this guides how I engage or interact. It prevents me from making every business conversation transactional.
It is hard to build sustainably and for the long term if you're building your business in the public eye because you'll do things and take actions to maintain that public eye's view on you.
The advice to 'be laser or singularly focused on your business' is bad advice for founders. As a leader, always leave the aperture of ideas, inputs and opportunity open (source new ideas from other industries, frequently test the validity of the hypothesis that led to your starting the business by assessing the opposite version of your original idea, etc), share the more interesting or relevant ideas with the leaders in your company (if they are unable to handle it then they are probably not the type of great leaders) and you/your leaders should only close the aperture and focus when you are clearly communicating tasks to your team.
I have 3 things I am looking for in every employee/person I hire;
Do you have the expertise to do the work expected of you (past exhibition of capability)
Can you execute (as evidenced by what you've achieved)
Are we aligned on values (e.g., Can I leave you in a room with a customer and trust you will do what is considered right at/for our customers and Varuna?).
All three have to be there otherwise the hire won't work out. While the first two are relatively easy to measure (or at least get a fair estimate of), I consistently find that the 3rd one which is tough to measure is the real deal-breaker for the company.

Where can we go to learn more?
Varuna
Personal
Personally, I find being the CEO of a startup to be downright exhilarating. But, as I'm sure you well know, it can also be a bit lonely and stressful at times, too.
Because, let's be honest, if you're the kind of person with the guts to actually launch and run a startup, then you can bet everyone will always be asking you a thousand questions, expecting you to have all the right answers -- all the time.
And that's okay! Navigating this kind of pressure is the job.
But what about all the difficult questions that you have as you reach each new level of growth and success? For tax questions, you have an accountant. For legal, your attorney. And for tech. your dev team.
This is where Hampton comes in.
Hampton's a private and highly vetted network for high-growth founders and CEOs.